The Big Era of electromechanical linear actuators
By Tolomatic on May 14, 2020
---
In the last 50 years, the accuracy and efficiency of electromechanical actuators has led to the replacement of many pneumatic actuators. But because of the higher forces required, it has taken longer to apply the benefits of electromechanical actuators to hydraulic systems. Now, electromechanical linear actuators have evolved to where they are capable of taking on the extreme high forces that hydraulic linear actuators have handled for so long—upwards of 50,000 pounds of force. You might say we're in the Big Era of servo-mechanical electric actuators. 50,000 pounds of pushing and pulling.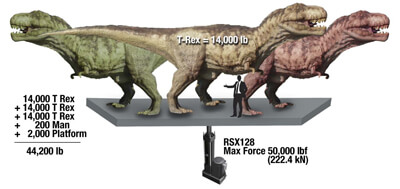 If you were putting this into perspective for your kids, say you had to lift three 14,000-pound T-rex dinosaurs on a 2,000-pound platform. An electric actuator sized for 50,000 pounds of force could do that. Bringing it closer to home, this same hydraulic-force electromechanical linear actuator could lift nine mini vans.
More than likely, your motion control need is to move something in a manufacturing or industrial setting. High-force electric linear actuators can manage extremely large loads and provide significant advantages over fluid power systems:
Press applications in automotive and heavy manufacturing—Pressing applications such as punching, piercing, riveting, clinching and stamping are unique in that they require high forces over a fairly short travel distance and low force over longer travel distance. In particular, electric press actuators can adjust speeds and forces for actual force throughout the motion profile instead of the constant force of a large hydraulic actuator. This gives more precise speed, position control and repeatability.
Timber cutting and sawmilling—Positioning large trees and logs for sawmill and cutting operations can require accurate positioning at extremely high forces. These applications really benefit from powerful electric linear actuators. This technology has also been used for planers, feed tables, blade position and fence guides.
Injection molding and volumetric piston filling—These applications require high-force push and pull, and the same force throughout the whole stroke. Electromechanical linear actuators provide superior pressure, speed and position accuracy over the entire stroke length.
Motion simulation— Electric linear actuators provide numerous benefits over hydraulic actuators in flight simulator applications including higher energy efficiency, higher uptime and reduced infrastructure. For example, electric linear actuators eliminate the trenches required for hydraulic lines, hydraulic power rooms and temperature controls for hydraulic fluid. Electric linear actuators are also more environmentally friendly since they eliminate the possibility of oil leaks, spills and the need to periodically dispose of used hydraulic fluids. High-force electric linear actuators are now able to provide the force levels, smoothness and dynamic response required for the most demanding flight simulator applications.
Metal-forming and tube bending—Tube-bending machines require high-performance linear motion control to achieve the necessary accuracy and repeatability. High-force electric linear actuators help machine builders achieve these goals. Engineers can more precisely control bending-machine operations like tube transportation, carriage movement, mandrel rotation and workpiece clamping with greater accuracy than fluid power systems. Plus, programmable motion control allows machine operators to select recipes for different tube sizes and bending patterns, reducing set up time for different product requirements.
Five reasons to consider high-force mechanical-electric systems
Yes, hydraulic power has been the go-to answer for heavy lifting. Hydraulics are rugged, relatively simple to deploy and provide a low cost per unit of force. These days, industrial cylinders typically include bore sizes from one to eight inches, with pressure ranges in the 2200 psi range, which is 1700 to 110,000 pounds or 55 tons of force. Big indeed.
But electromechanical actuators have overtaken hydraulics in terms of flexibility, precision and reliability. And they now have expanded force capacities.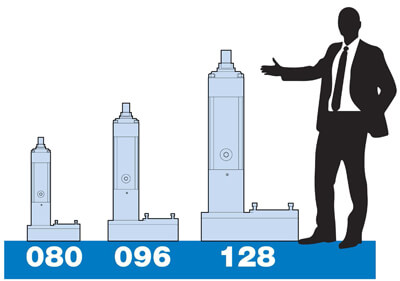 Here are five advantages of a high-force electric linear motion system.
Maintenance. Manufacturing operators have been using hydraulics for a long time. They lose sight of the maintenance costs due to scrap rate and lost productivity. When you look at how fluid power systems impact the manufacturing environment, it's a matter of when, not if, hydraulic hoses will leak or break, or parts get scrapped out. These inconsistencies cause lost productivity and create more maintenance.
Total cost of ownership. Consider the iceberg principle. Overall, the initial cost of a hydraulic system may be low. But under the surface, operating costs add up: Disposal costs, installation, maintenance. A lot goes into operating a hydraulic system outside of the purchase price.
Process control. Motion control systems are programmable and flexible. They are capable of high speed, high force, high performance. You can get there with servo hydraulics, but there's a lot of complexity. More and more, people want data: How much force are you getting in a pressing application; are you able to get that out of the drive for current; are you getting position feedback and if so, how accurate is it. You can get that out of a servo system.
Flexibility. Machine designers want more flexibility out of a single build or single machine. They want to minimize the time it takes to change to a different part or adjust to a different setup.
Reliability. Obviously, you want your machine to run. When you take a look at the total footprint of an axis of motion, it includes power units, cylinders, tank heaters and exchangers. With an electric system, you have an electric actuator, motor and drive that goes into an electric panel. Your footprint is pretty small. It also minimizes the part count and things that could eventually fail. In many cases, it simplifies the machine build.
A new addition to the family.
Tolomatic recently introduced its RSX128 electric linear actuator capable of 50,000 pounds of force. It is equipped with all the high quality, long life features of other actuators in this family—it's just bigger. That includes Endurance Technology advanced roller screw design, internal anti-rotate feature and lubrication access port, Your Motor Here program, IP67 option and mounting options.
For more about how to convert a hydraulic system to electric linear motion, download our white paper.
Overall, high-force actuators are consistent and repeatable. They are quiet and clean. With an L10 life calculation, you will have a good understanding out of the box how the machine will last and when maintenance is required. See the L10 guide.
Need more information? Please contact a Tolomatic engineer and start a conversation.