At Tolomatic, we welcome the opportunity to create a custom electric or pneumatic actuator, caliper brake, gearbox, or other motion control device that fits in our area of expertise. Think of custom design as starting with a blank page. The ability to tackle custom work requires that a company have a strong design engineering department, a group of people who are willing to think, as they say, out-of-the-box.
At Tolomatic, we employ a staff of highly trained and educated mechanical, electrical, and application design engineers.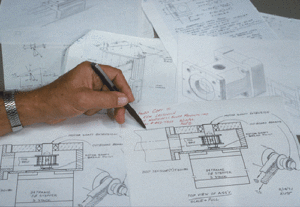 We have our own in-house modeling and testing capabilities where custom actuators can be easily altered and controlled to fit the needs of the final design. The skilled artisans in our model shop can create a custom design prototype quickly and efficiently, while controlling the complete process so that the final product conforms to the highest quality standards.
We pride ourselves in providing actuators – whether they be from our standard line, a modification of a standard product, or through blank-page, out-of-the-box custom designs – that meet every specification our customer's project requires.
Creating a custom product starts with meeting several of our design engineers for preliminary evaluation and concept analysis. It then follows through to the design and prototype of an initial product. The customer evaluates the prototype while we test it and procure materials. Further evaluations follow if needed, and then the approved component is produced. The following examples are just a few of the innovative products we have produced.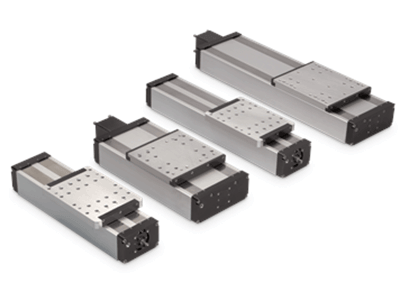 Low-profile Precision Stage
Extremely tight deflection specifications were required to accurately position a spindle in a milling operation. This custom design precision stage when combined in a X-Y-Z configuration provided less than 0.007 inches (0.178 mm) of deflection at the spindle bit during all milling operations. A requirement not achievable with any commercially available products.
The Tolomatic design was within budget and allowed the machine to run at faster rates for increased throughput. It provided increased accuracy and rigidity and reduced contaminant ingress during the machining process.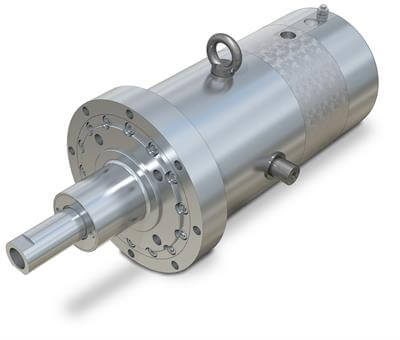 ServoChoke® SVC Electric Choke Valve Actuator / Operator
ServoChoke® SVC is a high performance linear integrated electric choke valve actuator that meets the rigorous needs of the oil and gas industry. The SVC provides a more reliable, high-speed, precision electric choke operator in performance drilling applications vs. conventional hydraulics or jack screw assemblies. The ServoChoke SVC is perfect for Managed Pressure Drilling (MPD), Set-point choke control and Choke & Kill for well control applications.
The actuator's integrated servo motor, gear box and planetary roller screw enables the ServoChoke SVC to quickly and continuously modulate with the highest accuracy and repeatability. With global certifications for ATEX, IECEx, and Class I Div. 1 together with a temperature rating of -40° C to +60° C, the all steel, SVC actuator is designed to perform in the harshest environments.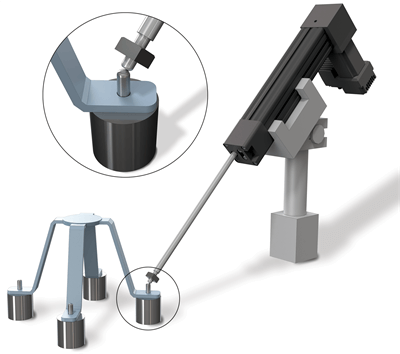 ServoPlace™ Precision Nut Placement
The ServoPlace System is a smart high speed electric solution specifically designed for precision nut & bolt (stud) placement in projection welding applications.
Replacing pneumatic cylinders provides increased line speed, extended life, a dramatic reduction in misplaced parts, and simplified system setup.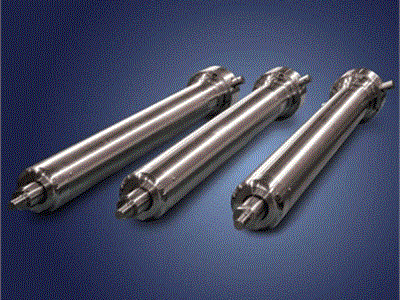 Stainless-steel Electric Actuator
This custom designed all stainless steel electric actuator was designed specifically with the machine builder's design engineers custom requests in mind. Switching their pneumatic filling process to electric would help to improve flexibility and speed for their food filling processes. They required an IP69k rating and the actuator needed to withstand 600lbs of thrust in a specified envelope size.
Tolomatic's actuator design helped them reduce their setup times with flexible control of filling and dose size. It offered faster machine operation with instantaneous electric actuator force.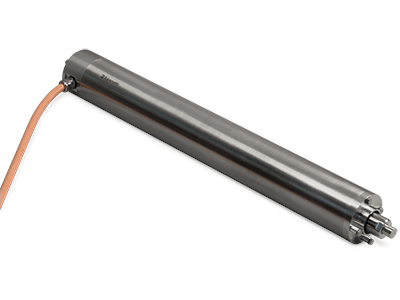 Stainless-steel Integrated Actuator
A volumetric filling application required a hygienic, stainless-steel actuator with internal anit-rotate and seamless integration with Rockwell Automation Kinetix 5500/5700 servo drives. It also needed to withstand millions of trouble-free cycles. The Tolomatic actuator which combined features of its ERD and IMA products offered IP69K ingress protection, internal anti-rotate eliminating external guidance, a hygienic design for clean-in-place wash-down for reduced cleaning time and a roller screw for extremely long life and consistent performance.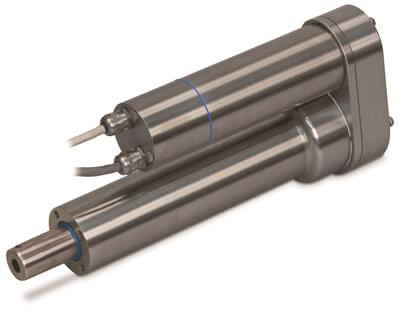 Stainless-steel Servo Motor
Tolomatic developed this hygienic, low-cost, stainless steel motor to meet the growing needs of wash-down applications in the food and beverage industry. Well suited to food stacking, pumping, filling, shaker tables and sorting applications, this cost-effective motor/actuator combination provided a hygienic solution that eliminated the need for extra quarding required when using other types of actuators.
Controlled by a Tolomatic ACS EtherNet/IP™ enabled servo drive using Add-On-Profiles (AOP) and Add-On-Instructions (AOI) made for easy integration with existing Rockwell Automation control components.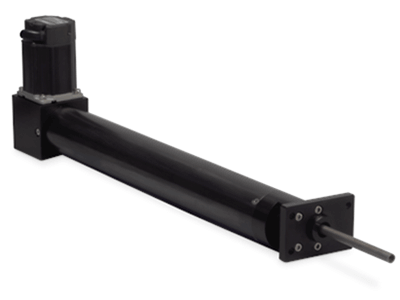 Super high-speed, electric actuator
Tolomatic created a cost-effective belt-driven, electric rod actuator with a patent-pending design that achieved the required speeds of over 100 inches per second (2540 mm) for true pneumatic replacement speeds for this part positioning application. Typically, this caliber of speed is achievable only with pneumatics or a linear motor solution which can be costly to implement. The pneumatic solution had consistent positioning issues and was consuming excessive amounts of energy.
The Tolomatic actuator also utilized a servo motor controlled by a Tolomatic ACS EtherNet/IP™ enabled, ODVA conformantdrive using Add-On Instructions (AOI) over for easy integration into their machinery.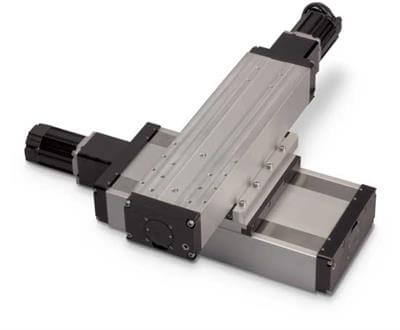 TRS Twin Profile Rail Stage with Enclosed Design
The TRS Twin profile rail stage with enclosed design is built from the ground up to be highly rigid and very accurate. Retained exterior dust band keeps contaminants from entering the actuator interior, protecting components for reduced maintenance and increased uptime. Made of fatigue resistant, flexible and corrosion resistant stainless steel.