Robust Gantry Systems Designed to AccommodateHigh Duty Cycle, Large Weight & Size
In partnership with

---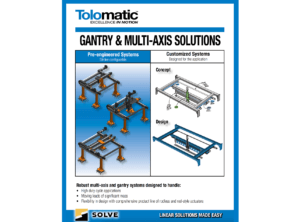 ---
Easy Three Step Design Process
Download pre-configured multi-axis gantry system CAD model

Identify needed modifications and preferences
---
Pre-Engineered Gantry System Configurations and CAD Files
Two Axis XX'-Y(D) Gantry
24 x 24 CAD File  –  36 x 36 CAD File  –  48 x 48 CAD File

Two Axis XX'-YY'(D) Gantry
24 x 24 CAD File  –  36 x 36 CAD File  –  48 x 48 CAD File

Three Axis XX'-Y(D)-Z Gantry
24 x 24 CAD File  –  48 x 48 CAD File

Three Axis XX'-YY'(D)-Z Gantry

---
When Do You Need a Custom Designed Gantry System?
If you have weight, force or size challenges that don't fit standard gantry system designs, you can always go custom. Tolomatic offers flexible, robust, high duty multi axis gantry systems to meet your needs. We make gantry systems bigger, stronger and more configurable — whatever you need to get the job done.
Configurable, built-to-order solutions
Maximize flexibility, speed, efficiency and throughput
Easy integration with existing systems using "Your Motor Here"
Flexible mounting, including carrier mounting
Engineered to meet unique load, force and size requirements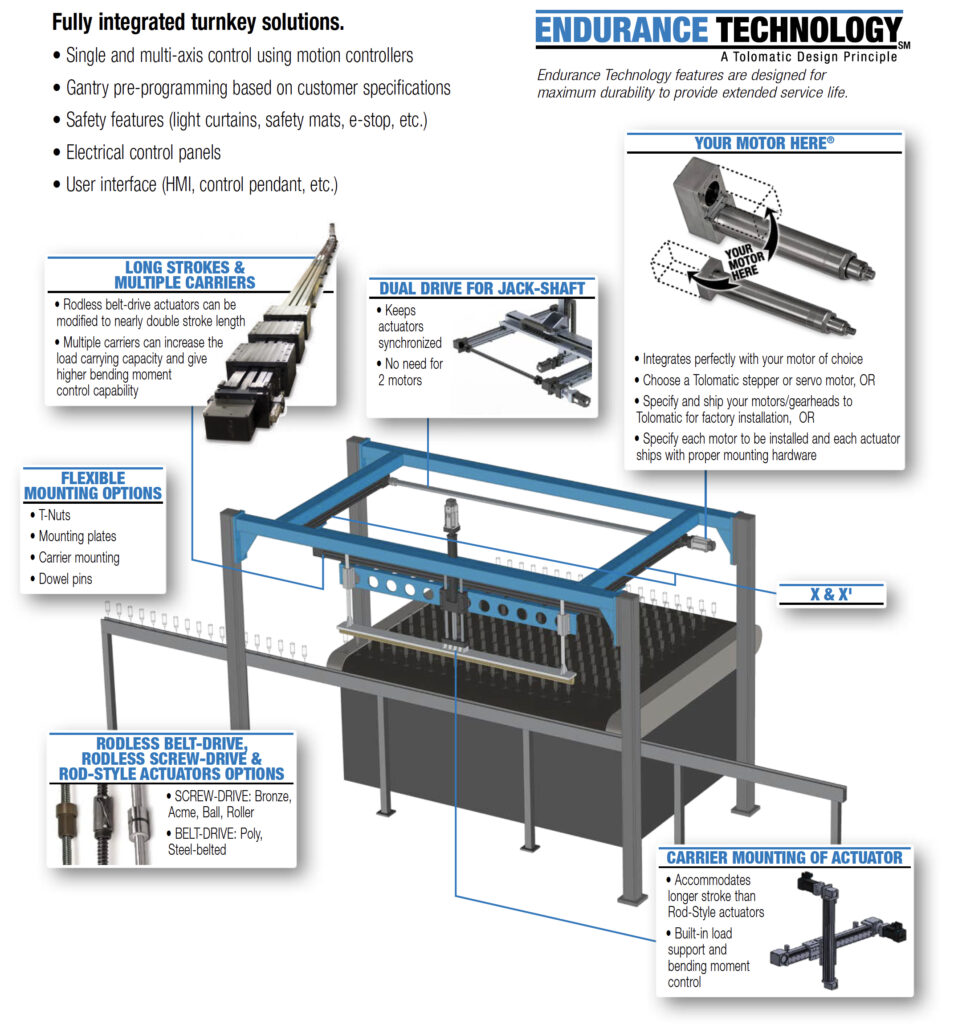 ---
Simplified Gantry Design
Designing and building the complete solution for your challenge
Begin with:

Key Design Considerations

Quote and Order

Download pre-configured gantry system CAD model​
OR

Pre-set configurations can be ordered as is or identify any needed modifications:
---
---

Ready to discuss a project?
---
Multi-Axis Gantry Webinar