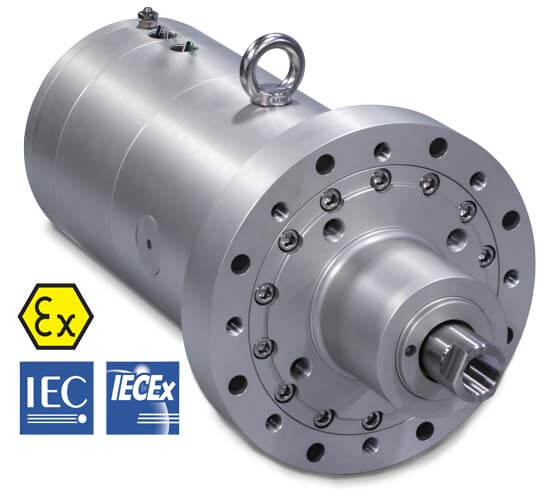 ServoChoke® SVC Electric Choke Valve Actuator / Operator
ServoChoke® SVC is a high performance linear integrated electric choke valve actuator that meets the rigorous needs of the oil and gas industry. The SVC provides a more reliable, high-speed, precision electric choke operator in performance drilling applications vs. conventional hydraulics or jack screw assemblies.  The ServoChoke SVC is perfect for Managed Pressure Drilling (MPD), Set-point choke control and Choke & Kill for well control applications.
The actuator's integrated servo motor, gear box and planetary roller screw enables the ServoChoke SVC to quickly and continuously modulate with the highest accuracy and repeatability. With global certifications for ATEX, IECEx, and Class I Div. 1 together with a temperature rating of -40° C to +60° C, the all steel, SVC actuator is designed to perform in the harshest environments.
Globally certified: CID1 • ATEX • IECEx
Worry-free performance in the most hazardous location environments
Speeds up to 19.6 mm/sec (0.77″/sec) – open/close choke in less than 3.2 seconds
3 mm (0.125″) adjustments happen in less than 0.5 second
Temperature range: -40° to +60°C (-40° to +140° F)
Positional repeatability to within 0.08% of span or better
Planetary roller screw for long life and no maintenance
Fully integrated motor/actuator/feedback in a single, sealed housing
Rugged NACE MR0175 compliant steel body
View the video interview at the IADC Managed Pressure Drilling & Underbalance Conference
ServoChoke Features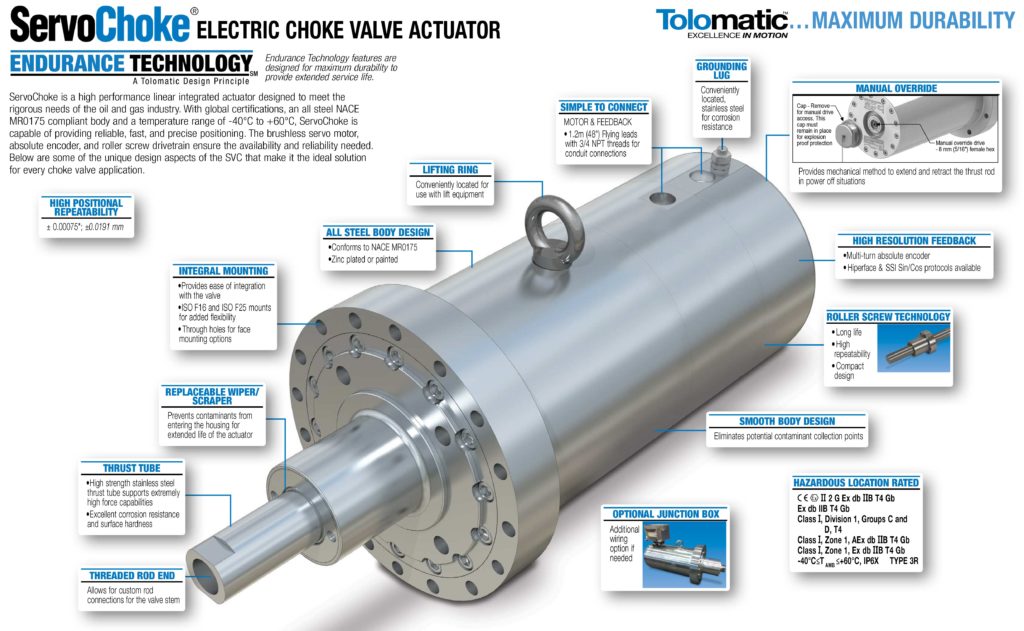 Flow Loop Tested at PERTT Labs LSU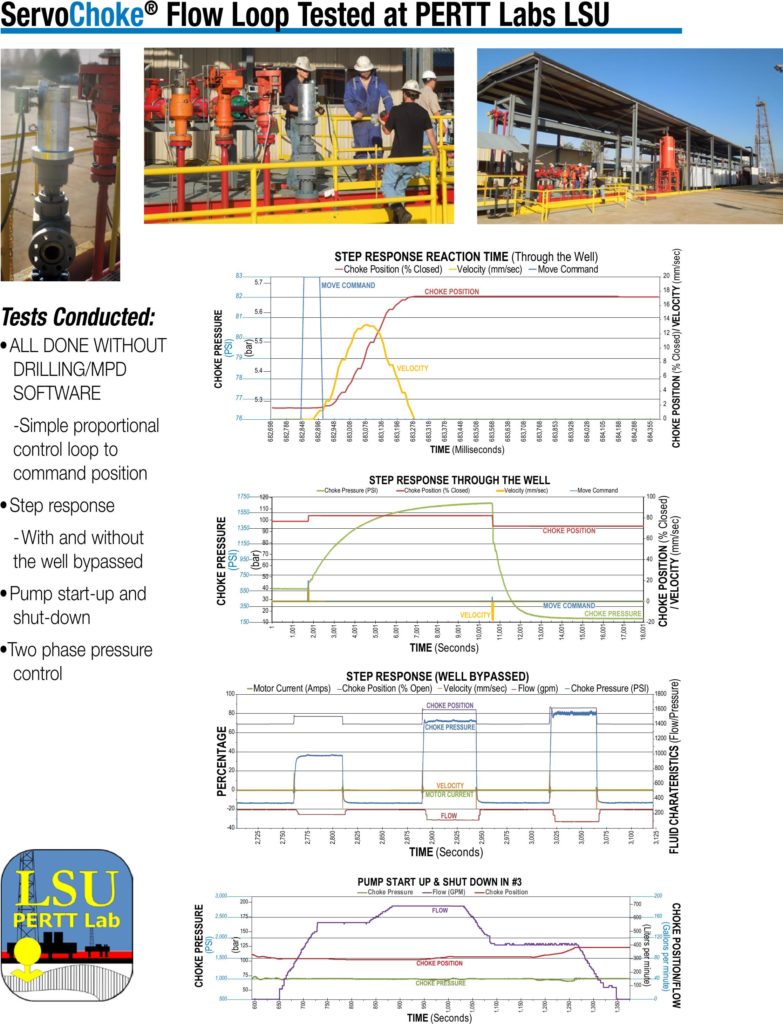 What is ServoChoke?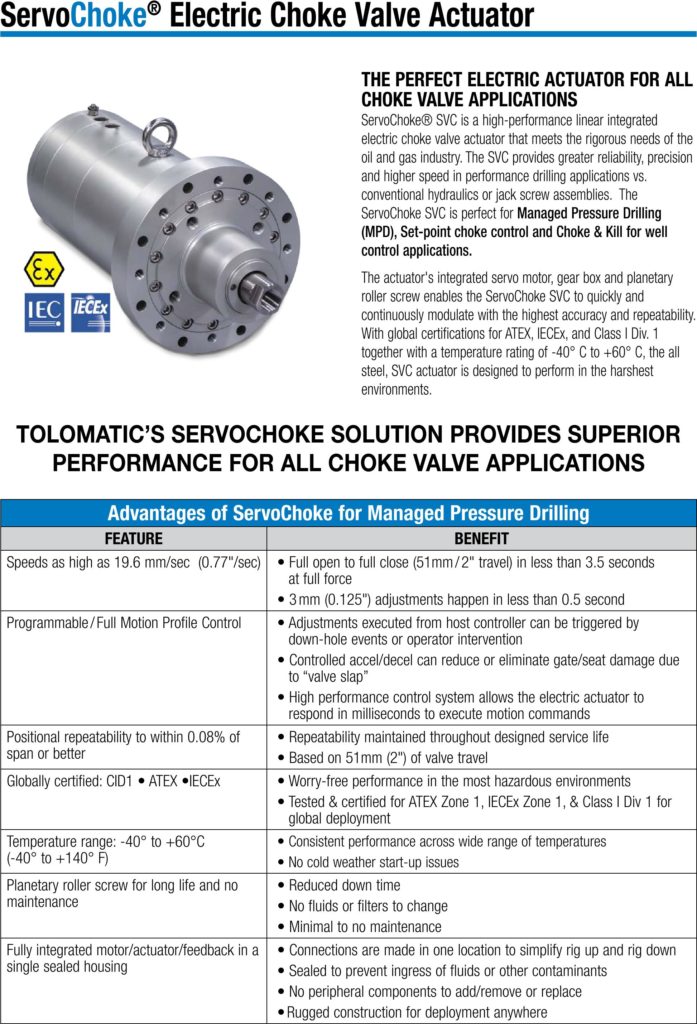 Superior to Hydraulic & Hybrid Systems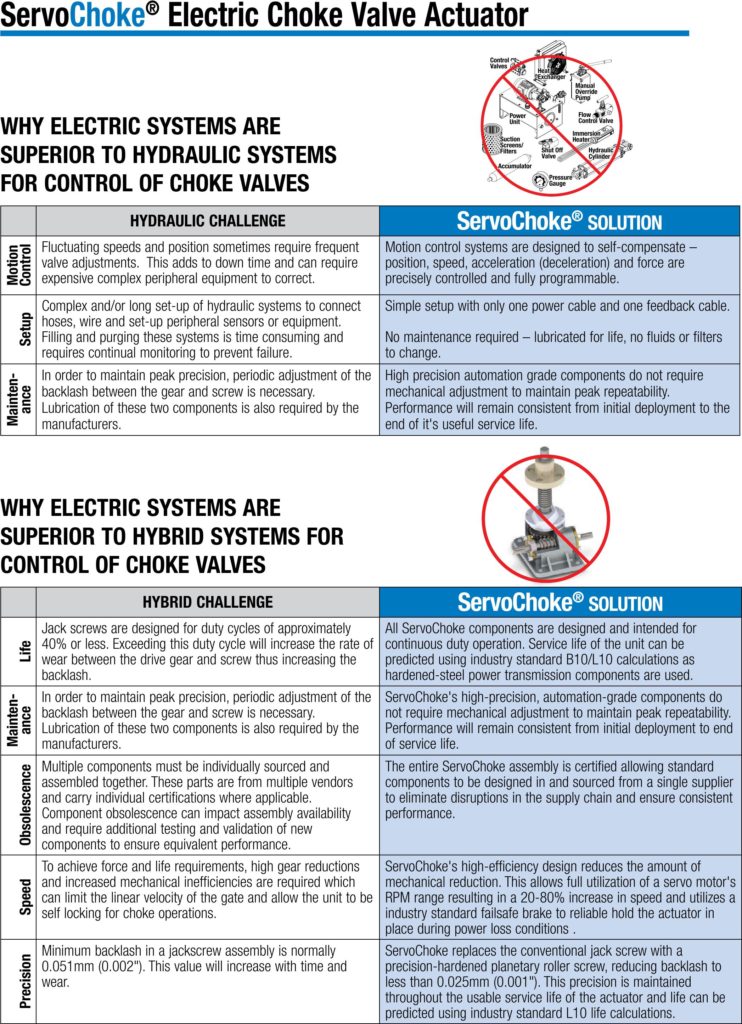 Testing and Simulation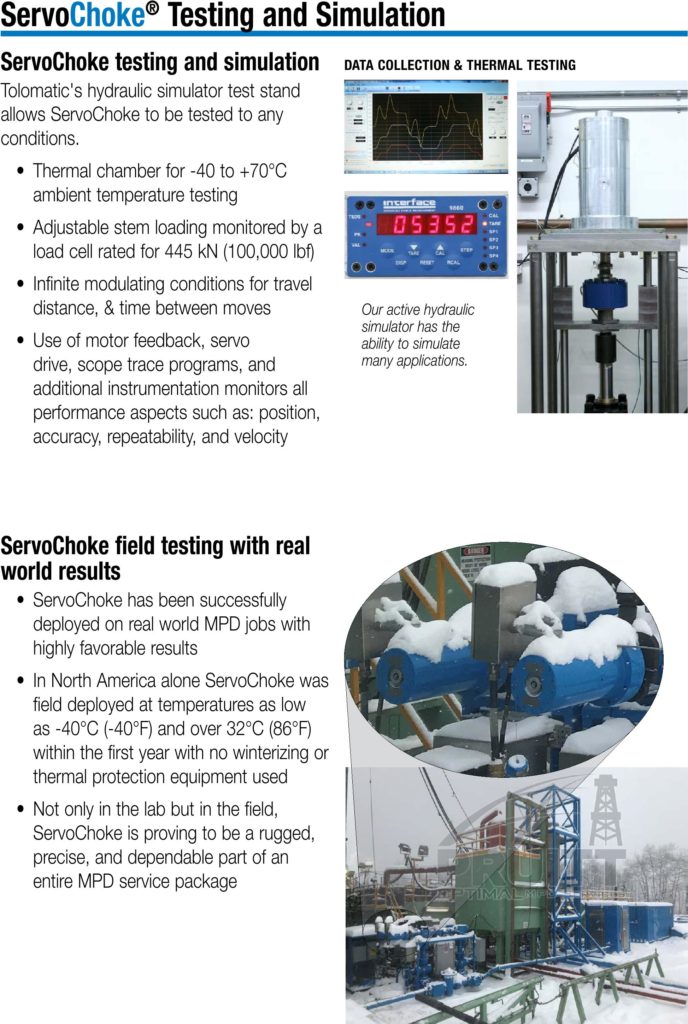 ServoChoke Actuator & Drive System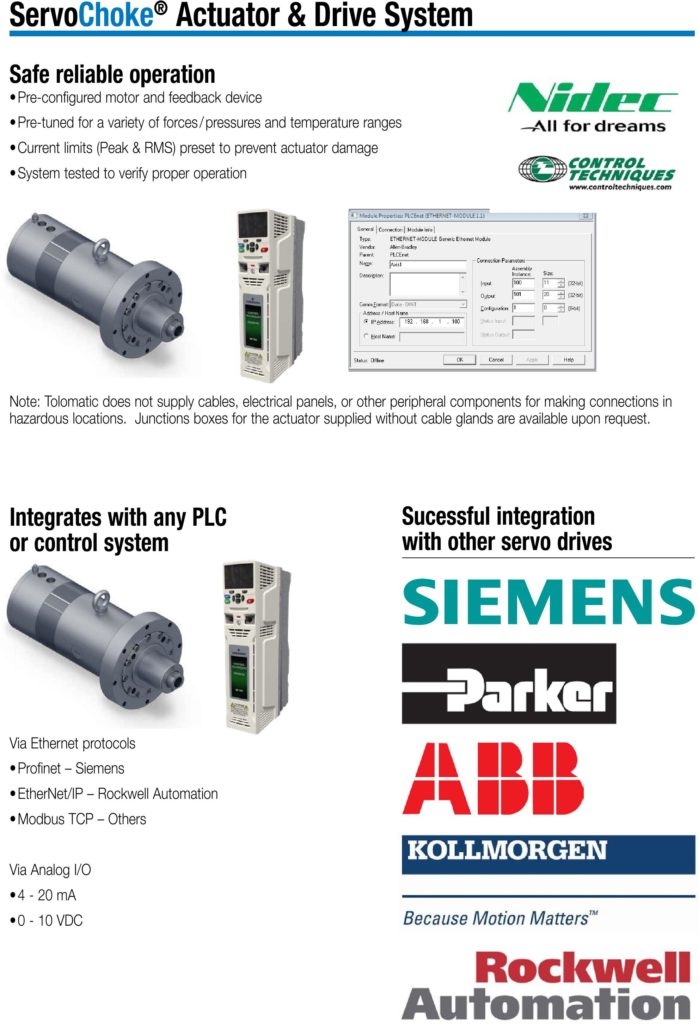 Performance & Specifications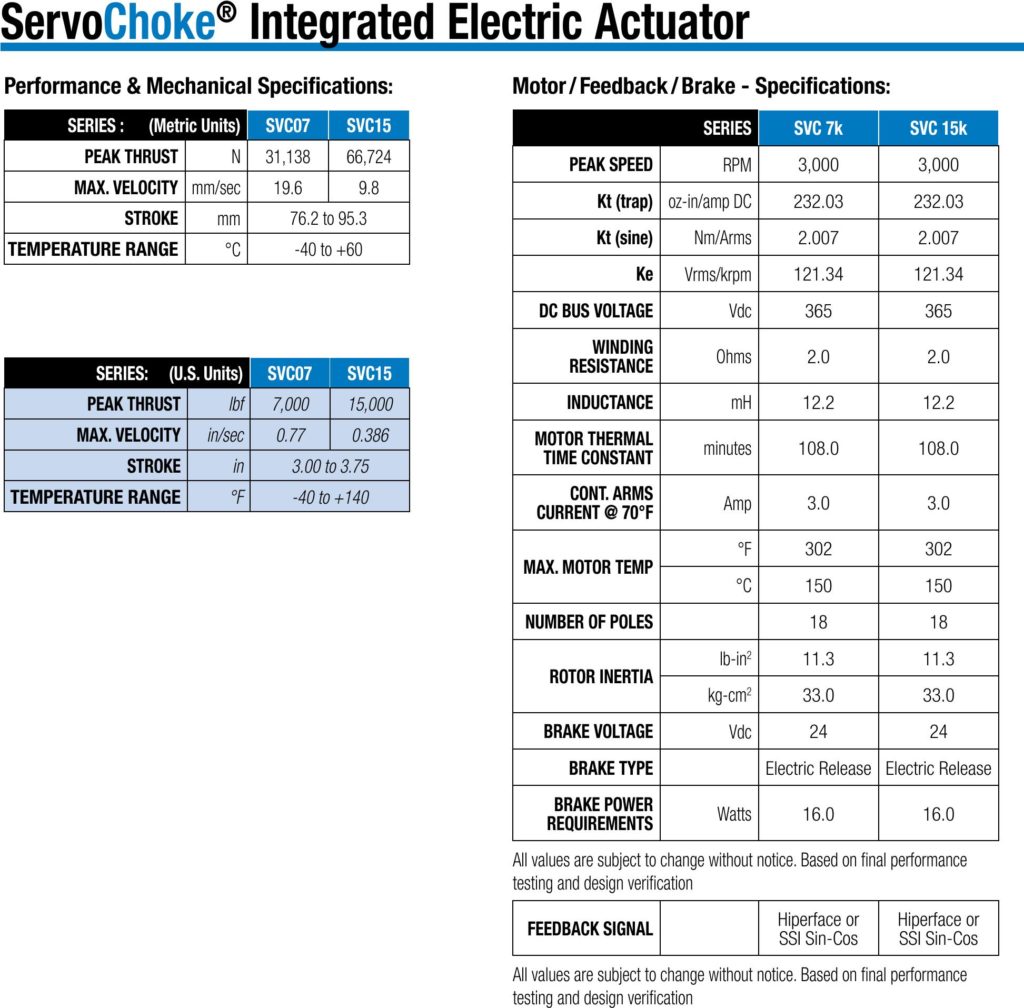 ServoChoke Dimensions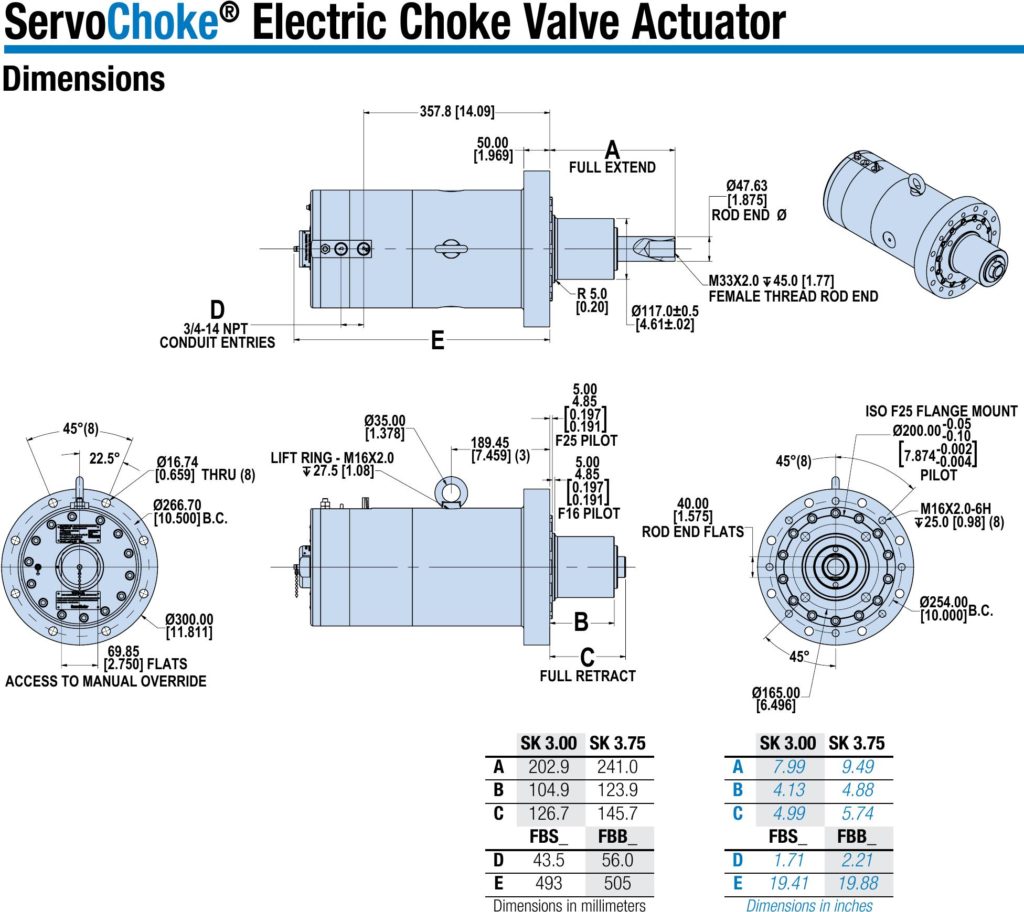 Information Center:
English
Chinese
German
Spanish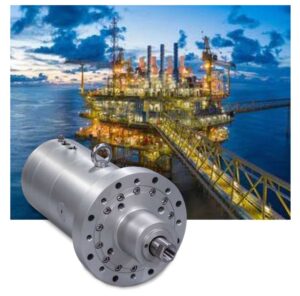 Managed Pressure Drilling
Challenge: Precision control of the pressure of mud flow back to the surface during both exploratory and extraction drilling of oil and natural gas.
Product Family: Electric Rod Style Actuator
Product Used: ServoChoke
SVC Ordering