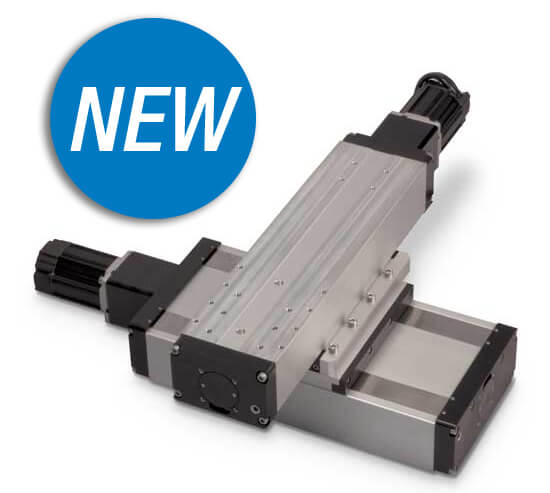 TRS Twin Profile Rail Stage with Enclosed Design
The TRS twin profile rail linear stage actuator has an enclosed design and is built to be both highly rigid, precise, and accurate. This linear stage is designed to minimize overall machine footprint and is stroke configurable to maximize design flexibility. Available in 100 and 165 sizes and capable of handling loads up to 1,356 lb (615 kg).
Load carrying capacities up to 6.0 kN (1,349 lbf).
Strokes up to 1,100 mm (43.3 in)
US customary (standard) and metric (optional) construction
Mount your motor of choice with Tolomatic's Your Motor Here® program
Roller Nut Lead Accuracy: ± 0.0102mm/300mm (± 0.0004″/ft.)
Metric Ball Nut Lead Accuracy: ± 0.100 mm/300mm (0.004″/ft)
Contact Tolomatic for more moment loading capability or higher speed requirements. Select alternative sizes and belt-drive designs available based on application.
TRS 

Maximum Stroke

| | | |
| --- | --- | --- |
| Size | TRS 100 | TRS 165 |
| Standard | 29.5 in | 43.3 in |
| Metric | 750 mm | 1,100 mm |
TRS 

Maximum Force

| | | |
| --- | --- | --- |
| Size | TRS 100 | TRS 165 |
| Standard | 562 lbf | 562 lbf |
| Metric | 2,500 N | 2,500 N |
TRS 

Maximum Load

| | | |
| --- | --- | --- |
| Size | TRS 100 | TRS 165 |
| Standard | 1,085 lbs | 1,356 lbs |
| Metric | 492 kg | 615 kg |
TRS 

Maximum Speed

| | | |
| --- | --- | --- |
| Size | TRS 100 | TRS 165 |
| Standard | 34 in/sec | 36 in/sec |
| Metric | 863.6 mm/sec | 910 mm/sec |
TRS Features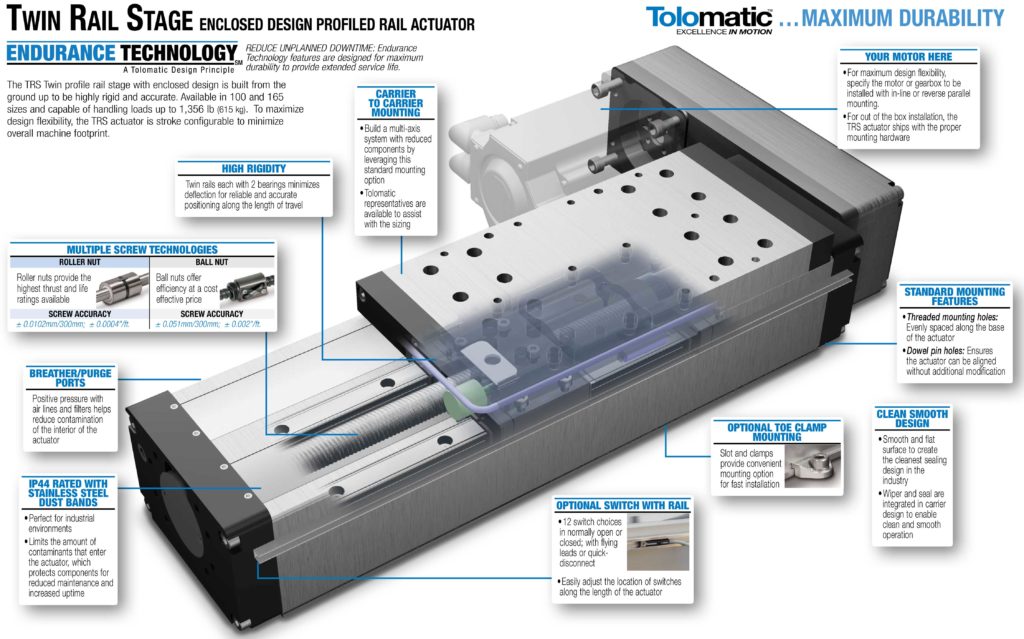 TRS Abbreviated Specs & Dimensions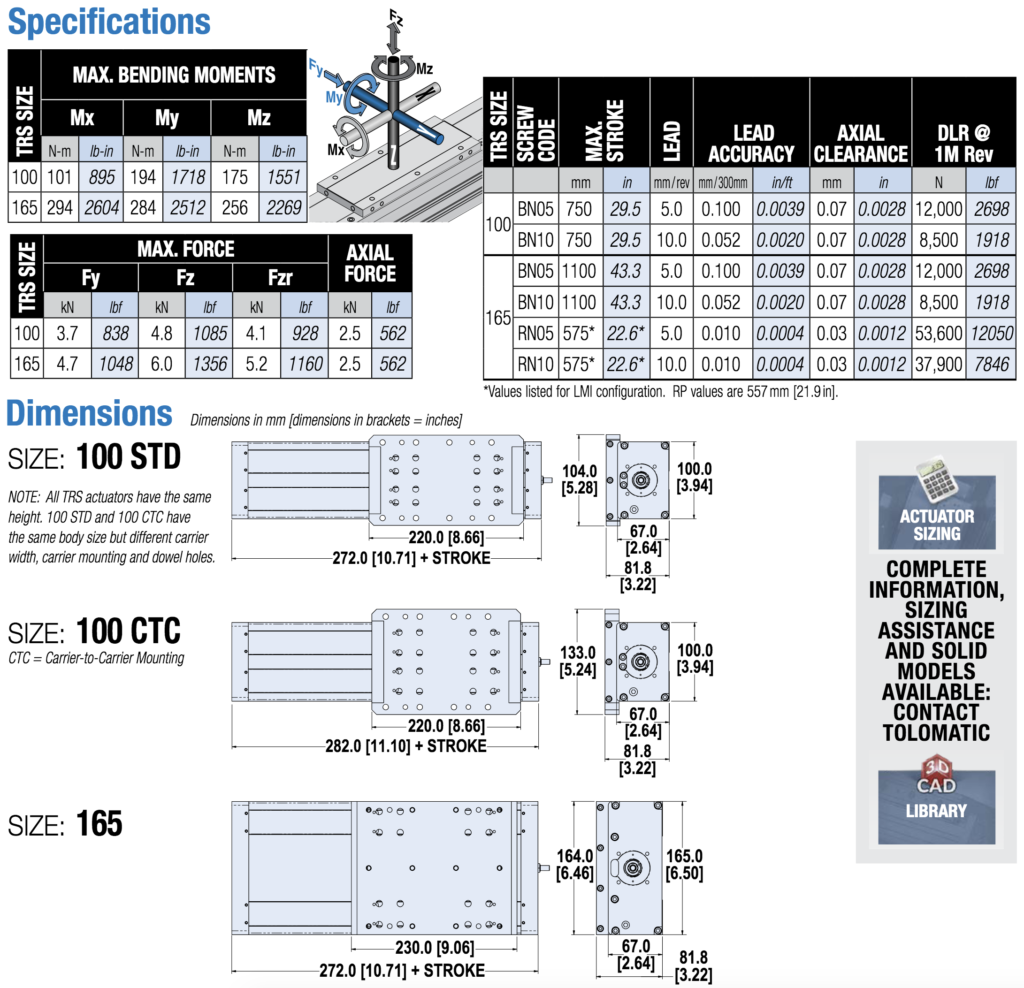 TRS Bending Moments, Load Deflection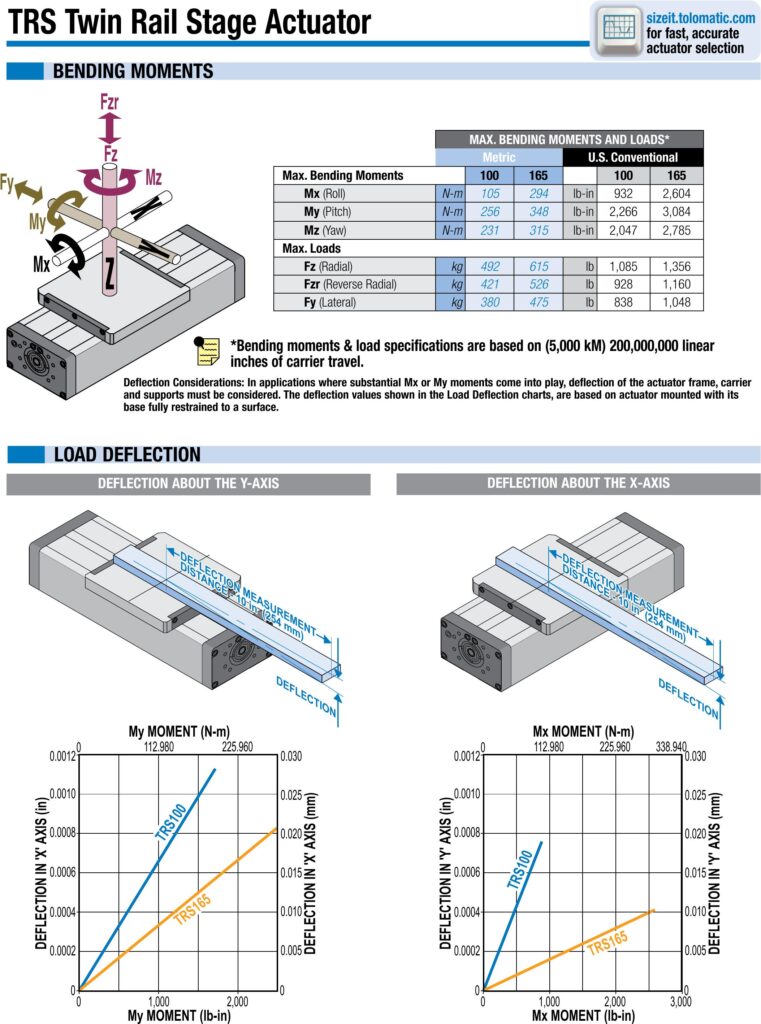 TRS Specifications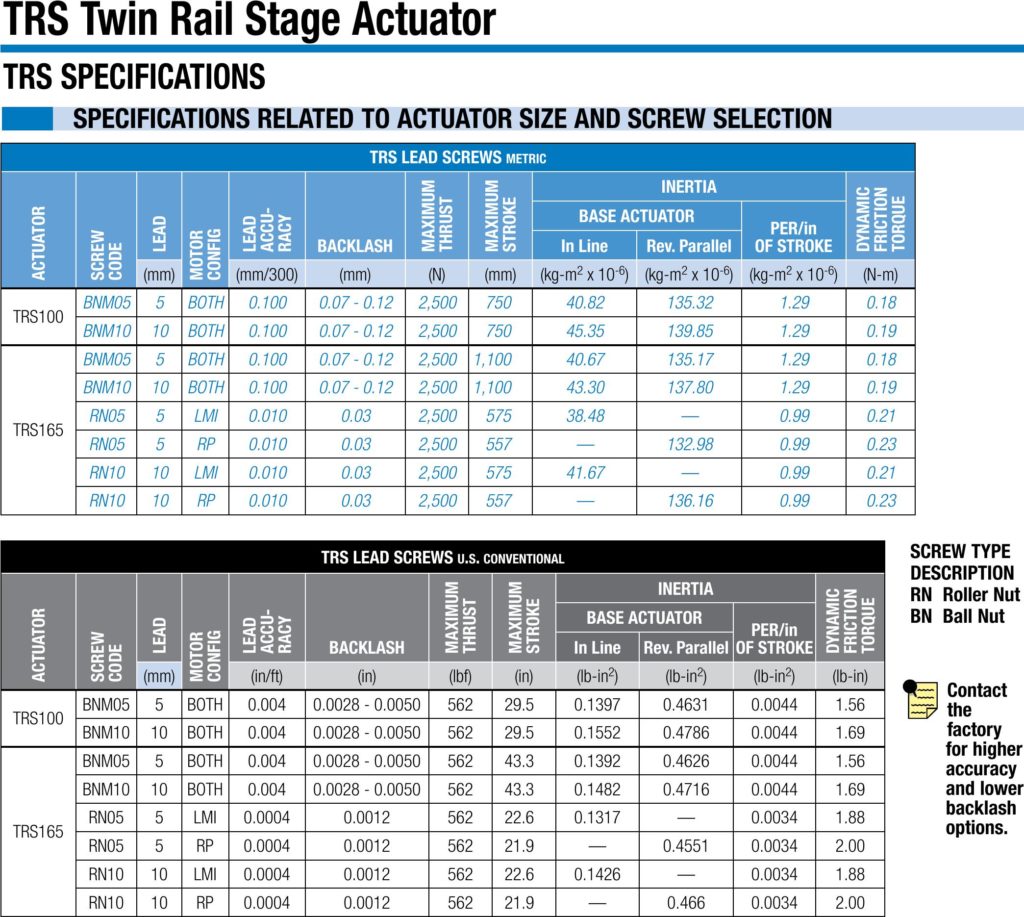 TRS Carrier to Carrier Max Load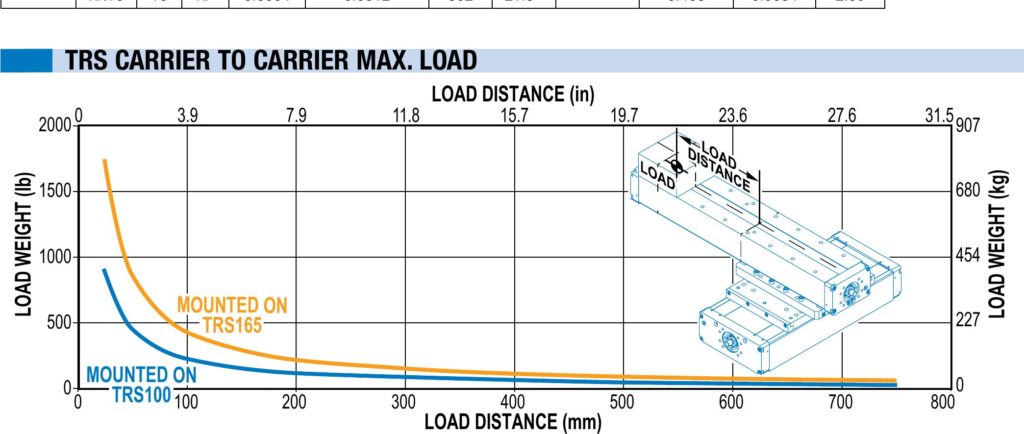 TRS Screw Performance Graphs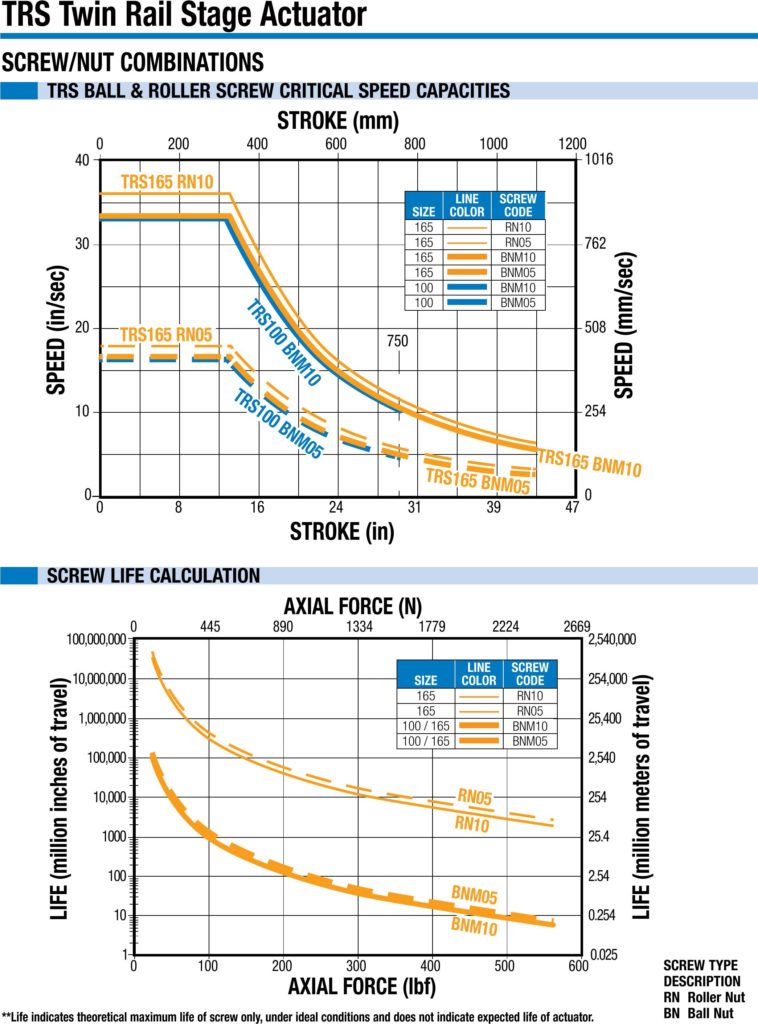 TRS Switches Part 1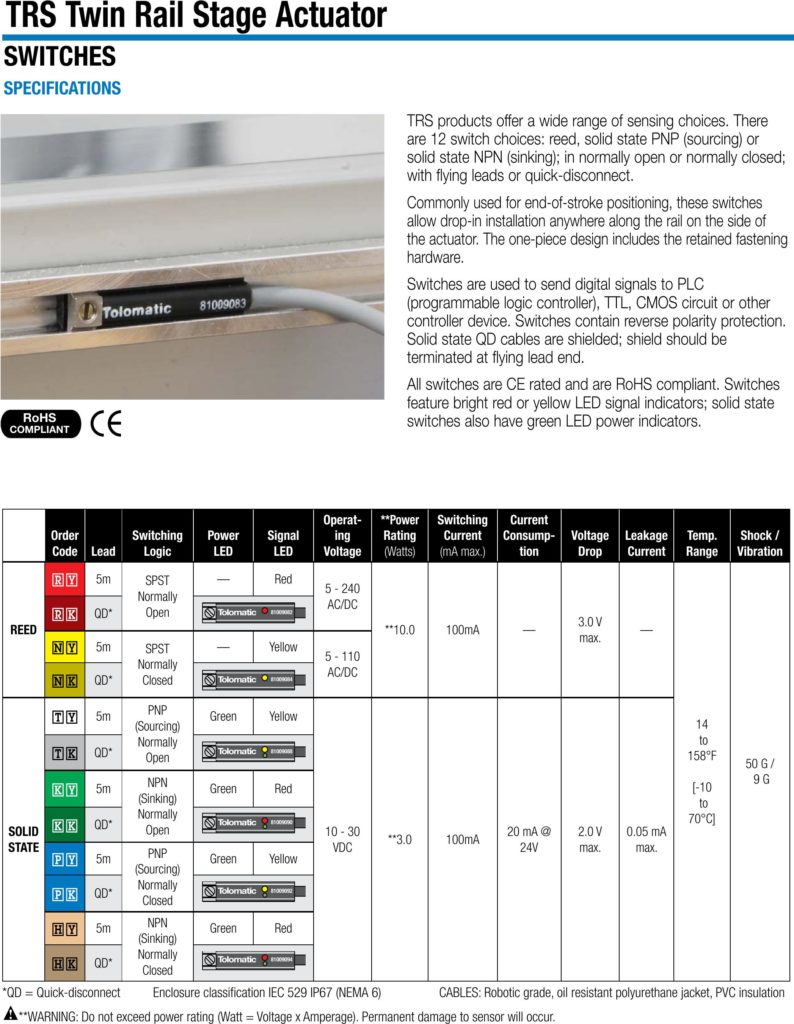 TRS Switches Part 2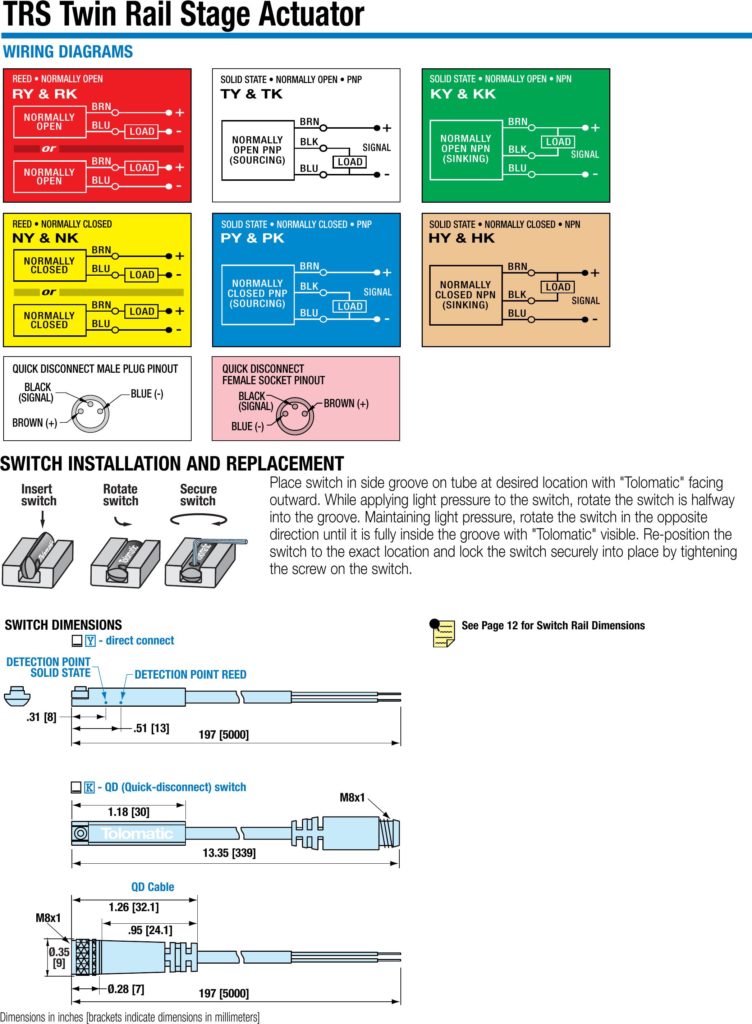 TRS Actuator Specs & Support Recommendations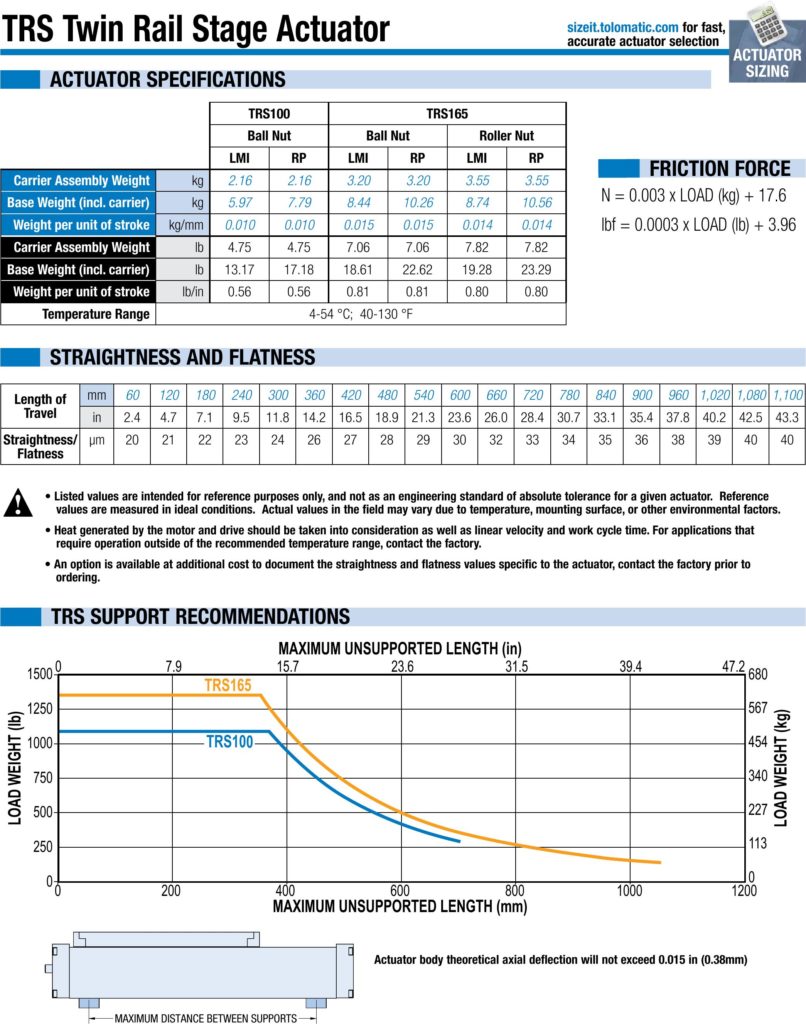 TRS Top View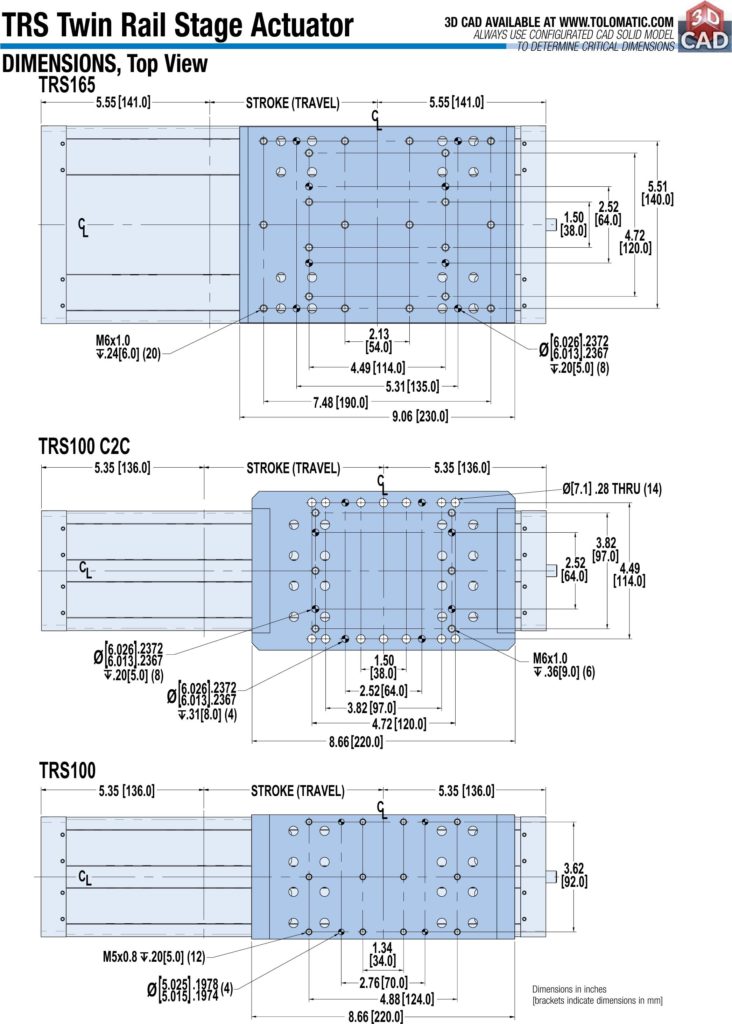 TRS End & Bottom Views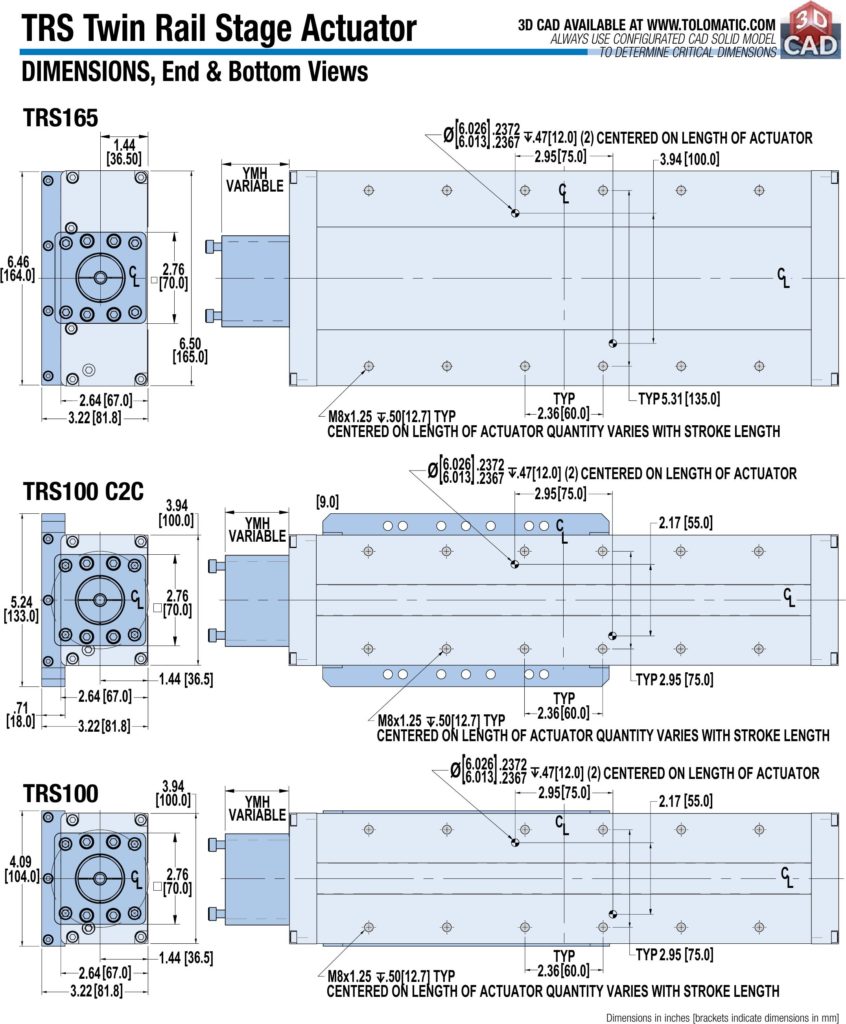 TRS Options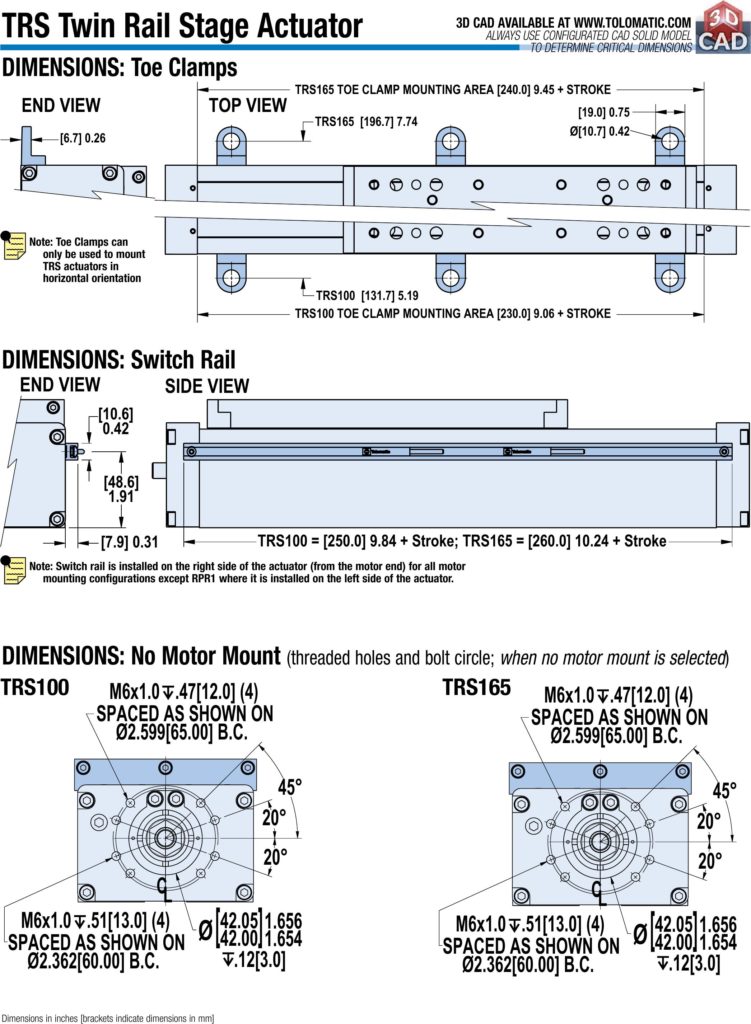 TRS100 Reverse Parallel (RP) Motor Mount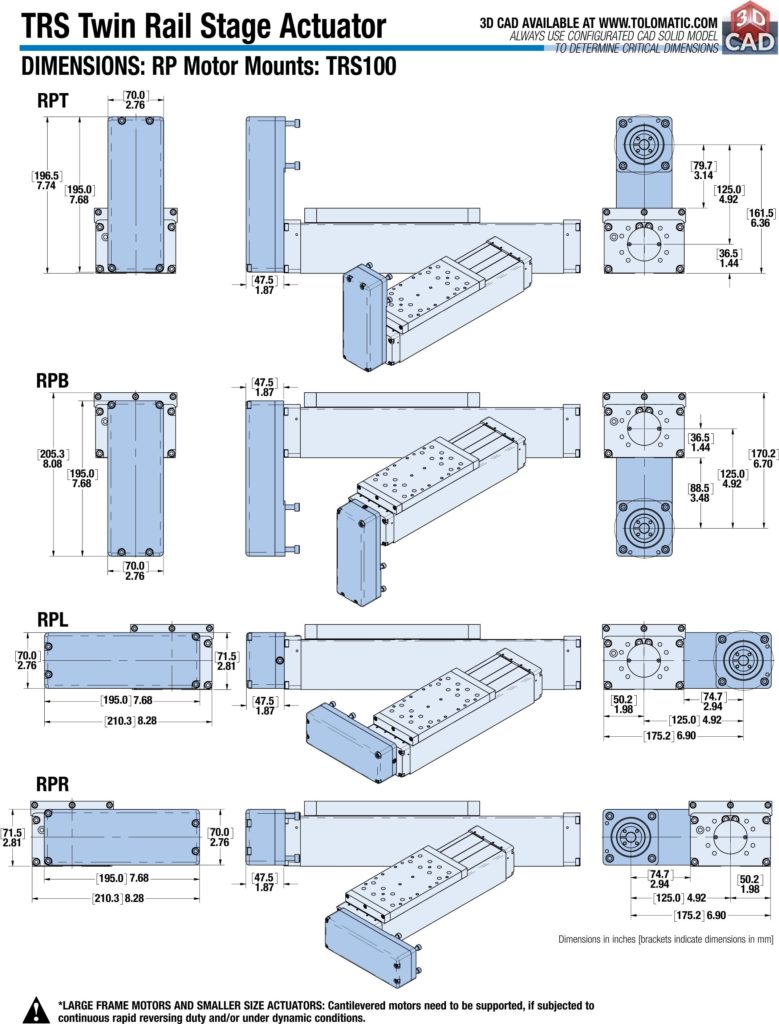 TRS165 Reverse Parallel (RP) Motor Mount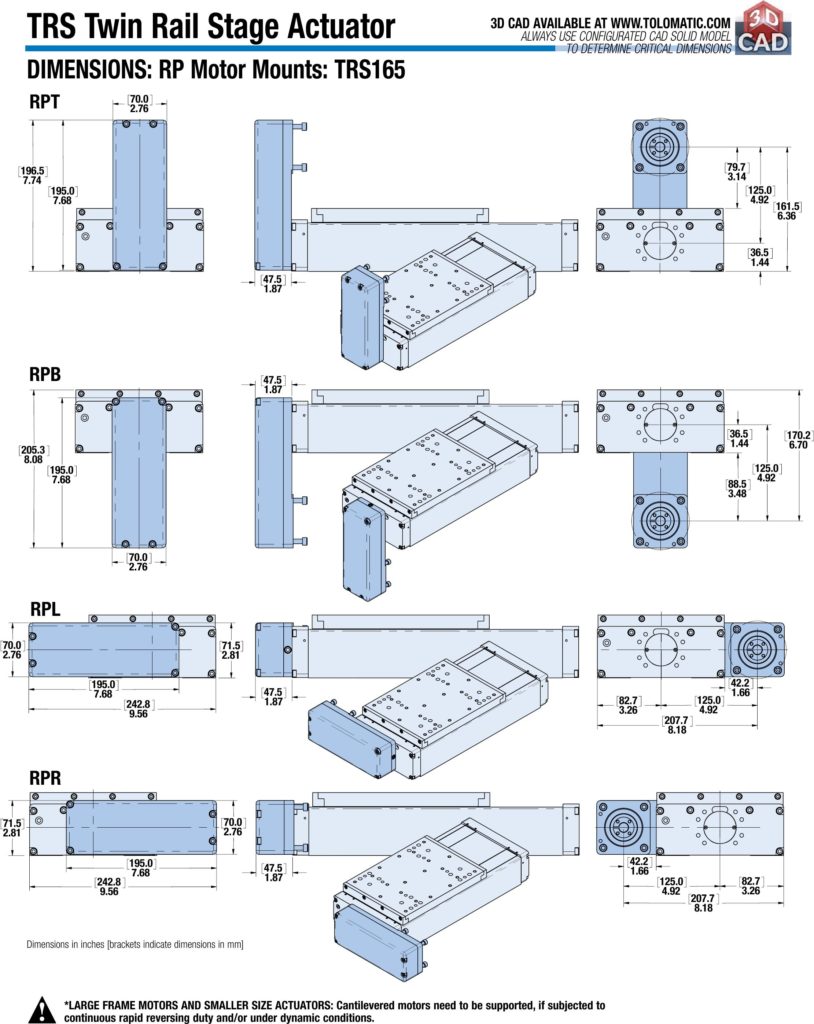 Information Center:
English
Chinese
German
Spanish
TRS Ordering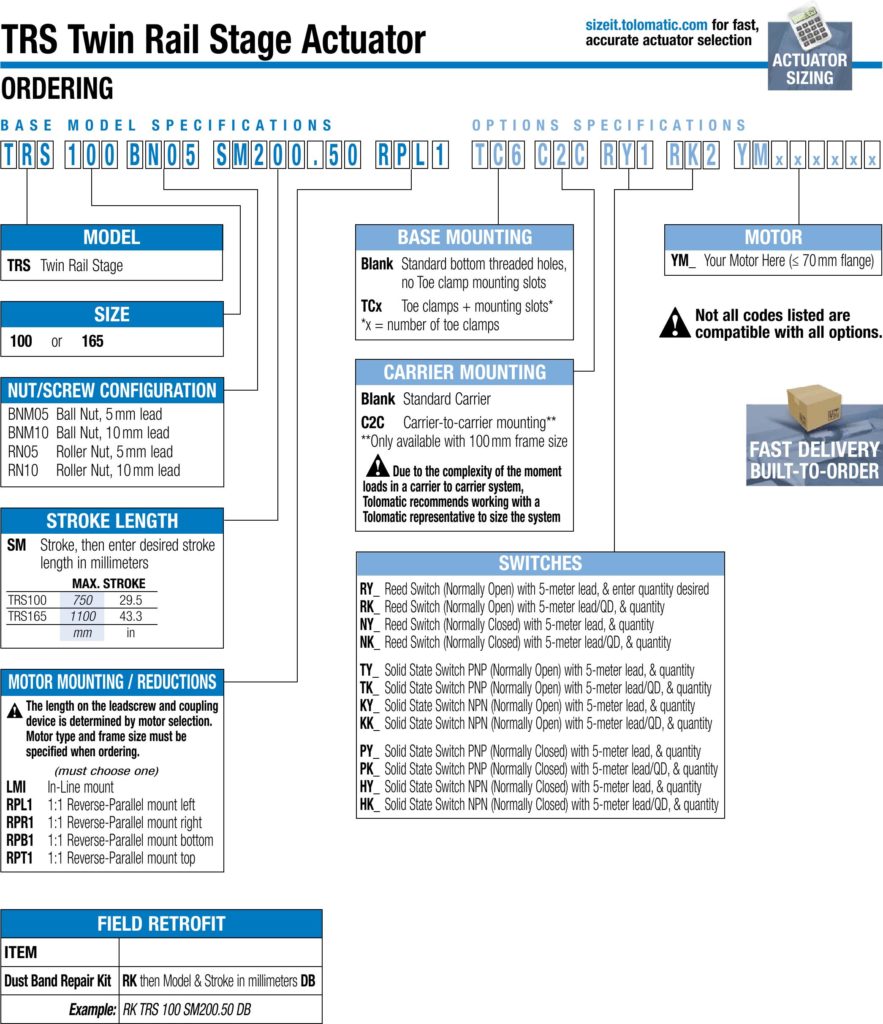 TRS Selection Guidelines