Machine design, clean in place (CIP) and linear actuators
By Tolomatic on January 24, 2017
---

Keeping clean is important, right?  Well, in food and beverage processing and pharmaceuticals manufacturing keeping equipment clean is essential.  Cross-contamination among batches causes problems, and food or beverage residue can grow harmful microorganisms. Many plants have clean in place (CIP) systems that deliver cleaning tailored to the needs of the facility including cleaning action (force, turbulence, direction), timing/duration (when, how often, how long), temperature, and type/strength of cleaning agent.
When you design equipment for these industries you need to keep cleanability in mind.   Even components like electric linear actuators must stand up to cleaning procedures.
If you need actuators that can handle these cleaning processes, we offer this white paper that explains the factors to consider when selecting actuators for washdown environments like those generated by clean in place systems.
Articles
Cleaning in place is a complex topic that gets even more complicated when you add current concerns about process optimization and regulatory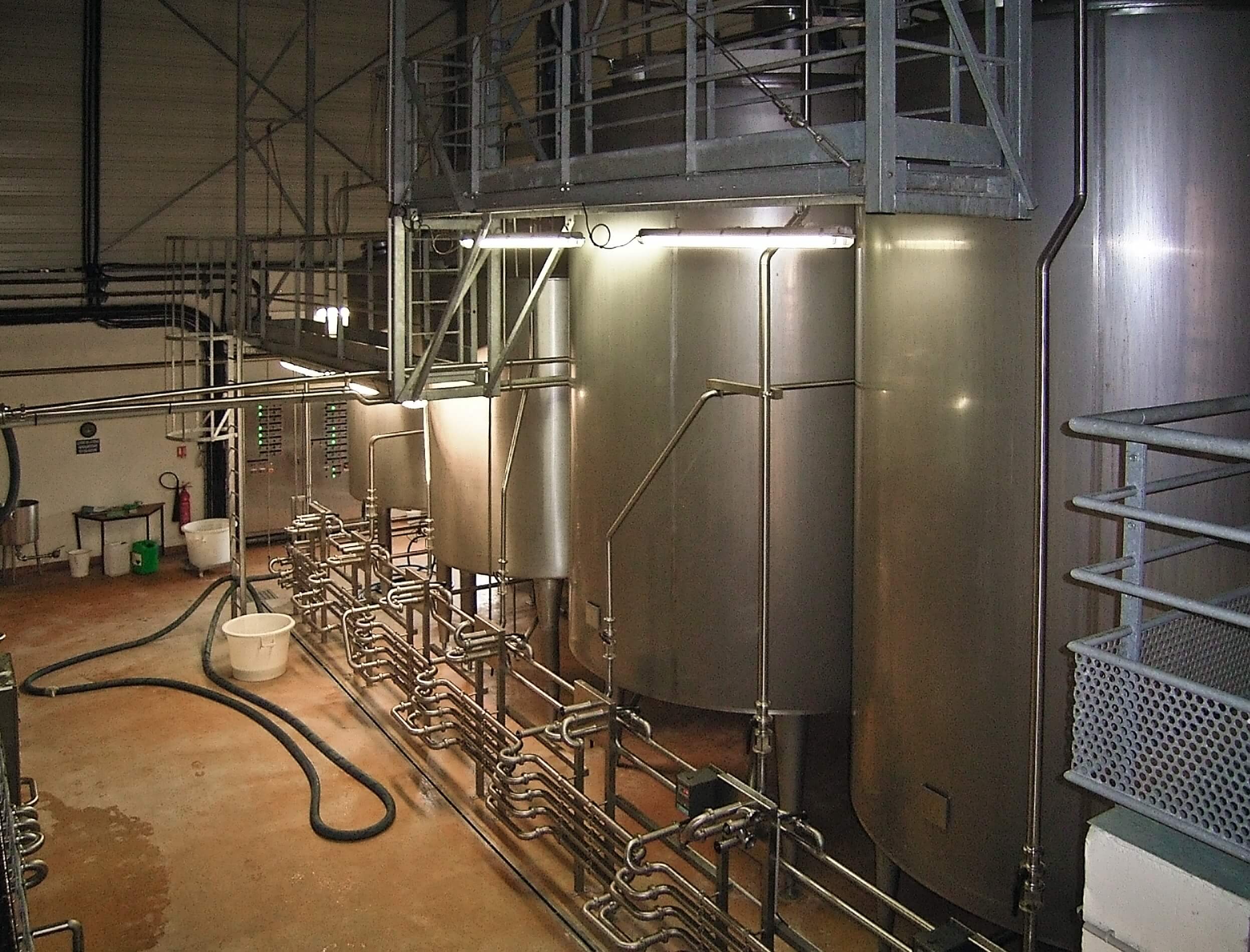 compliance.  As a machine designer, it helps to understand the basics at least.  These articles should help.
Clean in place procedures like washdowns are hard on automation equipment, including electric linear actuators. Moisture and caustic solutions can corrode parts, short out electrical circuits and impair functioning. To avoid these issues, look for electric linear actuators that stand up to these conditions with designs that:
Resist corrosion – Stainless steel is often used for actuator bodies and motor housings. Or food grade epoxy may be used instead. Fasteners, seals, and gaskets also need to resist corrosion.
Shed moisture and contaminants – A rounded body design eliminates crevices where moisture and food particles can collect. This and a water-shedding surface means contamination won't linger on the actuator after cleaning.
Protect components from moisture damage – Because only the rod opening needs to be sealed against moisture and particles, and they can be fabricated from corrosion-resistant material, electric rod actuators are better suited to washdown conditions than are rodless electromechanical actuators.

CIP-compliant electric actuators
You can count on us for a wide range of compliant linear actuators. Our ERD hygienic electric actuators are approved by 3A and USDA for food and beverage applications. These IP69K, stainless steel electric actuators offer up to 7868 lbf (35 kN) of force and are the perfect solution for food and beverage processing applications including those where higher forces are required.
Our IMA food grade servo actuators offer sanitary protection in wash-down applications. The IMA food grade product family features a white epoxy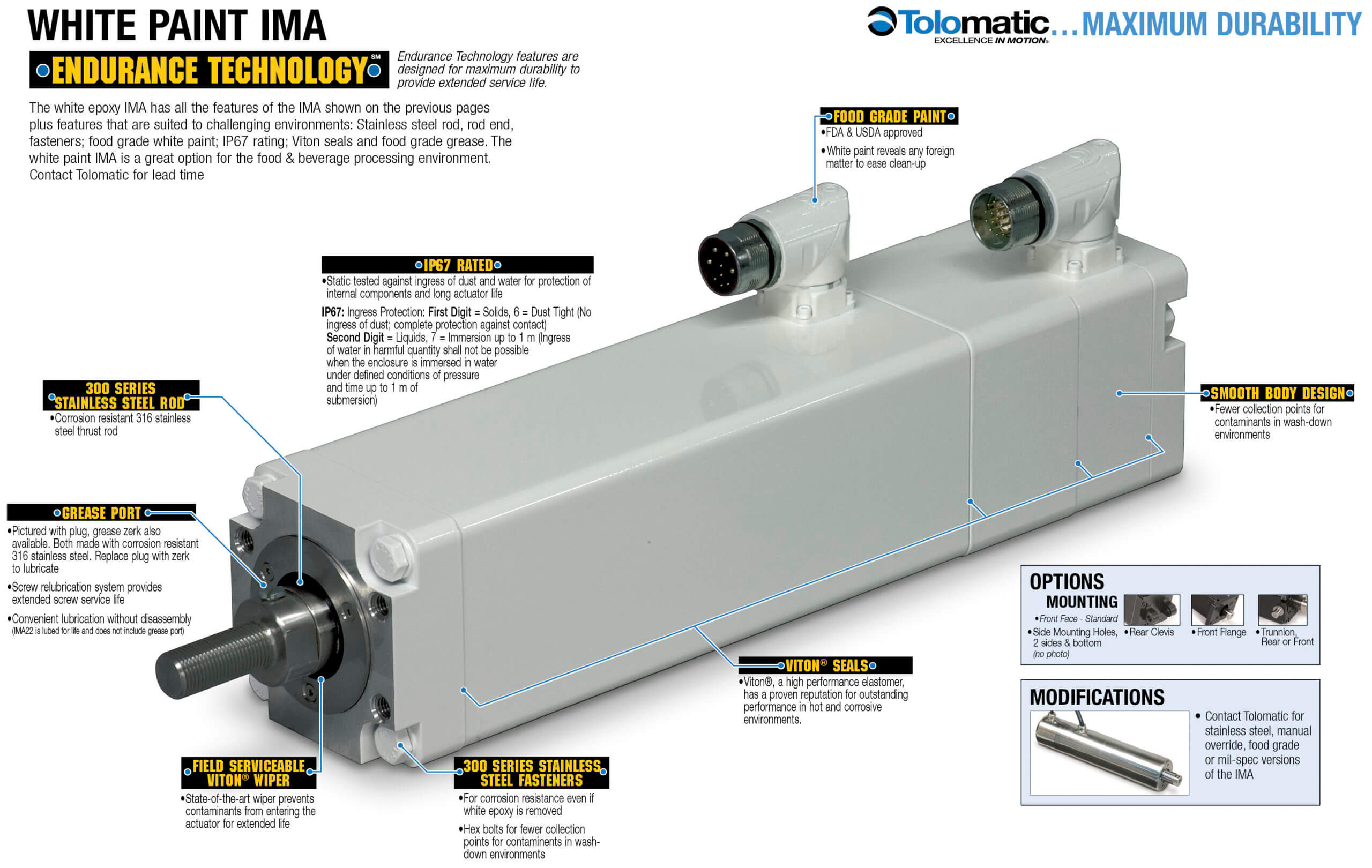 food grade coating and food grade grease. Models are available with stainless-steel fasteners, rod and rod ends. Using the same integrated servo motor design as IMA servo actuators, they offer a compact footprint and are available in both ball and roller screw configurations. IMA food grade servo actuators provide forces up to 6875 lbs (30.6 kN) even in high duty cycle applications.
Learn more
For further information on selecting actuators for these challenging applications, download our white paper, Evaluating actuators for washdown in food and beverage applications.