Hygienic, IP69K electric rod actuator meets food processing needs
By Tolomatic on October 27, 2015
---
Food processing is a tough environment for most automation equipment. There may be washdowns with high-pressure, high-temperature water. Caustic cleaning agents might be used. There also may be strict food safety standards to adhere to, like the USDA's regulations for the meat, poultry and dairy industries.
As automation components, all linear actuators, like electric rod actuators, need to stand up to the rigors of the food processing environment. This makes their evaluation and selection critical. Engineers need to consider overall design, material,s and ratings when selecting electric linear actuators.
Because we're committed to the food and beverage processing industry, we offer a white paper that provides guidelines for evaluating and selecting linear actuators for washdown environments in food and beverage processing.
For more food processing products and applications, download our brochure.
Hygienic design needed
A cheese processing operation needed a vertically-oriented linear motion system to push formed cheese blocks out of molds as part of the production process.
The linear actuator had to withstand frequent washdowns that used a caustic cleaner. The actuator also had to have a hygienic design that met the food processor's production standards. Smooth action and reliable performance were must-haves.
USDA-approved electric rod actuator is the solution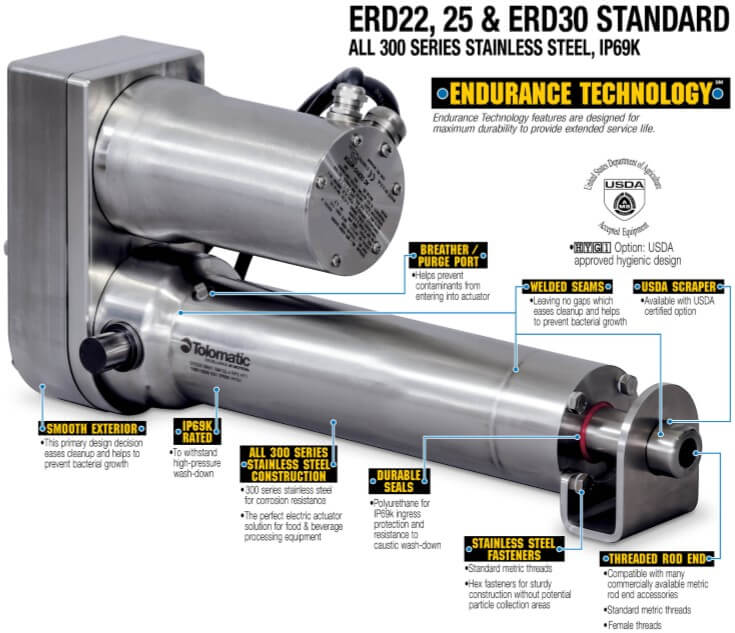 We recommended the ERD25 electric rod actuator to the manufacturer. The model used for the application includes a rod scraper as part of our hygienic configuration. The hygienic ERD25 is USDA-approved for meat, poultry, and dairy processing.
This ERD25 electric rod actuator is rated IP69K to stand up to water spray and corrosion. It has a stainless steel, water-shedding housing, stainless steel rod and fasteners, and corrosion-resistant, food-safe seals. The ERD for this application was modified to provide the 43-inch stroke length the application required.
This linear motion solution delivers both USDA-approved design and the ability to stand up to caustic washdowns. Machine costs are a kept low because the ERD's water-shedding, rod-style design eliminates the need for expensive water shielding.
Learn more
Dependable, long-lasting performance and smooth operation are hallmarks of the ERD family. To find out more about the entire line of ERD electric rod actuators, download our catalog.
See our white paper for guidelines on evaluating and selecting linear actuators for washdown environments in food and beverage processing.
Or download our brochure of food and beverage processing applications and products.