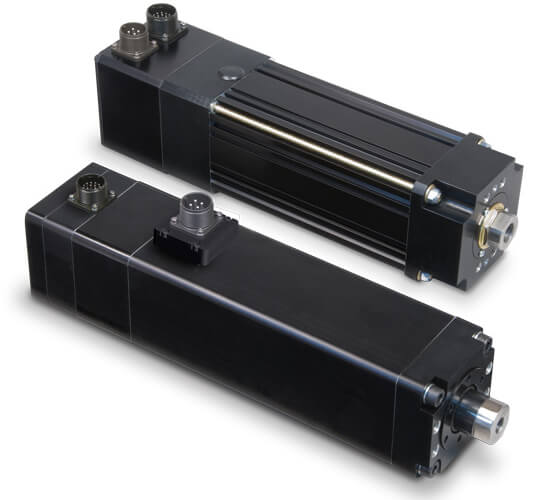 GSWA44 and GSWA04 ServoWeld® Spot Welding Servo Actuators
ServoWeld® GSWA44 and GSWA04 Series spot welding actuators provide the longest life (most weld) with highest force and efficiency.
The ServoWeld® GSWA44 and GSWA04 series actuators provide peak thrusts of 4,000 lbf (17.8 kN) for a variety of resistance spot welding gun applications (pinch guns, X guns, C guns). Utilizing a standard roller screw with the highest dynamic load rating, the GSWA44/04 are the longest lasting (most welds) spot welding actuators on the market. GSWA44/04 spot welding servo actuators are highly efficient and its broad performance range allows it to easily handle multiple weld schedules and accommodate different materials / material thicknesses in resistance spot welding.
GSWA 44 and 04 spot welding actuators offer:
20+ million cycles with minimal maintenance
Standard roller screw with highest dynamic load rating for more welds over competing roller screws, ball screws or pneumatic actuators
±3% force repeatability over life of actuator
Light-weight actuator design
Forces to 4,000 lbf (17.8 kN)
Optional water cooling
Integration for 7th axis operation with most global robot manufacturers
GSWA44 & GSWA04

Max Stroke

| | |
| --- | --- |
| Size | GSWA 44 / 04 |
| Standard | 18 in. / 6 in. |
| Metric | 457 mm / 152 mm |
GSWA44 & GSWA04

Max Force

| | |
| --- | --- |
| Size | GSWA 44 / 04 |
| Standard | 3,300 lbf |
| Metric | 14.7 kN |
GSWA44 & GSWA04

Max Speed

| | |
| --- | --- |
| Size | GSWA 44 / 04 |
| Standard | 23 in/sec |
| Metric | 584 mm/sec |
ServoWeld® GSWA 04 & 44 Integrated Features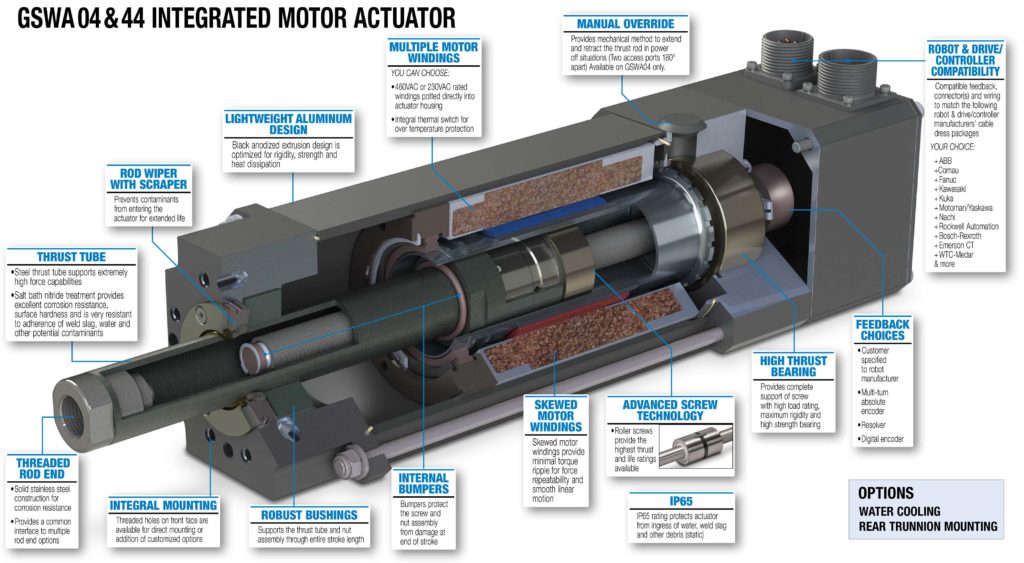 ServoWeld Refurbishment and Remanufacturing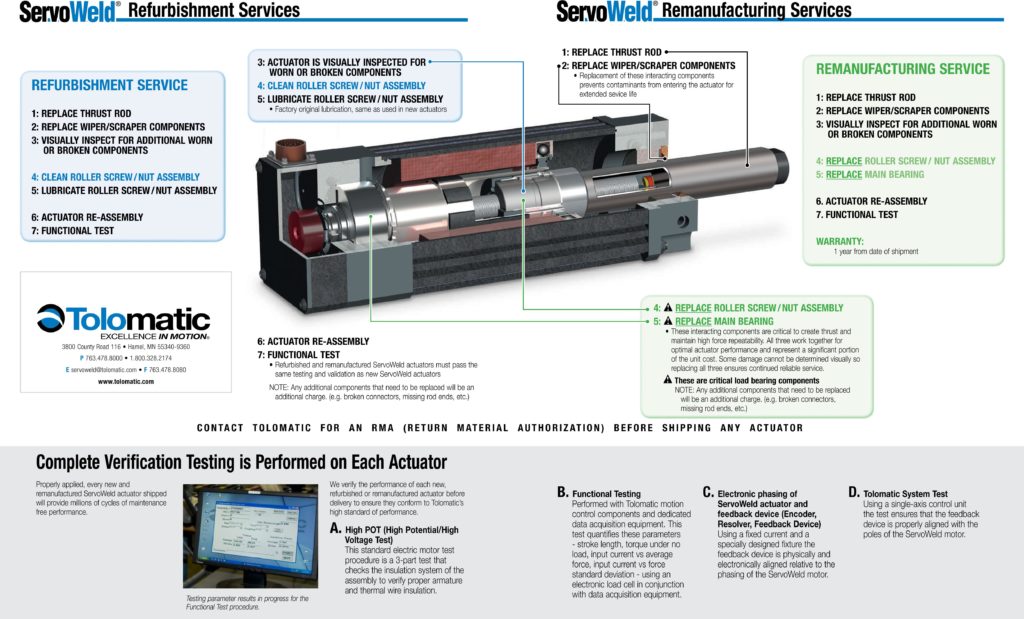 ServoWeld® GSWA Actuator Specifications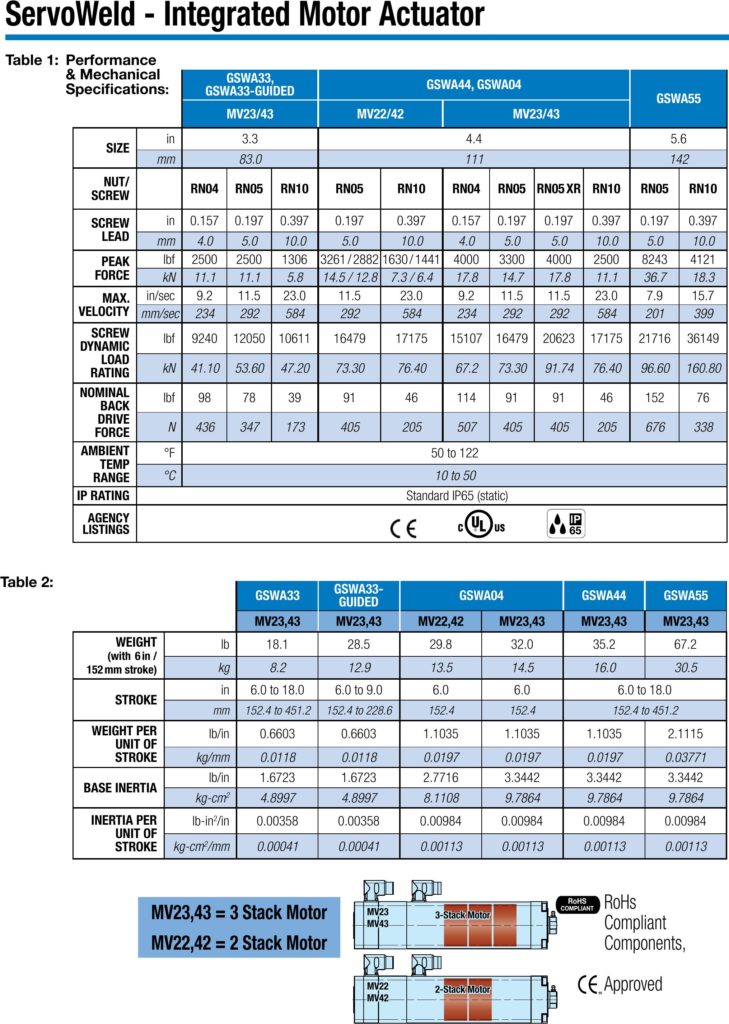 ServoWeld® GSWA Actuator Specifications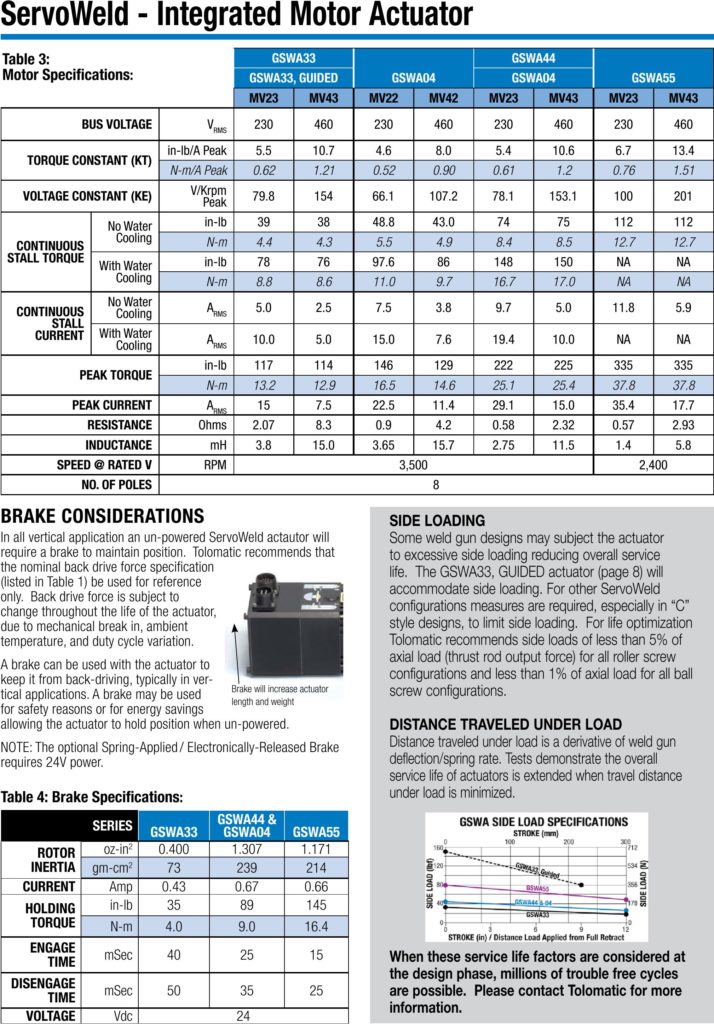 ServoWeld® GSWA 44 Dimensions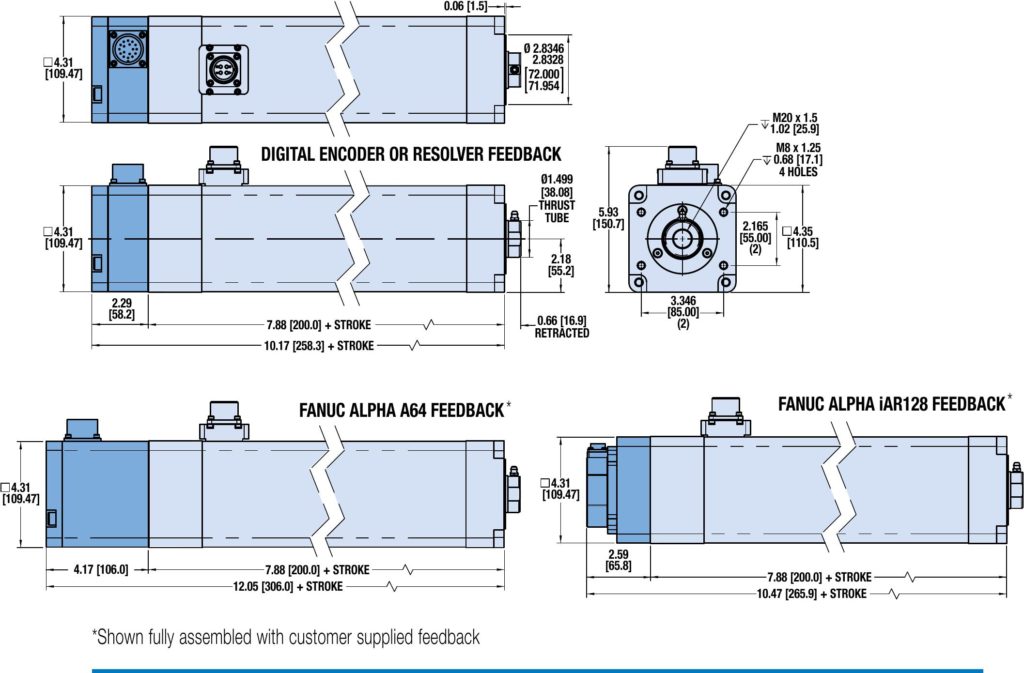 ServoWeld® GSWA 04 Dimensions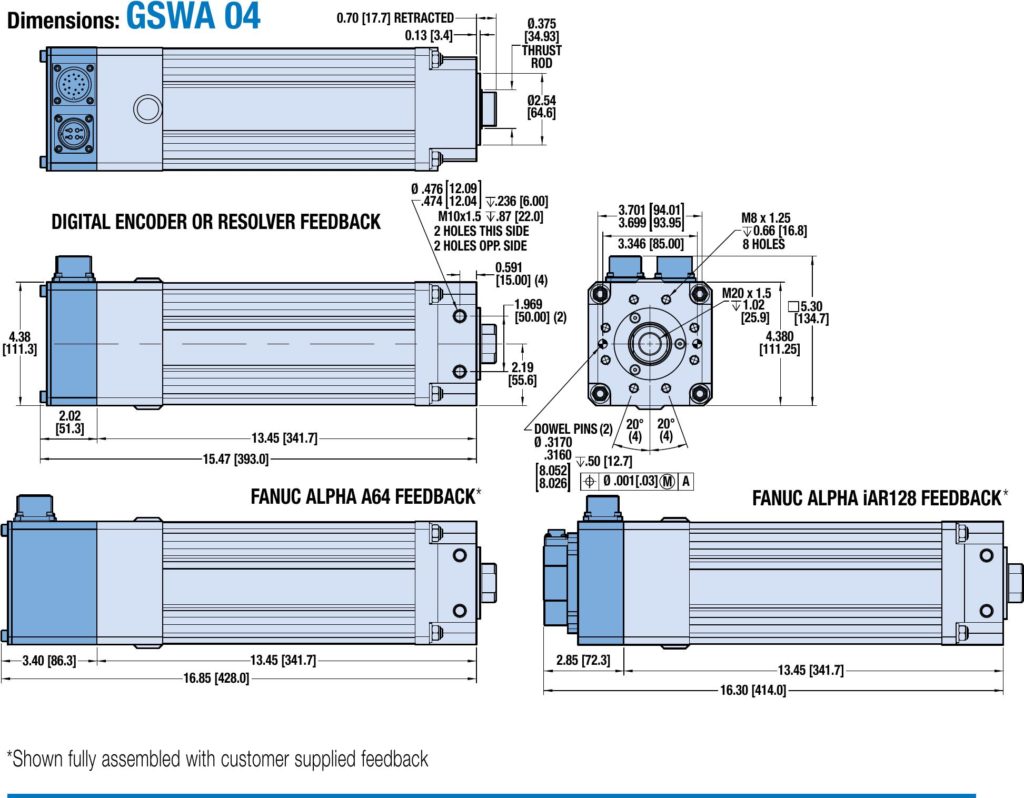 Information Center:
English
Chinese
German
Spanish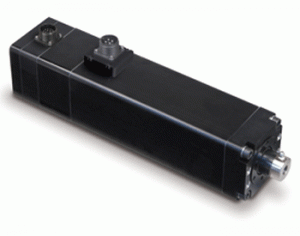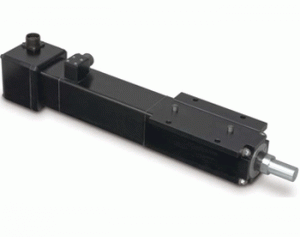 For more information on ServoWeld® or for product and ordering support, contact the offices below:
USA CORPORATE HEADQUARTERS
Tolomatic, Inc.
3800 County Road 116
Hamel, MN 55340
sales@tolomatic.com
1-800-328-2174 (USA and Canada)
763-478-8000
EUROPEAN OFFICE
Tolomatic Europe GmbH
Herriotstraße 1
60528 Frankfurt am Main, Germany
europesales@tolomatic.com
+49 69-6773-3143
CHINA FACILITY
Tolomatic Automation Products (Suzhou) Co. Ltd.
No. 60 Chuangye Street, Building 2
Huqiu District, SND Suzhou
Jiangsu 215011 – P.R. China
servoweldchina@tolomatic.com
+86 (512) 6750-8506
ServoWeld® GSWA Application Guidelines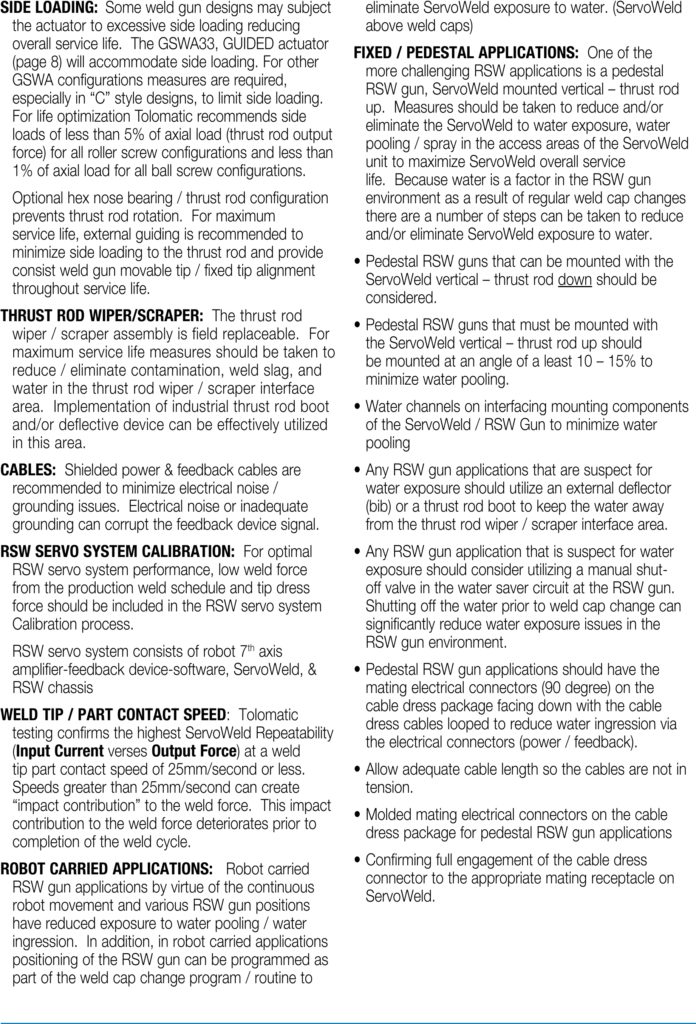 ServoWeld Refurbishment and Remanufacturing