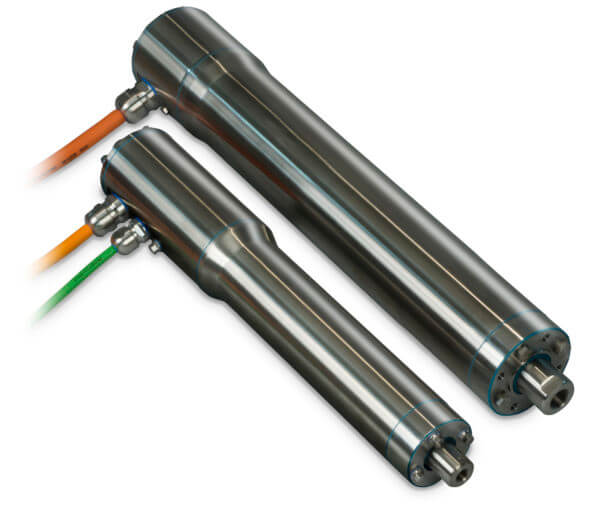 IMA-S Stainless Steel Servo Motor
Designed for the most demanding food and beverage applications
The IMA-S is a hygienically designed integrated electric servo actuator for the food and beverage processing industry. The IP69K hygienic design features all 316 stainless steel construction and hygienic fasteners/cord grips which allows for open machine designs and effective clean-in-place.
Tolomatic's integrated motor products (IMA & IMAS) support integration with a wide range manufacturers' servo drives.  Check back often to our Drive Integration Resource page as we will continue to add supporting documentation and motor files.  Tolomatic also supports seamless integration with Rockwell Automation through the use of approved custom motor files (CMF) and as a Technology and Encompass partner.  See our Tech Notes on using the CMF import tool and interfacing the IMA actuator and absolute encoder with Rockwell Automation servo drives.
The product line also includes the IMA-SA model which incorporates an internal anti-rotate feature eliminating the need for an external guidance mechanism making it a perfect actuator for applications such as volumetric filling and pumping.
Feedback options include multi-turn absolute encoders (Hiperface DSL, Hiperface Sin-Cos, EnDat 2.2), incremental encoder, and a resolver to integrate with most PLC or control systems. IMA-S servo motor has simple integration with Rockwell Automation (Allen-Bradley) Kinetix platform through pre-existing motor files (CMF/BLB) for easy drive and PLC integration.
Improve your hygienic machine design with IMA-S food grade actuators
Provides complete control over speed and position at all times
Hygienic design to allow for food grade cleaning and sanitizing
Resists corrosion with 316 stainless steel body
Provides IP69k wash-down protection with blue seals/o-rings and hygienic fasteners/cord grips
Improves performance, flexibility and efficiency in comparison to fluid power technologies
IMA-S 

Maximum Stroke

| | | | |
| --- | --- | --- | --- |
| Size | IMA-S 22 | IMA-S 33 | IMA-S 33SA |
| Standard | 12 in. | 18 in. | 12 in. |
| Metric | 305 mm | 457 mm | 305 mm |
IMA-S 

Maximum Force

| | | | |
| --- | --- | --- | --- |
| Size | IMA-S 22 | IMA-S 33 | IMA-S 33SA |
| Standard | 325 lbf | 2,500 lbf | 2,500 lbf |
| Metric | 1.45 kN | 11.1 kN | 11.1 kN |
IMA-S 

Maximum Speed

| | | | |
| --- | --- | --- | --- |
| Size | IMA-S 22 | IMA-S 33 | IMA-S 33SA |
| Standard | 19.6 in/sec | 19.6 in/sec | 19.6 in/sec |
| Metric | 500 mm/sec | 500 mm/sec | 500 mm/sec |
IMA-S: Hygienic Integrated Servo Actuator Features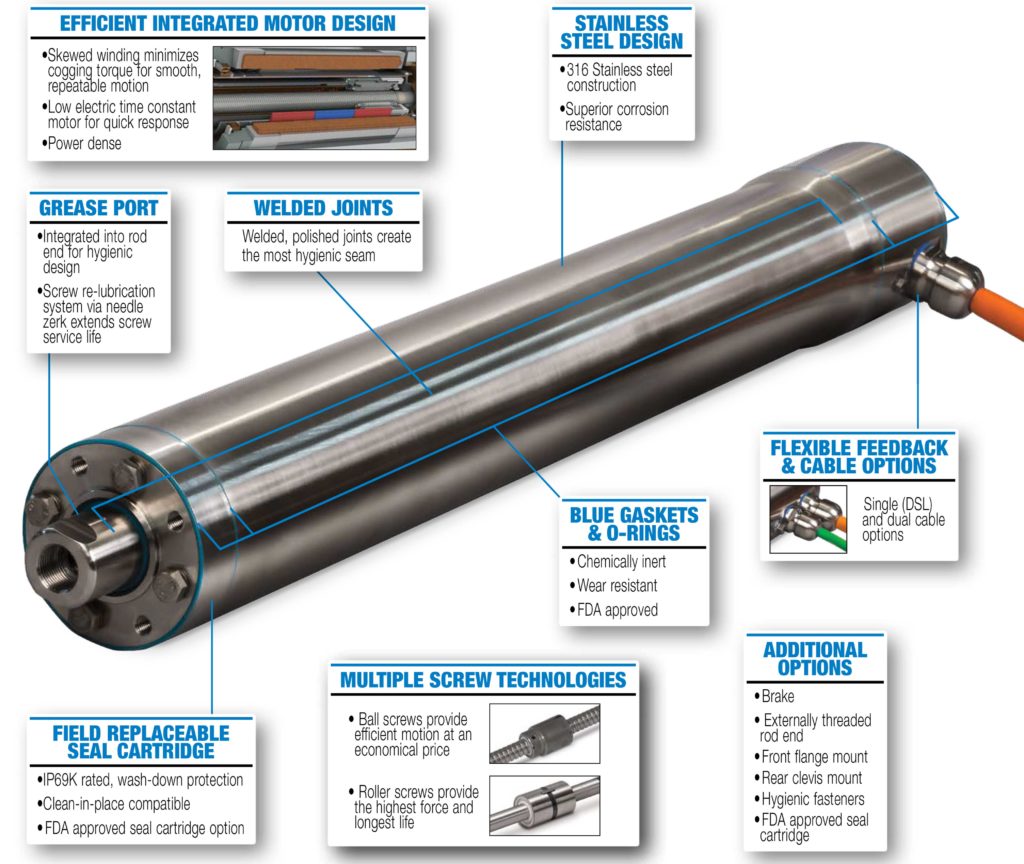 IMA-S Performance & Mechanical Specifications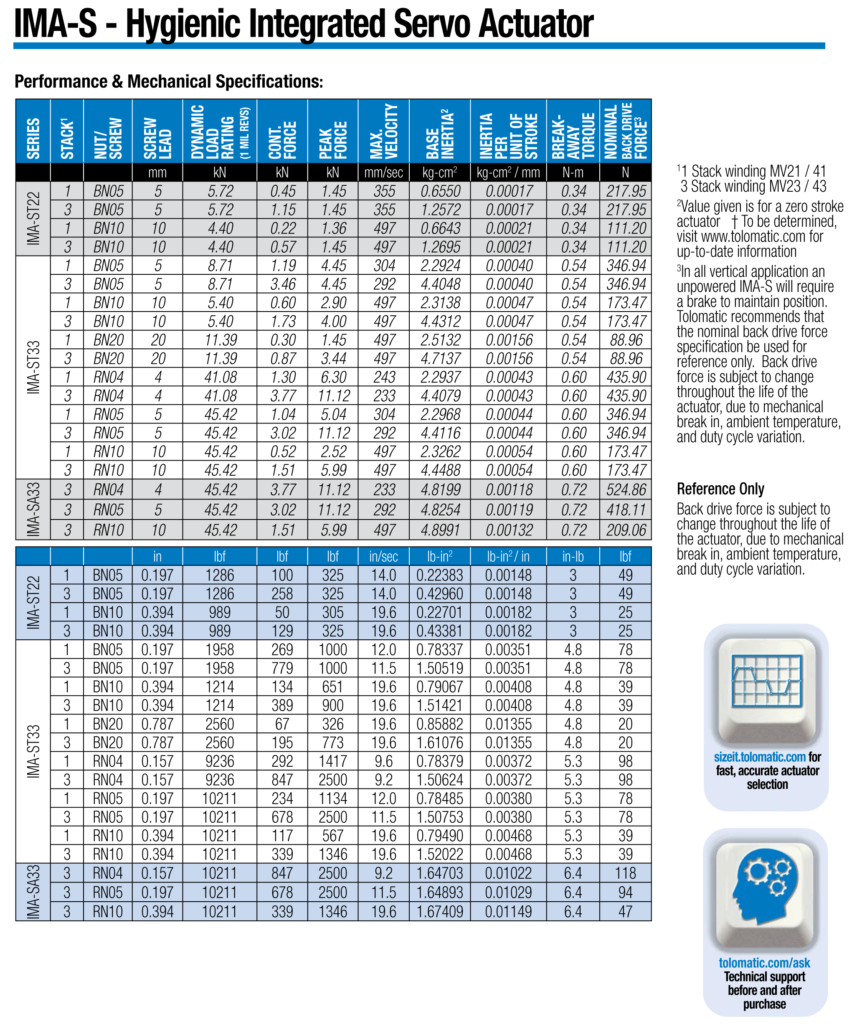 IMA-S Perf., Mech. & Motor Specifications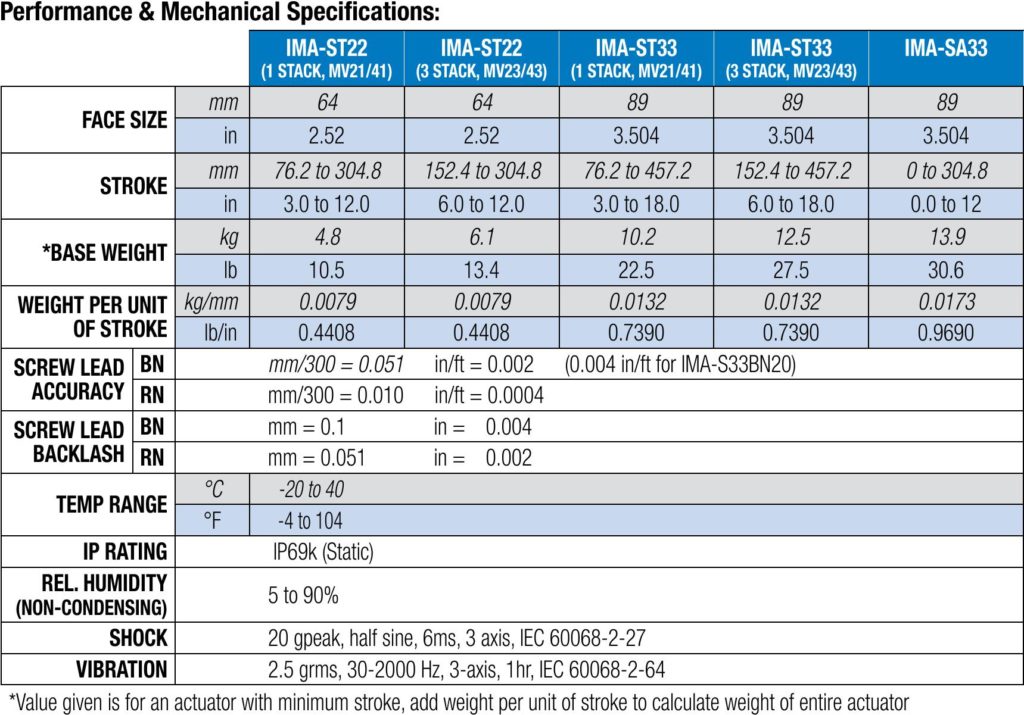 Motor Specifications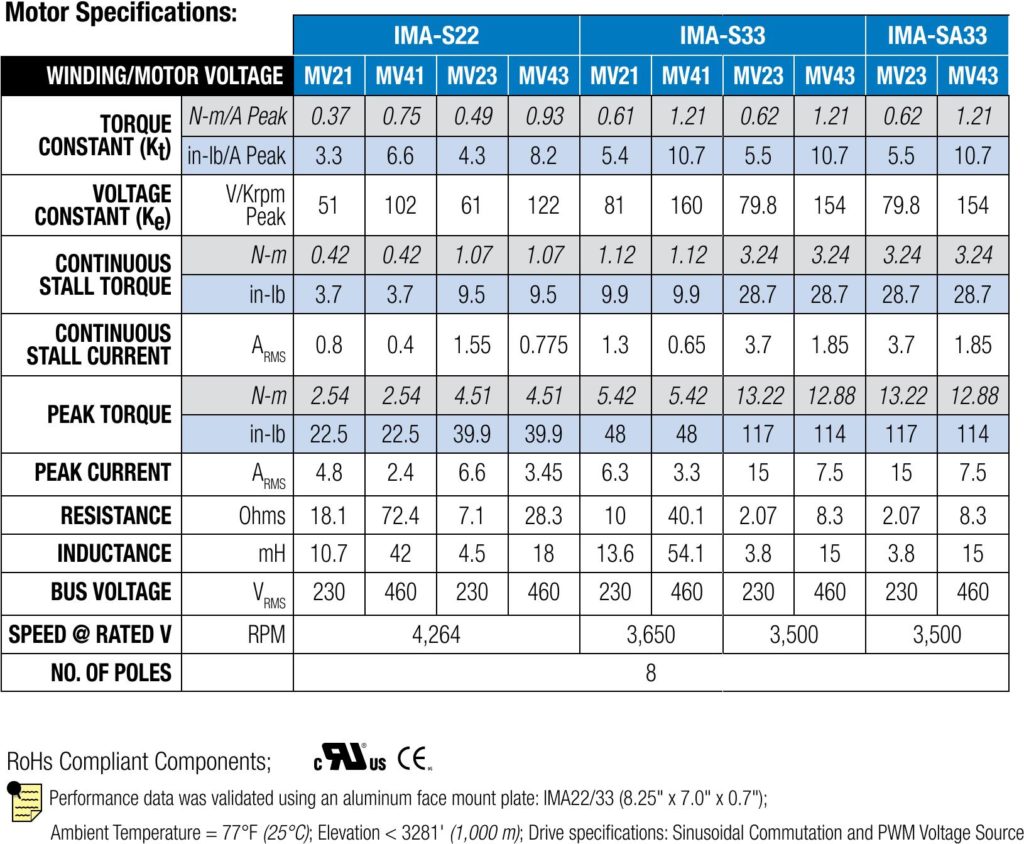 Critical Speed & Screw Buckling Load-IMA-S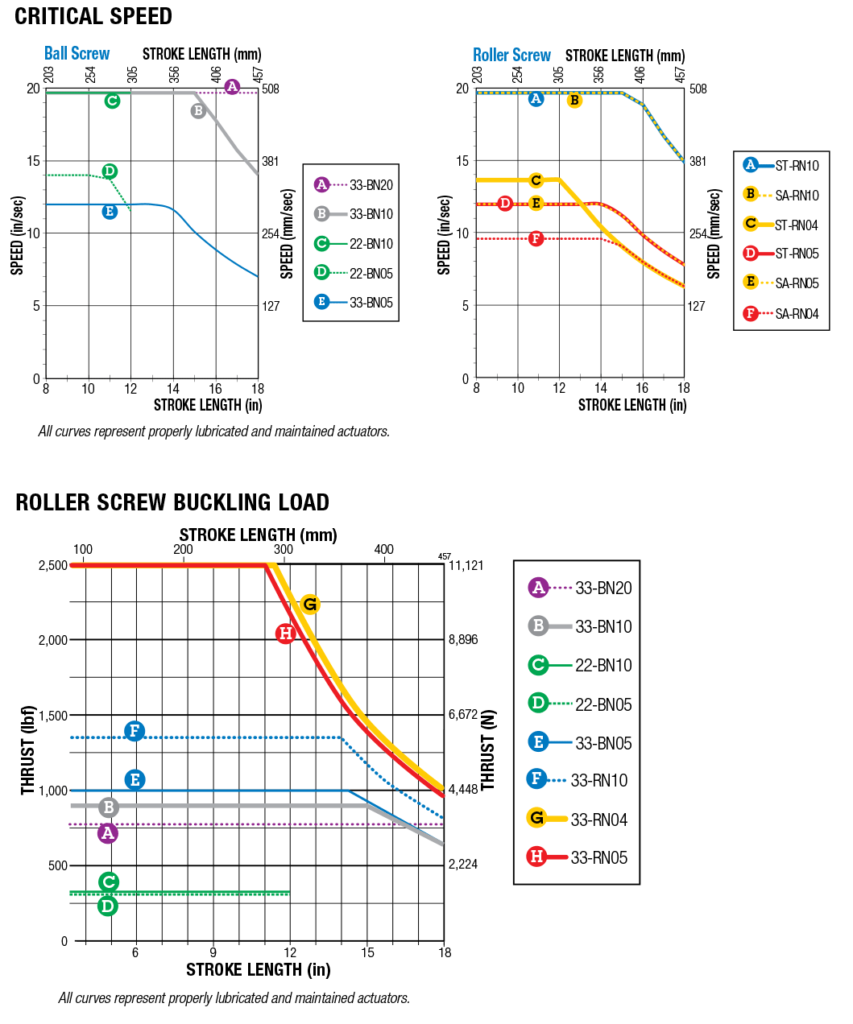 Life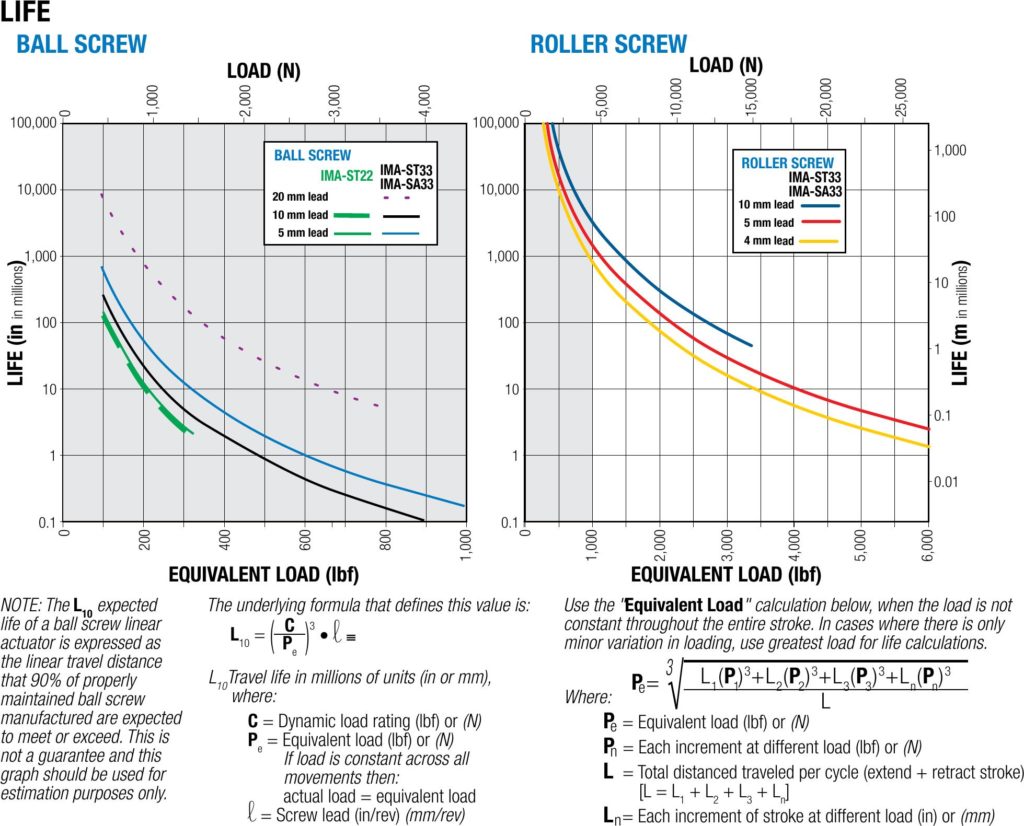 Relubrication, Side Load, Brake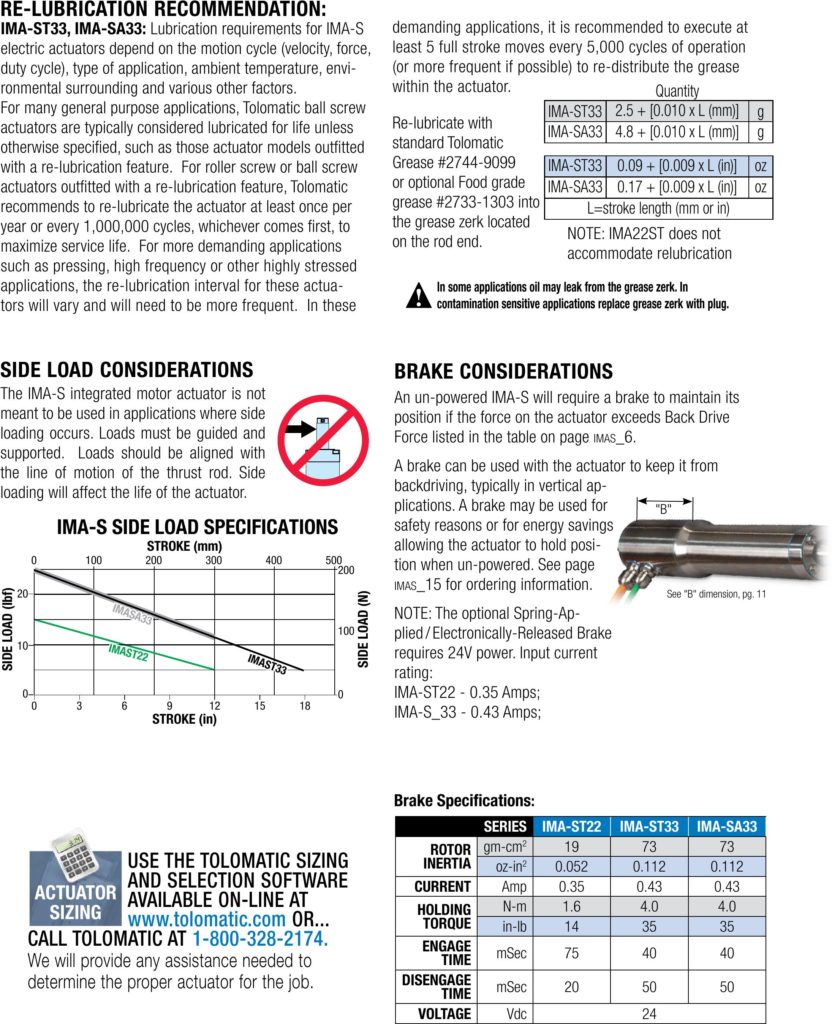 IMA-S Dimensions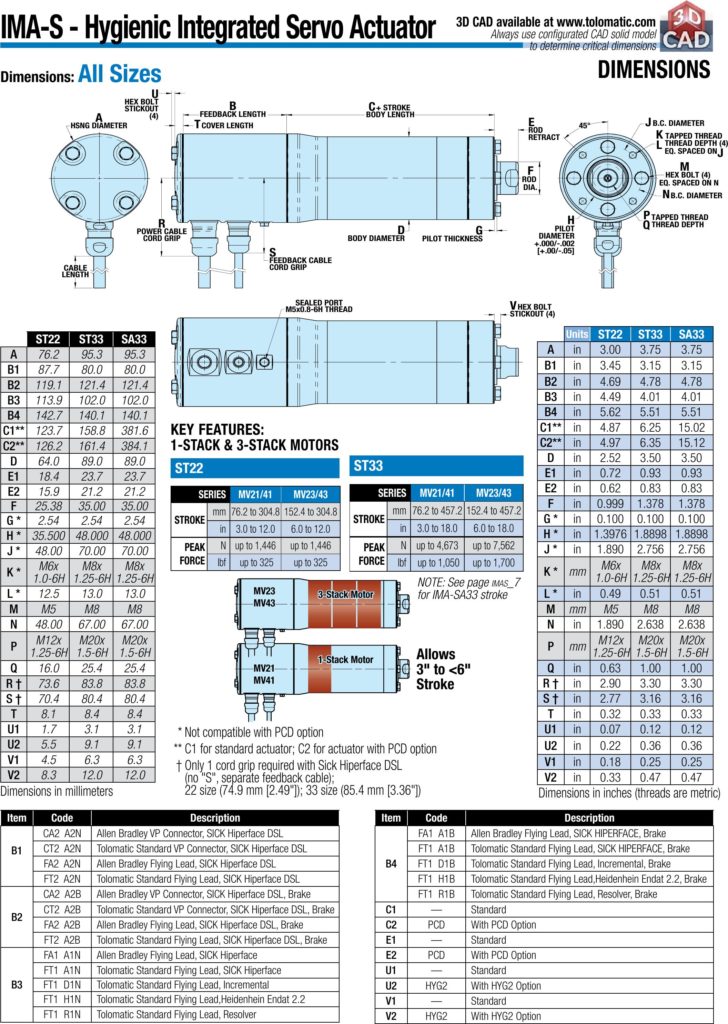 IMA-S Options Dimensions (MET, FFG, PCD)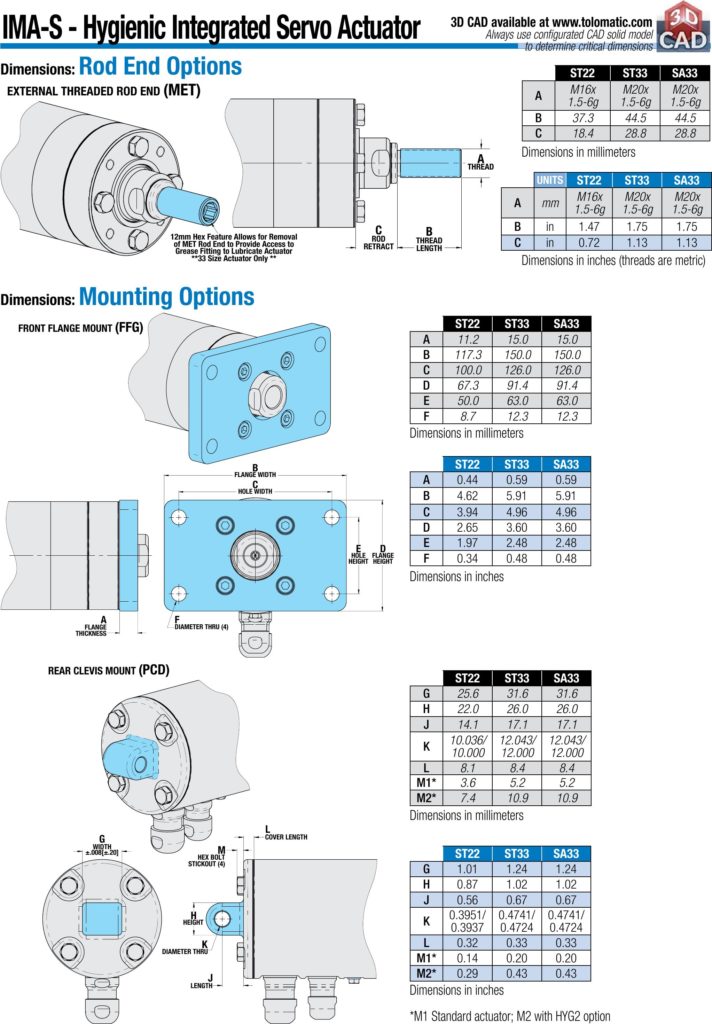 Information Center:
English
Chinese
German
Spanish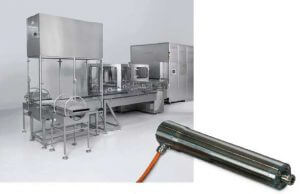 Pharmaceutical Manufacturing
Challenge: Operation of door/gate to index vials prior to sealing.
Product Family: Electric Actuators
Product Used: IMAS
Inline Filling Machine
Application Description
Filling machine that requires frequent container changes and wash-down
IMA-S Selection Guidelines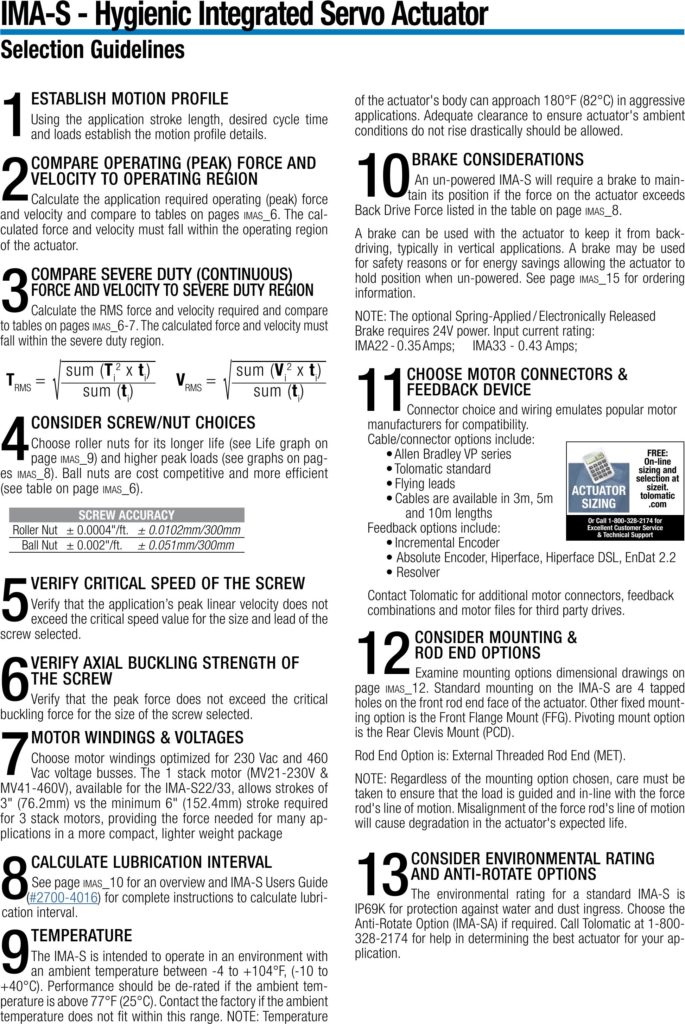 IMA-S Ordering