The easy way to get a complete electric linear motion solution
By Tolomatic on August 7, 2018
---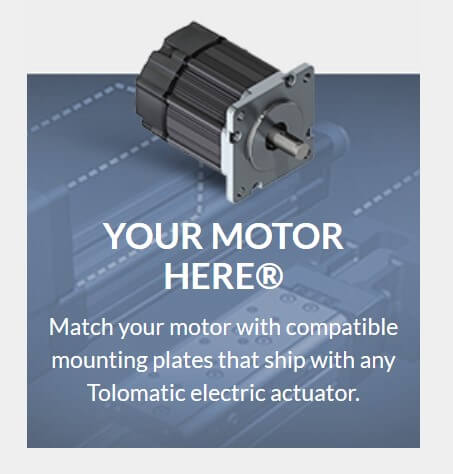 When your machine design calls for electric linear motion, you have lots of decisions to make. Like what actuator to use…and what motor.
Select the right actuator and it will reward you with top performance, reliability and long service life. Select an electric actuator that's not up to the task, and it will be a long-term problem. We strongly recommend using sizing software to ensure a good fit between actuator and application.
Then there's motor selection and mounting. It can be a tough and touchy process. Even if you integrate the actuator and motor yourself, our Your Motor Here® program (YMH) will take the guesswork out of selecting and integrating the motor when you use one of our actuators.
Mounting standard, third-party motors to our actuators is easy with YMH. We build and ship your electric actuator with the right motor mounting hardware (for inline or reverse parallel mounting) in 15 days or less.
Our new Technical Note, Electric actuator motor mounts, explains what you need to know about molunting your motor. Download it here.
Your Motor Here makes motor mounting easy
The YMH program is on our website. Once you're on the YMH start page, the process of matching motor and actuator is just three easy steps.
1. Mounting type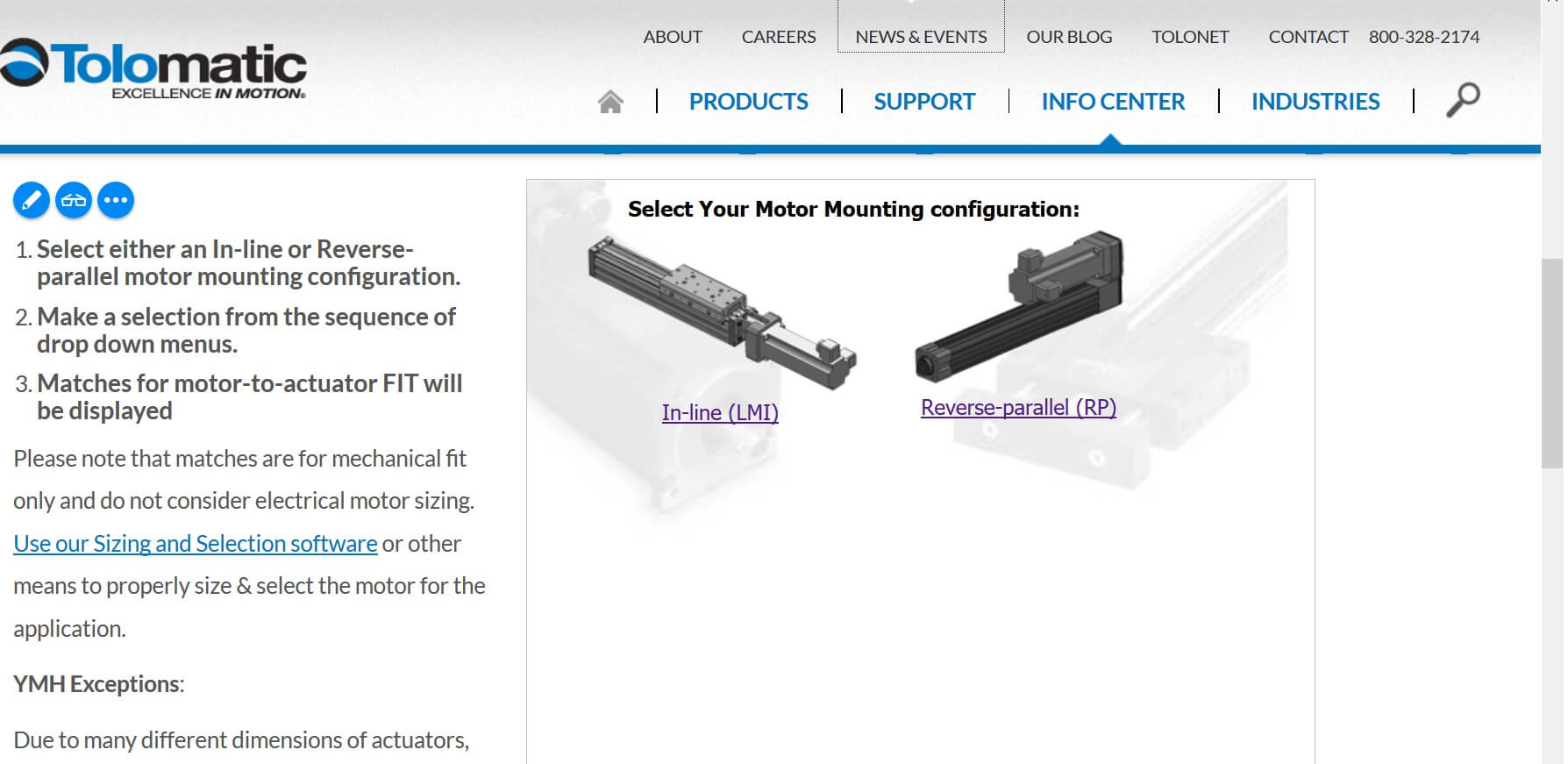 First, name your project for future reference. Then choose either Inline (LMI) or Reverse Parallel (RP) motor mounting with just a click.
An inline configuration directly couples the motor's driving shaft to the actuator through a housing. This configuration provides excellent motor support and force transmission, but it will take up horizontal space.
A reverse parallel configuration saves horizontal space but will increase the height of the actuator.
2. Motor and actuator selection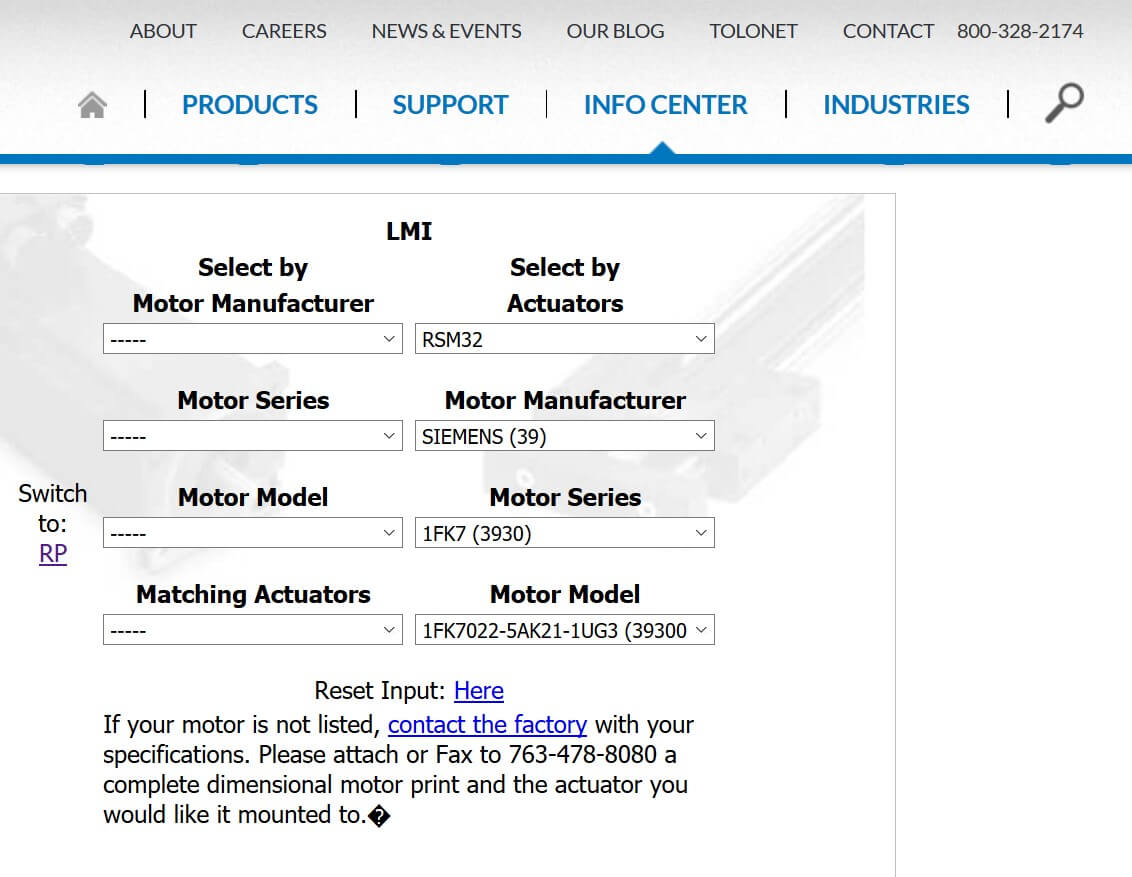 Once you've made your choice for mounting, you input either your motor or actuator selection.
Use the Actuator side if you've got an actuator model in mind. When you start by using our sizing software, the software will tell you the actuators that fit your application. In the example here, an RSM32 is the best actuator for the task. We assumed Siemens 1FK7 as the motor brand and series of choice. YMH then provided a list of motor models to choose from.
If your company or client has standardized on a motor brand, you can begin on the Motor side, selecting the manufacturer, series and model you're considering. The YMH program will then provide a list of our electric linear actuators that support mounting provisions for your motor of choice.
3. Get the ordering information you need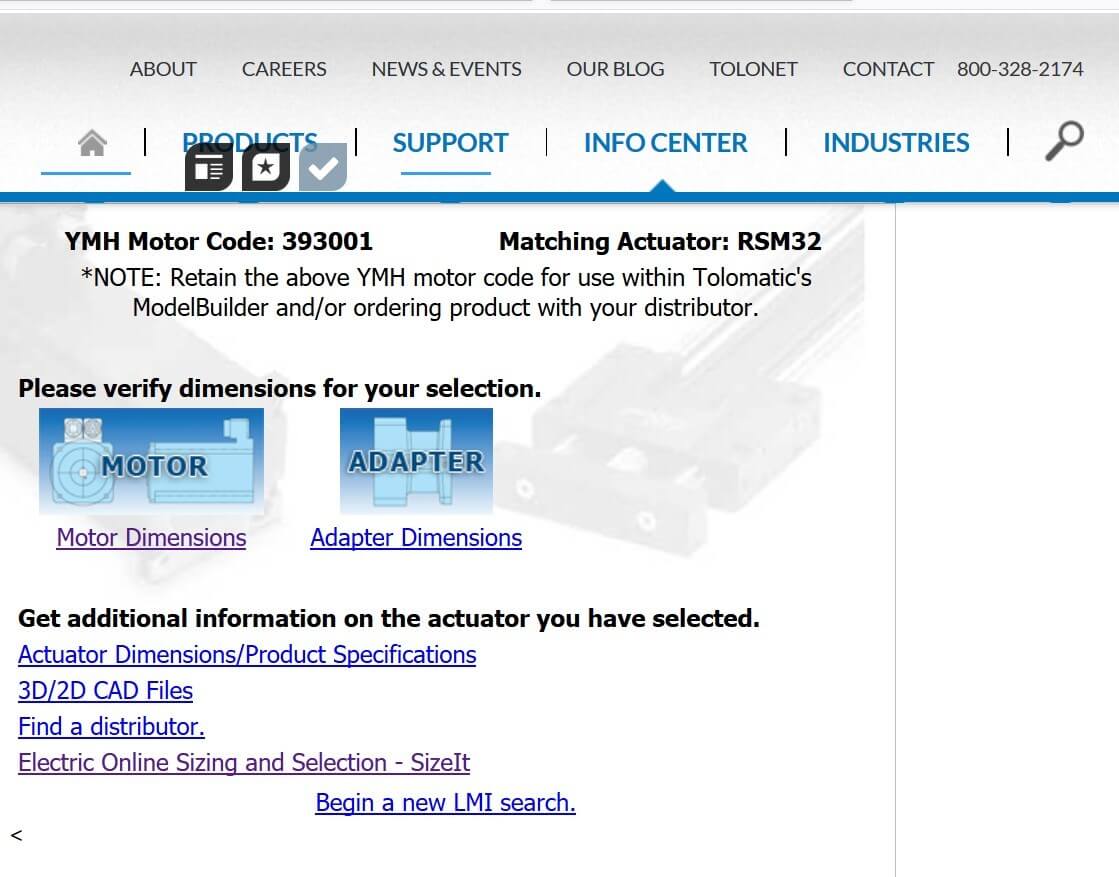 Once you select your actuator/motor combination, the program will provide you with the appropriate YMH motor code as well as your actuator selection. Use this information when ordering to ensure you get the right adaptor for your actuator and motor system.
From the results page of the program, you can get dimensional information for the adaptor and motor. And you're just a click away from product information, our CAD library, sizing software and a distributor-finder.
Our Your Motor Here program streamlines machine design by simplifying the selection and mounting of motors for electric linear motion systems. Use it and let us know what you think. We're always looking for ways to improve.
Resources
Learn more about motor mounting. Download our Technical Note, Electric actuator motor mounts.
Interested in electric linear motion? Join the discussion at our LinkedIn group.