Five tips for designing electric actuators into food processing equipment
By Andrew Zaske on March 15, 2022
---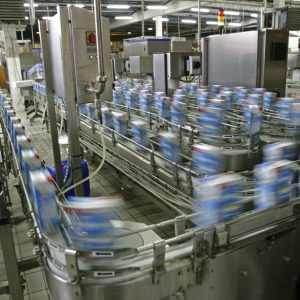 Create open/clean-in-place designs
Food manufacturers are requiring cleaner, safer machine designs from their OEM machine builders. This trend is especially true for higher-risk processing environments, such as meat, cheese, dairy, seafood and poultry. Standards such as EHEDG, 3A, USDA and others define hygienic design principles for machines and components to prevent bacterial contamination of the food and beverage products.
Automation plays a key role in keeping facilities safe and productive. Actuators in particular, because they are the primary linear mover, affect efficiencies in food-processing applications and are specially designed to help manufacturers maintain the highest standards for health and safety.
Machine designers can meet manufacturer expectations and comply with food-safety standards by applying best practices for specifying electric actuators in food processing equipment. These design principles create open/clean-in-place designs that reduce risk of bacterial contamination and improve the overall cleanliness of machine designs. Along with best-practice design, it is always a good idea to consult with EHEDG, USDA, or appropriate governing agencies to ensure compliance of a design.
Follow these five tips for designing and installing electric actuators in food processing equipment.
Select hygienically designed actuators
Design the actuator into your open architecture machine/system
Properly install and handle electric actuators
Maintain and clean actuators
Understand integrated motor and non-integrated actuator designs
For full details, read our complete white paper: Top 5 best practices for designing electric actuators into food processing equipment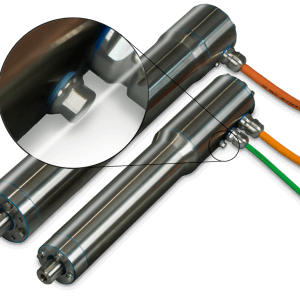 1. Select hygienically designed actuators
Food contact/wet processing areas require actuators that are built from proper materials and seals, constructed for easy cleaning and are able to operate in specified temperatures.
Proper materials: Best practice in hygienic design for linear actuator bodies, motor housings and fasteners is to use type 316/316L due to its superior corrosion resistance characteristics. Type 304/304L stainless is also used in some cases.
Proper seals: Electric actuator rod seals are integral to actuator performance and must be made of durable material that withstands operating conditions. IP69K is the best practice for the food and beverage environment. The most challenging area of IP69K design is the seal on the thrust rod. Seals wear during operation, and a proper seal design is essential to meet and maintain the IP69K specification. Electric actuator designs that enable easy seal replacement make seal maintenance more straightforward.
Easy cleaning: Actuators constructed for easy cleaning are designed with domed or rounded bodies, rounded edges and a smooth finish prevent moisture, food particles and microorganisms from collecting and pooling. Particles and sanitary solutions easily drain off, improving the washdown process and minimizing the chance that contaminates will linger on the actuator after cleaning.
Operating temperatures: Ambient temperatures during food processing can range from warmer environments to cold refrigerator or even freezer environments. Several cold-warm-cold temperature cycles can occur every day. In these environments, the combination of an IP69K design and a breather/purge port becomes essential to prevent moisture ingress.
2. Design the actuator into your open architecture machine/system.
Stainless steel actuator design allows an open-frame architecture for the whole machine. It answers the on-going question of what might be growing inside the "box." Large stainless enclosures can be eliminated or minimized, improving cleaning and ensuring the design will be approved by regulatory agencies. Integrating servo motors with hygienic actuators help create an open-frame architecture.
Tolomatic's new line of RSH hygienically designed all stainless steel electric actuators offer up to 7,943 lbf (35.3 kN) and they are the perfect solution for food and beverage applications where higher forces are required for pressing, pumping, cutting or slicing.
3. Properly install and handle electric actuators.
It is critical that the actuator is handled properly during installation, and including when the package is opened. Be extra careful with stainless steel. It is a great metal for surviving corrosive environments, but it is surprisingly soft. Handle with care to avoid damaging the surface finish.
4. Maintain and clean electric actuators
Most electric actuators, if designed and deployed properly, will require only minimal maintenance. However, actuators used for food-processing applications do require extra attention. Actuators will typically have been lubricated at the factory and are ready for installation. The internal screw will require re-lubrication at pre-determined intervals. Tolomatic, provides optional lubrication ports on the thrust tubes or some models bodies of stainless actuators.
When cleaning actuators, follow IP69K washdown standards for pressure, proximity and temperature. Violating the IP69K standards could reducing the operating life of the actuator. Most manufacturers recommend against or prohibit the use of friction-style cleaning, such as a wire brush. Washdown and wipe-down cleaning are the only approved cleaning methods.
Seal replacement is another important maintenance consideration. Speed and duty cycle influence seal replacement. Be sure to consult manufacturer for replacement recommendations.  There are also different seal material options that can be selected depending on the application and washdown environment.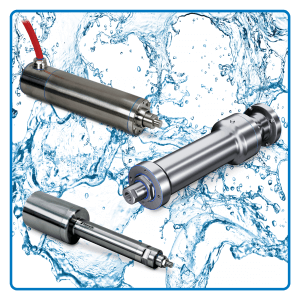 5. Understand integrated motor and non-integrated actuator designs
A key decision will be the choice of using an integrated motor/actuator design versus a more traditional non-integrated design (where the motor is a separate component that is attached prior to installation on the final machine). An integrated actuator and motor single-piece design eliminates typical seals between the motor and actuator in a non-integrated design. This reduces the number of points for possible moisture ingress or bacteria harborage. It also eliminates the risk of seals being ripped or off center when installed.
Follow the design principles designed above to create open/clean-in-place designs that reduce the risk of bacterial contamination and improve overall cleanliness of machine designs.
Learn more about hygienic actuator design:
As always, you can Ask an Engineer.