Electric servo actuators and welding robots build better autos faster
By Tolomatic on March 8, 2018
---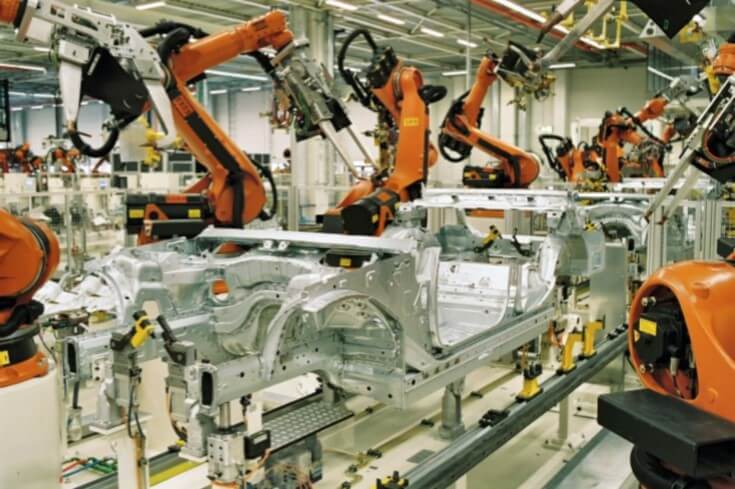 Robots are well-suited to high volume processes like welding auto bodies because they can work quickly and consistently. Using electric servo actuators on these robots makes faster speeds and consistent weld quality possible while reducing costs.
Auto manufacturers have three key goals that intersect and compete. The first goal is to increase productivity through more time-efficient manufacturing processes and shorter cycle times. The second goal is to reduce labor, material and other costs.  The third is to increase quality — both measurable quality, like how long a car will last, and intangibles, like how a car feels.
The challenge is that quality shouldn't be sacrificed to productivity and cost reduction. On the other hand, quality shouldn't be emphasized to the detriment of cost or productivity. Automation (including robotics) often solves this three-way balancing challenge.
All welding robots need actuators to carry and power the weld gun. Either electric servo actuators or pneumatic cylinders can be used in robotic resistance spot welding (RSW); however, there are distinct advantages to going electric. For a thorough review of these advantages, see our white paper, Servo spot welding offers superior performance and lower lifetime costs for auto manufacturing.
Robots in resistance spot welding
Robotic RSW has a number of advantages over manual methods.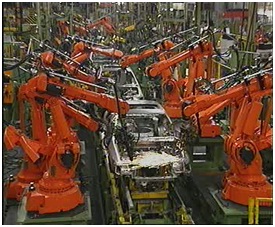 Precise positioning–Robots are programmed to deliver welds exactly at specific locations.
Consistency–Robots deliver high-quality welds at the right places time after time.
Energy savings–Increased productivity leads to reduced energy use and resulting savings.
Flexibility/programmability—As designs change, automotive welding robots can be reprogrammed to meet the new demands.
Electric servo actuators for robotic RSW
The effectiveness of a robotic spot welder depends on its end effector – the weld gun that joins parts together. Weld guns are powered by linear actuators, sometimes a pneumatic actuator but more often an electric model. Electric actuators for resistance spot welding robots are gaining popularity because of the advantages they offer over pneumatic cylinders. These advantages relate directly to the three goals of auto manufacturers, that is, productivity increases, cost reduction and quality improvement.
Productivity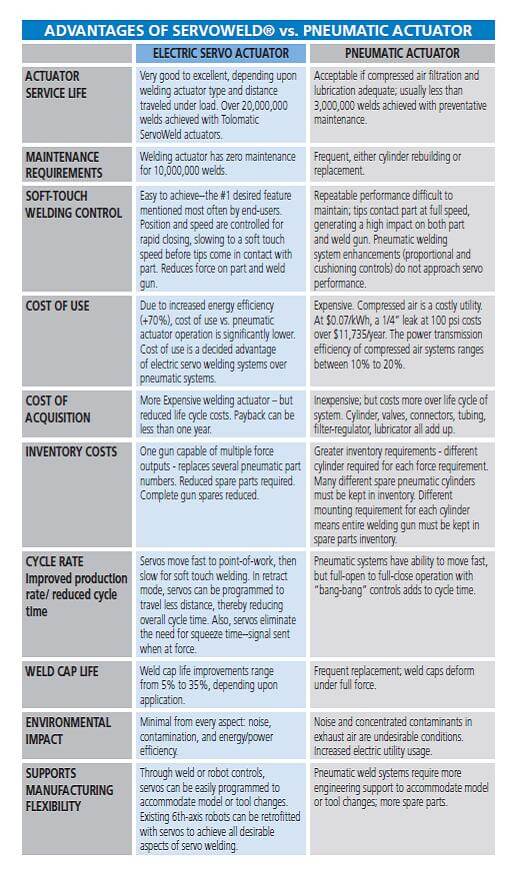 More welds per minute–Pneumatic linear actuators set weld tips back to the full open position after each weld, whereas an electric servo welding actuator opens the tips just enough to move to the next position. The resulting time savings means more welds in the same amount of time from an electric-powered system.
Faster, easier changeovers–Because electric servo actuators for robotic welding are fully programmable, they can adapt quickly as requirements change.
Cost
Longer weld tip life—An electric welding actuator doesn't subject weld tips to excessive wear from burn-through, so they last longer.
No costly air leaks–Pneumatic actuator systems are prone to leaks that rob power, cause pressure fluctuations and result in inconsistent welds. This is not the case with electric systems.
Lower life cycle cost–In the long run, an electric welding actuator pays for itself quickly because it is more energy efficient and does not have the repair and replacement costs of a pneumatic cylinder.
Quality
Consistent, high-quality welds–Electric actuators deliver consistent force to the weld tips while pneumatic cylinders can have varying force due to fluctuations in air pressure. Fluctuating force to the weld tips can lead to burn-through at one extreme and weak welds at the other.
Solutions
The ServoWeld® GSWA Series integrated motor actuators are electric actuators for resistance spot welding robots. GSWA actuators combine servo motor technology in a powerful high-force electric linear actuator for a compact profile and faster weld cycles. GSWA welding actuators are perfect for automotive body-in-white spot welding applications.
Download the GSWA brochure.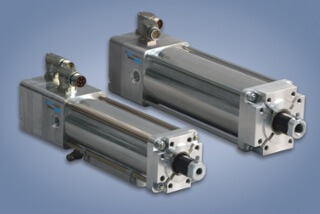 Our new SWB and SWA servo actuators, part of our ServoWeld product line, are lightweight, compact actuators that can work with smaller resistance spot welding robots. The ServoWeld Advanced (SWA) actuator incorporates our highest level of roller screw technology and delivers the maximum number of welds. The ServoWeld Base (SWB) actuator uses an alternate roller screw design to provide long life at a more economical price.
Download our SWA/SWB brochure.
Watch our ServoWeld video.
Learn more
For a thorough review of the advantages of electric welding actuators for RSW, see our white paper, Servo spot welding offers superior performance and lower lifetime costs for auto manufacturing.
Interested in electric linear motion? Join the discussion at our LinkedIn group.