Electric linear actuators and motors. Getting the right fit.
By Tolomatic on October 13, 2015
---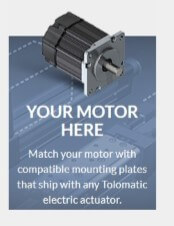 An electric linear actuator can outperform a pneumatic model with superior control of speed, position, and force as well as provide better accuracy and repeatability. But that superior performance comes with complexity. Pneumatic cylinders commonly are simple, easy-to-understand components, while electric linear actuators are systems comprised of a motor, controller, cables, and actuator. Plus attaching a motor to an actuator usually requires some kind of adaptor or housing.
Selecting and assembling these components adds to your workload as a busy machine designer, so we developed the Your Motor Here® program to make the process of matching motor and actuator quicker and easier.
One of the key motor-related decisions you'll have to make is stepper or servo. What's the best motor type for your linear motion application? Find out the advantages and disadvantages of stepper and servo motors in our white paper.
See our line of electric linear motion solutions here.
Your Motor Here. Simple as 1-2-3
Wherever you are on our website, the Your Motor Here program (YMH) is easy to find. You can:
Click the button on the home page
Use the link on any product page
Select the main menu's "Info Center" tab on any page and go to the "Tools" area for a YMH button
The process of matching motor and actuator is three easy steps.
1. Mounting type
Choose either Inline (LMI) or Reverse Parallel (RP) with just a click.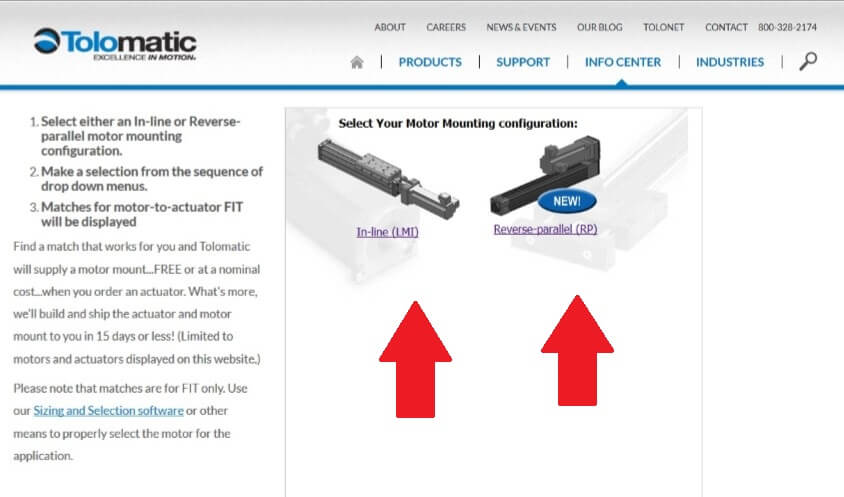 An inline configuration directly couples the motor's driving shaft to the actuator through a housing. This configuration provides excellent motor support, but it will take up horizontal space.
A reverse parallel configuration is a space-saving alternative but the gear or belt drive required may rob some of the actuator's force.
2. Motor and actuator selection
Here you can start from either your motor or your actuator selection.
If your company or client is standardized on Allen-Bradley motors, and the MP series servo motors best fit your specifications, you can select the manufacturer, series, and model you're considering. The program will then provide a list of our electric linear actuators that will work with your motor of choice.
Coming at the challenge from a different direction, if you know an RSA32HT will meet the specifications of your application, you can start on the actuator side, select the actuator and motor manufacturer, and see a list of series and models you can choose from.
No matter which way you begin, once you select your actuator/motor combination, the program provides you with ordering information.
3. Get the ordering information you need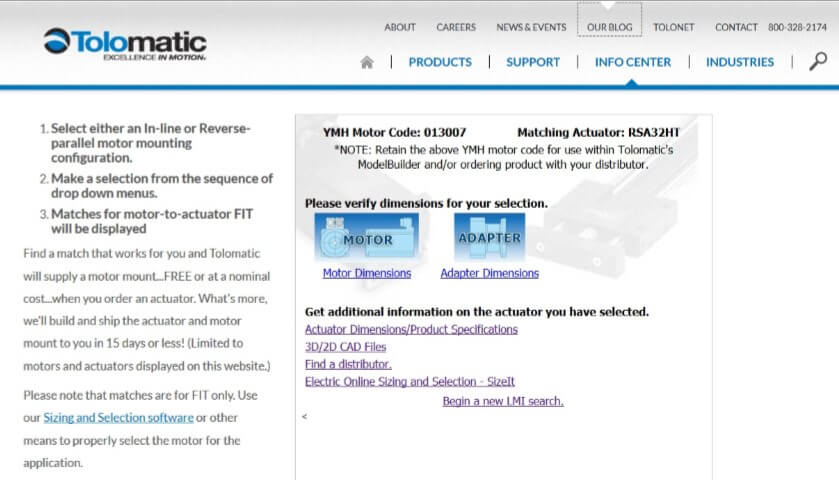 The program will give you the appropriate YMH motor code as well as your actuator selection. Use this information when ordering to ensure you get the right adaptor for your actuator and motor system.
From the results page of the program, you can get dimensional information for the adaptor and motor. And you're just a click away from product information, our CAD library, sizing software and a distributor-finder.
Learn more
Find out the advantages and disadvantages of stepper and servo motors in our white paper.