Electric linear actuator stands up to moisture, dust
By Tolomatic on January 26, 2016
---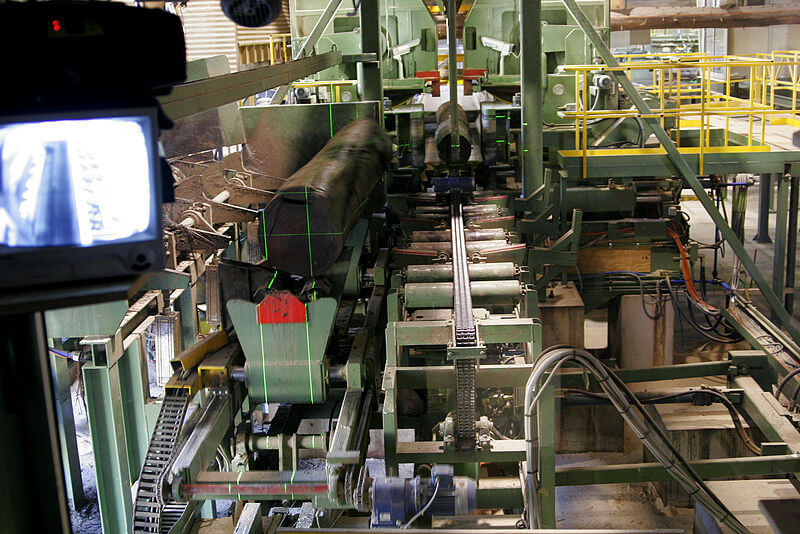 Linear actuators used in sawmills are often subjected to dusty and wet conditions. If the right electric linear actuator isn't specified, the component may fail and cause expensive downtime. Given the pressure to keep production costs down and output up, it's essential to match the actuator to the manufacturing environment.
A good way to do this is to refer to a rating system. We use the IP (Ingress or International Protection) system because it evaluates ingress of both dry particles and moisture. An application where there is both dust and water spray needs actuators rated IP67 for a high degree of protection.
For a full explanation of using the IP rating system for actuators, download our whitepaper.
To learn how we solved a lumber processors challenge, read on.
Sawmill has dirty challenges
A sawmill had two dirty problems. First, the sawmill's operators needed an environmentally-friendly solution to move saw blades. They had been using hydraulic cylinders to deliver the force needed, but hydraulic cylinders leak and cause contamination. The lumber mill was located by a protected body of water, and government regulations made it costly to use these leak-prone cylinders.
Second, the production process was wet and dusty. Wood cutting generates large amounts of dust, and water is used to cool saw blades. New actuators had to work reliably in these tough conditions.
To make replacement even more difficult, the new actuators needed to be robust and shock-resistant since logs often hit nearby equipment. Finally, replacements needed to be able to withstand extreme temperature fluctuations without premature seal wear and reduced performance.
The mill turned to their processing equipment supplier who in turn came to us.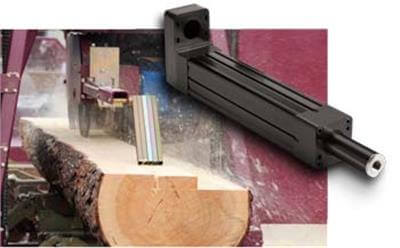 Electric linear actuator solution
The mill had no pneumatic system in place so pneumatic cylinders were not considered for the application. Plus, the company wanted the accuracy, repeatability, and programmability offered by electric linear actuators.
The IP67-rated RSA electric rod actuator was selected because it:
Delivered the speed and force required
Eliminated hydraulic contamination of the environment
Could withstand both dust and water spray
Increased reliability of equipment and reduced maintenance
Operated in low and high temperatures without cold startup issues or premature failure
The RSA64 electric linear actuator's rugged design could withstand the rigors of a sawmill, even shock and impacts. The IP67 option means the actuator is sealed against the harmful effects of splashing water and sawdust. With high/low-temperature grease, the actuator can deliver consistent performance no matter what the temperature.
Our Your Motor Here program made it easy for the equipment supplier to use their choice of servo motor. We provided all necessary mounting plates and hardware with the actuator.
RSA electric rod actuators
RSA/RSM electric rod actuators offer an extensive selection of sizes, options, and system components. Designed with high performance, high force, dependability, and mounting flexibility in mind, RSA/RSM electric rod actuators offer a cost-competitive solution for a multitude of motion control applications.
Click here for a catalog of the RSA/RSM family.
Learn more
Get our new white paper on the IP ratings and linear actuators.