Electric cylinders speed up food processing operation
By Tolomatic on December 11, 2018
---
Time is money, the saying goes, and nowhere is that truer than in manufacturing.  From food processing plants to machine shops, there's a constant drive for greater efficiency, faster turnaround and less downtime. Everyone is involved in the effort, from design engineers who develop equipment to plant engineers who manage processes.
In food processing operations, the need for speed translates into things like faster operation, easier cleaning, greater accuracy and less maintenance.  Electric linear actuators and electric cylinders used in these plants need to meet specific standards.  Read about them in our white paper, Evaluating actuators for washdown in food and beverage applications.
The following application story shows how a hygienic electric cylinder saved both time and money for a food processor.
Food processing operation needs faster filling
A producer of frozen entrées was using a filling machine with pneumatic actuation, but the machine wasn't fast enough. The producer needed to boost production with faster fill speeds and eliminate overfills with more accurate filling. The producer also wanted faster changeovers for less downtime when recipes or container sizes changed.
This producer challenged their filling equipment manufacturer to build an electric filling system. The new machine needed to run faster, offer greater accuracy and make changeovers easy and quick. Plus, the new machine needed to integrate into a production line with conveying, check-weighing and heat-sealing systems.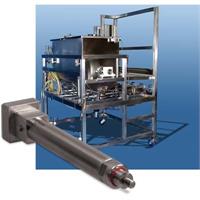 Electric cylinder is solution
The machine OEM's designers worked with our engineers to find an actuator that could meet these challenges. The ERD20 electric cylinder now drives each of the machine's eight dispensing heads. These new actuators provide higher speeds, throughput and production yield. Their variable stroke lengths and control over acceleration/deceleration have decreased overfill, waste and non-conforming product.  ERD cylinders are programmable so changeovers are quicker and no longer require a time-consuming, trial-and-error approach.
This food processing environment requires clean-in-place washdown for food safety. The ERD cylinder's stainless-steel construction and IP69K rating meet these hygienic challenges. Our Your Motor Here® motor mounting program provided seamless compatibility with the Allen Bradley motors the producer specified.
ERD electric cylinders for pneumatic replacement
ERD cylinders are the perfect alternative to pneumatic cylinders for automating manual processes. The ERD series are economical actuators that can be matched with many NEMA and metric-mount stepper and servo motors to create flexible, powerful, cost-effective electric solutions to replace traditional pneumatic cylinders. The ERD series offers a variety of stroke lengths and IP ratings.
Download our ERD brochure.
View our ERD video.
Resources
For a review of electric linear actuator design for food and beverage processing, download our white paper, Evaluating actuators for washdown in food and beverage applications.
Interested in linear motion? Join the discussion at our LinkedIn group.