Which is best for high force linear actuators: Ball or roller screws?
By Gary Rosengren on June 13, 2017
---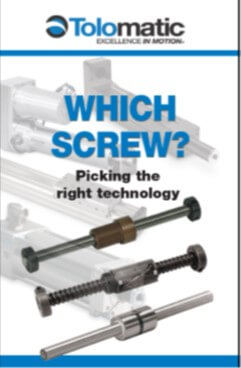 If you're selecting an electric high force linear actuator, you may believe you know the answer to the question in the headline. The force transmission prowess of roller screws is well known. But before you go to the expense of a roller screw linear actuator, take a careful look at the application. You may find that a ball screw actuator will do the job. And that could mean significant savings.
For an overview of the primary power screw technologies used in linear actuators, see our guide.
Ball screws
As the name implies, ball screws have re-circulating ball bearings that fit between the arch-shaped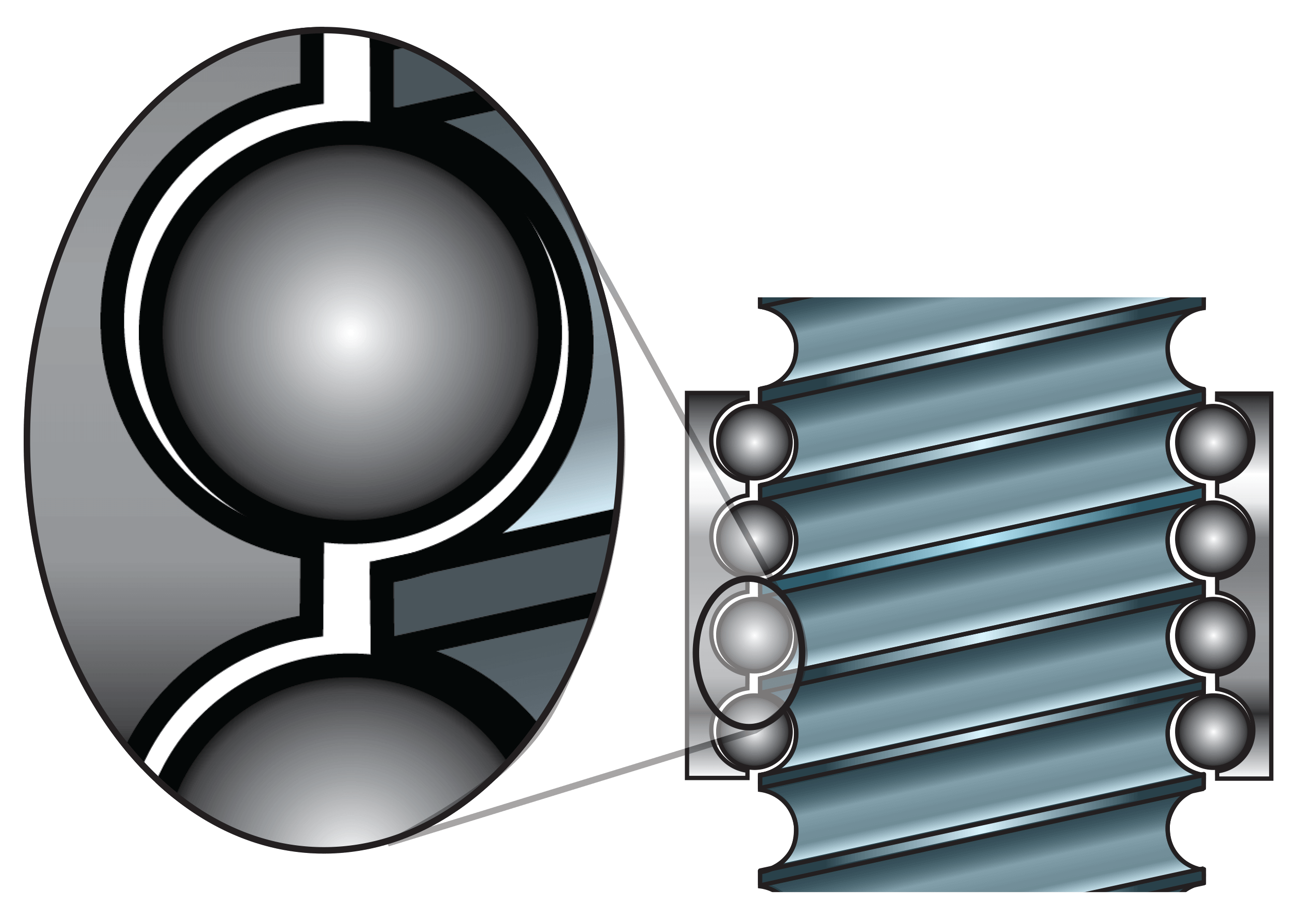 threads of the screw and nut. The ball bearings transmit force and relative motion efficiently as they roll through one or more circuits in the nut. This rolling action creates noise. An increase in the number of balls inside the nut results in more thrust-supporting contact points, so the thrust capability of the screw/nut increases.
Even though they can't match the high force performance of roller screw systems, ball screw actuators have higher thrust capabilities, longer service lives, and greater efficiency than acme screw actuators. They perform well in applications that require high duty cycles, moderately high thrust, and moderate speeds. Plus, ball screw actuators are reasonably priced. Their major disadvantages are that they are noisy and can be back-driven easily.
Roller screws
Roller screws have triangular-shaped, precision-ground threads that match multiple threaded rollers in the nut. They have very high force transmission capabilities since the rollers have significant contact with the screw threads. Roller screw systems deliver high force, operate at high speeds, are long-lasting, and require little maintenance. Their major disadvantage is their high cost.
A comparison
| | | |
| --- | --- | --- |
| | BALL | ROLLER |
| Stroke | Medium | Short to Medium |
| Speed | Medium to High | Medium to High |
| Thrust | Medium to High | High |
| Accuracy | Medium to High | High |
| Backlash | Low to Medium | Low |
| Repeatability | Medium to High | High |
| Resolution | Medium to High | Medium to High |
| Back driven | Moderate | Moderate |
If a roller screw and a ball screw are of comparable size and lead, the ball screw's ball bearings will have fewer points of contact than the roller screw's threads, resulting in lower forces and shorter life.
But look at the chart shown here. You'll see that there are no absolutes. The best answer to the question in the headline is, "It depends."
For most applications that require high force, repetitive cycles, and long life, a roller screw linear actuator is the way to go. However, if the force is somewhat lower and the application calls for high continuous speeds, a ball screw actuator may be suitable.
Insist on choice
To select the best screw technology for your application, let the specifications be the guide. Some manufacturers may only sell ball screw actuators, and others sell only roller screw actuators. Be careful when looking at these "only one technology" vendors. Every application is different, and both technologies (roller screw and ball screw) have their place. Look for an actuator partner who will help you evaluate the application details and both screw technologies thoroughly, so you can optimize performance and cost.
RSA electric rod actuators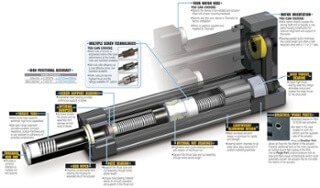 You can tailor the screw and nut system to meet your needs exactly with many of our actuators. Our RSA electric rod actuators are an example. The RSA-HT (high thrust) model features a roller screw, high thrust bearings and more for force output of up to 13,039 lbf (58,023 N). The RSA-ST electric linear rod actuator with ball screw offers thrusts of up to 4038 lbf (40,257 N). The RSA-ST can also be configured with an acme screw and your choice of nut.
Download our RSA catalog here.
Learn more
Our guide on actuator screw types will help you understand the various parameters that impact high force linear actuator screw choice. Download it here.
Interested in electric linear motion? Join the discussion at our LinkedIn group. Just click here.