VIDEO: Selecting an electric linear actuator for safe food processing
By Tolomatic on February 3, 2015
---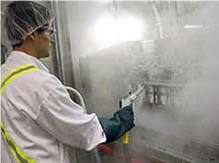 The food processing industry is fanatical about safety. Producers want to be known for offering safe and delicious products. In addition, governments want to protect their populations against illnesses caused by contamination and food-borne microbes.
In the U.S. the entire food processing industry is moving toward more microbiologically clean production environments. This follows the lead of meat, poultry, egg, and dairy production where the risk is high and stringent cleaning methods like caustic washdowns and swabbing for contamination are the norm. These industries fall under the watchful eye of the USDA, a government agency with strict standards. (EHEDG plays this role in Europe.)
Our video provides insight into the key factors to consider in electric linear actuator selection for food production safety. Watch the video here.
Linear actuator designs stand up to washdowns
Washdowns are hard on automation equipment, including electric linear actuators. Moisture and caustic solutions can corrode parts, short out electrical circuits, and impair functioning. Food processors look for linear actuators that stand up to these conditions with designs that:
Resist corrosion – Stainless steel is often used for linear actuator bodies and motor housings. In other instances, a food-grade epoxy coating or a variety of platings may be used instead. Fasteners, seals, and gaskets also must resist corrosion.
Shed moisture and contaminants – A rounded body design eliminates crevices where moisture and food particles can collect. This together with a smooth, water-shedding surface treatment minimizes the chance that contamination will linger on the actuator after cleaning.
Protect components from moisture damage – Electric rod actuators are better suited to washdown conditions than rodless electromechanical actuators. In rod-style actuators, only the rod opening needs to be sealed against moisture and particles, and these actuators can be fabricated from corrosion-resistant materials.
IP ratings for food production
The IP (Ingress Protection or International Protection) rating system offers a way to evaluate linear actuators for use in food processing.
If the linear actuator will be subjected to indirect water droplets or vapor, an IP65 rating is sufficient. In a case where the linear actuator will be directly in the path of water, you'll need IP66 or IP67.
Environments in food processing where equipment is subjected to aggressive cleaning call for an IP69K rating. Since cleaning often involves caustic washing solutions, the materials used in the linear actuators need to stand up to these corrosive agents. That includes the actuator housing, fasteners, and seals – anything that will come in contact with the corrosive agent.
Pneumatic and electro-mechanical rodless actuators do not meet these protection requirements, even with modifications. They need custom-designed shielding and well-thought-out installation to work in these conditions.
ERD electric cylinders
Our popular ERD electric cylinder line features stainless steel construction. The SS2 option is available with an IP67 rating.
The ERD line also includes USDA-certified models with an IP69K rating, corrosion resistant stainless steel housing with water-shedding, crevice-free design and a variety of hygienic mounting options. With this hygienic design, the ERD is approved for use in splash or food contact zones.
Resources
Download our white paper on selecting linear actuators for washdown environments.