The great debate: Electric linear actuators vs. pneumatic
By Tolomatic on December 12, 2017
---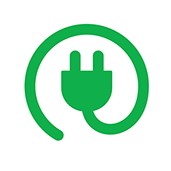 There's a new debate in motion among machine designers. What's best? Pneumatic or electric linear actuators? The truth is it depends on the application. What follows is an honest comparison of linear actuator choices – an assessment of strengths and weaknesses – so you can choose what's best for your project.
Cost is critical in component selection. However, machine designers don't simply look for the cheapest product.

They analyze purchase price and all operating costs over the life of a device to come up with total cost of ownership (TCO). Our white paper, Electric actuators vs. pneumatic cylinders: A comparison based on total cost of ownership, compares TCO of these competing linear actuation technologies. Get your copy here.
Pneumatic Actuators
Pneumatic cylinders (actuators) are the workhorses of simple manufacturing automation processes. Powered by the pneumatic system that's part of the infrastructure of many factories, pneumatic linear actuators can be an affordable, reliable, long-lasting linear motion solution. For this to be true, though, the linear actuator's job must be straightforward, that is, in-out, up-down, back-forth.
But let's say your application has lots of parts that need to be placed precisely to build a functioning machine. That means lots of small, accurate moves. Unfortunately, pneumatic cylinders are not good at making those precise movements. The result? A machine that doesn't perform, and trouble for the designer.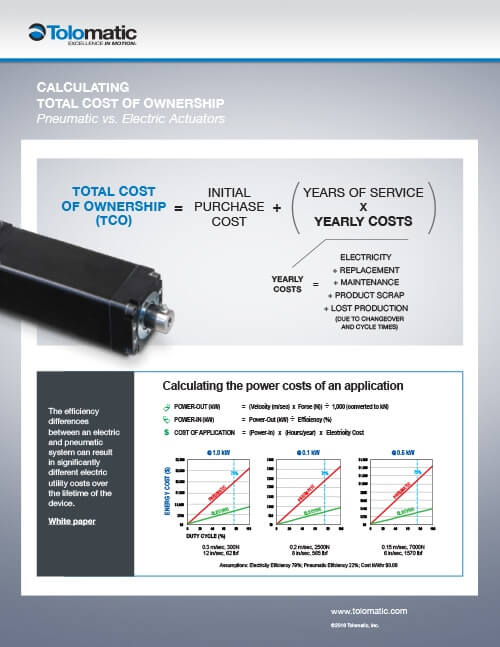 In addition, low efficiency (20-25%), air leaks and on-going maintenance needs can make pneumatic cylinders a high-cost choice in the long run.
Electric Linear Actuators
Precise control of position and speed are core strengths of electric linear actuators. These actuators are programmable and designed to be flexible. High efficiency (70-80%), long service life and high duty cycle ratings mean an electric actuator can do exactly what you need, and do it at a lower TCO than a pneumatic linear actuator. Plus, electric actuators can deliver the unparalleled accuracy and repeatability needed in high-precision applications.
Tolomatic Solutions
Our sales team and engineers will work with you to match a linear motion solution to your application whether it's straightforward or complex. Because we offer both pneumatic and electric linear actuators, we have a solution that will keep your production line turning out well-functioning machines. No debate.
Learn more
For a thorough review of pneumatic and electric actuation and the total cost of ownership of these technologies, download our white paper, Electric actuators vs. pneumatic cylinders: A comparison based on total cost of ownership.
Interested in electric linear motion? Join the discussion at our LinkedIn group.