Supporting STEM education
By Tolomatic on September 6, 2017
---
Science, technology, engineering, and mathematics (together known as STEM) impart valuable life skills. STEM subjects teach students how to gather and evaluate evidence, make sense of information, and use new insights and knowledge to find solutions to complex problems.
The STEM-related job market is growing, and these skills are needed to keep the U.S. in the forefront of the world economy. It's no wonder there's increasing emphasis on science, technology, engineering, and math education throughout our schools. Here in Minnesota we have STEM magnet schools at the elementary, middle, and high school levels.
I had the honor and pleasure to make a presentation on Automation, Motion Control and Robotics at the Rogers (MN) Elementary School S.T.E.M. Magnet Program, a STEM magnet school for grades 3-5.
I talked about what automation and motion control are, using a comparison with the human body. (Controllers as the brain, sensors and encoders as the senses of sight, hearing, etc., electric drives as the heart, electric motors as muscles and actuators/robots as bones.) That analogy seemed to click with my audience.

Then I explained how automation, motion control, and robotics are used to make the products we use today. I shared some videos about automation in industries like food and beverage processing, electronics, and automobile manufacturing.
The students were especially intrigued with robots and wanted to know how they're used in manufacturing. I shared videos and pictures of robots used in automotive welding, industrial painting, and assembly.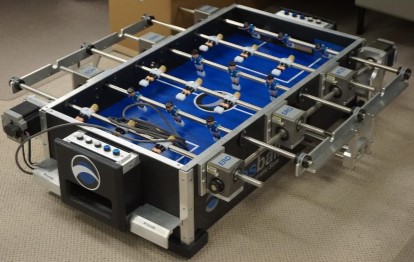 The foosball table demo I brought was especially fascinating to the students since it brings automation principles to life in a fun, accessible way. Our engineers designed it using our ERD electric cylinders, ACS stepper driver/controllers, stepper motors, and Slide-Rite® right angle gearboxes to create an automated version of the familiar game. (The ERD cylinders provide the back and forth motion, while the combination of motor, ACS and Slide-Rite gearboxes provide the kicking action.)
All in all, we had a lively time together with lots of discussion from the kids about where robots and automation may be used in the future and how that will affect their lives. I thoroughly enjoyed representing Tolomatic in support of our community's STEM education efforts.
Learn more
For an overview of our linear motion products and capabilities, watch our corporate video.
Interested in electric linear motion? Join the discussion at our LinkedIn group.