Selecting a choke valve operator for MPD. What's best?
By Tolomatic on January 23, 2018
---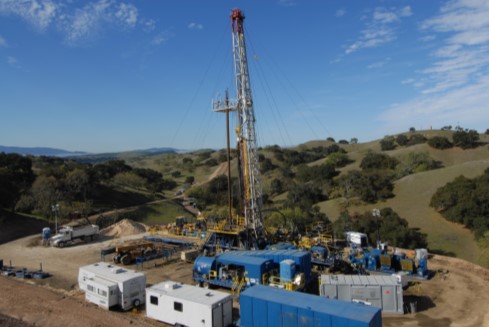 As oil and gas drilling environments grow more challenging, the need for the enhanced control provided by managed pressure drilling (MPD) grows too. The drilling choke valve is an essential component in an MPD system, and the drilling choke valve operator (choke valve actuator) provides the vital element of control. It's the valve operator that communicates the control software's commands, and provides position and feedback to the control system.
It stands to reason that selecting the best valve operator is critical to the success of an MPD system. For a review of two key types of electric drilling choke valve actuators, download our white paper, Selecting an electric drilling choke valve operator for Managed Pressure Drilling, A comparison of older hybrid and new, integrated technologies.
Choke valve operator types
Traditional hydraulic actuators may not provide the precision, feedback capabilities and quick response that some managed pressure drilling operations call for. The interim solution has been to modify existing hydraulic valve operators by replacing the hydraulic cylinders with brushless servo motors and additional gear reduction. A jackscrew transmits power.
Replacing the cylinder with a servo motor eliminates the leakage problems and temperature sensitivity inherent with hydraulics. However, the resulting hybrid devices can be costly to operate and don't offer the accuracy, reliability, service life and efficiency drilling operations need.
New, integrated electric valve operators, specially designed for MPD, combine servo motors, roller screws and other automation-grade components to provide higher performance.
Selection factors to consider
When an engineer evaluates valve actuators for MPD, the factors considered are:
Performance—Matching the accuracy/repeatability, speed, responsiveness and efficiency the application requires.
Service life—How long the actuator will last given the duty cycle of the application.
Configuration—Footprint of the device and effect of configuration on installation and maintenance.
Total cost of ownership—The combination of the purchase price of a device with ongoing costs like maintenance, replacement, and energy use.
Integration with software— How a software package controls a valve operator provides insights into the choke operator's capabilities. (For instance, if the drilling control system asks for position changes faster than the choke operator can make them, undershooting, overshooting or pressure oscillations can occur. If the choke operator is faster at reaching a setpoint than the software can calculate, position changes can have a water hammering effect or provide poor pressure control.
Comparing hybrid and integrated electric valve operators
Factors to Compare

Hybrid Drilling Choke

Valve Operator

Integrated MPD Valve

Operator

Performance

Low accuracy/repeatability inherent in jackscrew assembly. Limited speed.

Uses roller screw assembly that delivers high accuracy and repeatability as well as high speed.

Service life

Best for low duty cycle applications. Frequent maintenance required.

Designed for high duty cycle applications.

Configuration

Easy to access separate components. If any component becomes obsolete, replacement will require research and reprogramming. Separate components require separate IP ratings and individual installation.

All components integrated into single housing. Component obsolescence is handled by manufacturer. Single IP rating. Single point of installation.

Total cost of ownership

Acquisition cost is low but offset by low efficiency and need for frequent maintenance.

Higher acquisition cost is offset by higher efficiency, fewer maintenance requirements and longer service life.

Software integration

Speed and inaccuracy of jackscrew assembly may impede overall system performance.

Designed to optimize performance of drilling control systems.
ServoChoke® SVC electric valve operator
The ServoChoke® SVC is a high performance linear integrated electric choke valve actuator that meets the rigorous needs of the oil and gas industry. The SVC provides a more reliable, high-speed, precision electric choke operator in performance drilling applications compared to conventional hydraulics or jackscrew assemblies. The ServoChoke SVC is perfect for managed pressure drilling (MPD), setpoint choke control and choke & kill for well control applications. The actuator's integrated servo motor, gear box and planetary roller screw enable the ServoChoke SVC to quickly and continuously modulate with the highest accuracy and repeatability. With global certifications for ATEX, IECEx, and Class I Div. 1, plus a temperature rating of -40° C to +60° C, the all steel SVC actuator performs in the harshest environments.
Download the ServoChoke SVC brochure.
Learn more
For a review of electric drilling choke valve actuator selection, download our white paper, Selecting an electric drilling choke valve operator for Managed Pressure Drilling, A comparison of older hybrid and new, integrated technologies.
Interested in electric linear motion? Join the discussion at our LinkedIn group.