Pneumatic rodless cylinders: Point-to-point motion control
By Andrew Zaske on April 6, 2021
---
Rodless cylinder technology is the basis of the subsequent generation of rodless pneumatic and today's electric actuators
Tolomatic invented the cable cylinder—the first rodless cylinder—in 1955. Tolomatic's founder, Burton Toles, designed the cable cylinder into a bagger-sealer for the flour industry. His solution was the first to solve the problem of long-stroke rod actuators. The new cable cylinder reduced the overall length of the system by 50 percent.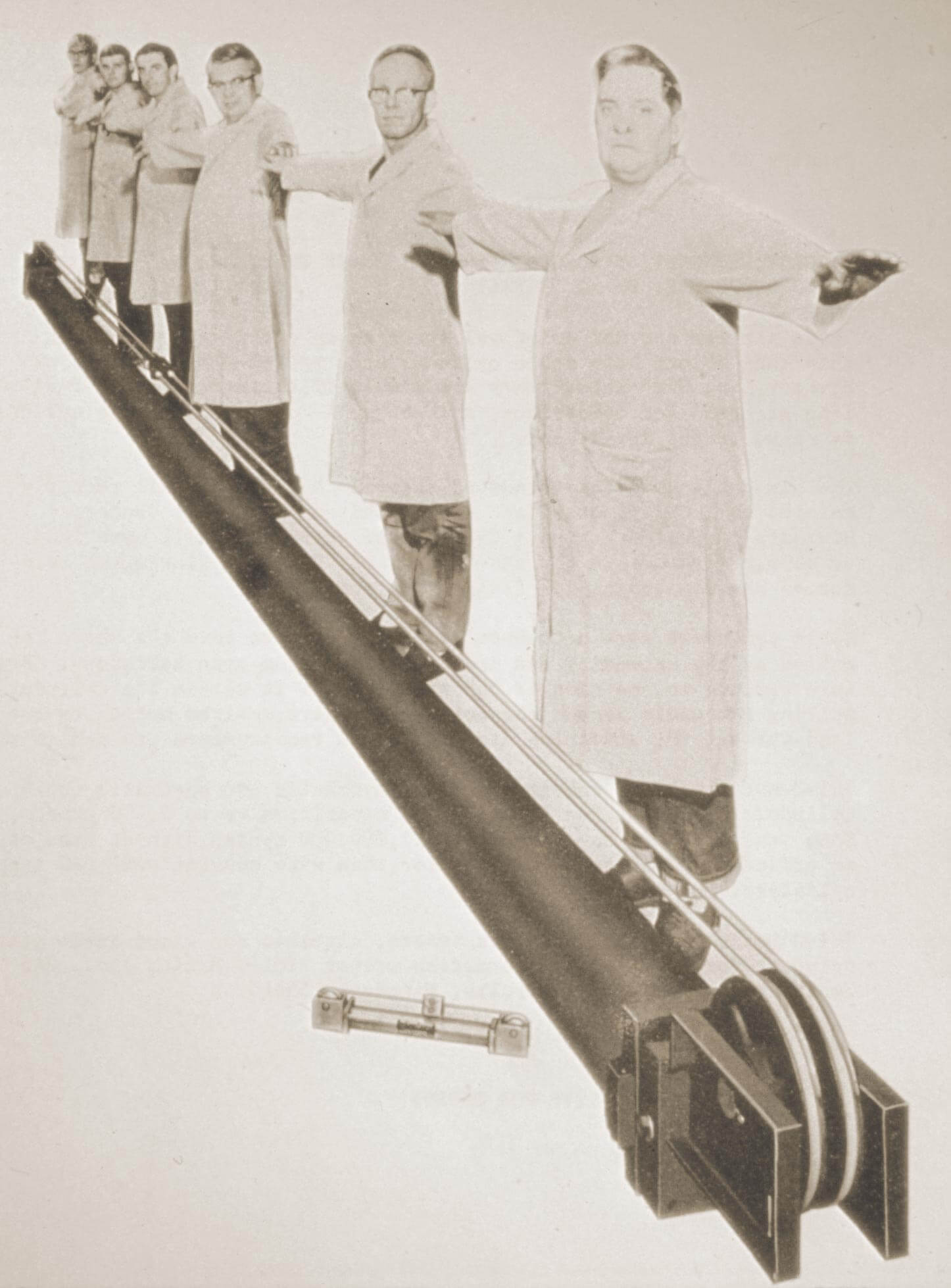 Cable cylinders can be quite long and are capable of 20-foot stroke lengths. Connect a couple cylinders together with a splice kit and they can span 60 feet (20 meters). Another advantage is that the cylinder can be located away from the work environment, which saves valuable work space and can allow it to move items in challenging environments. Rodless cylinder technology, combined with its economic price, continues to be an excellent solution for simple point-to-point motion. Rodless cylinder technology is the basis of the subsequent generation rodless pneumatic and today's electric actuators. In fact, Tolomatic is the only supplier in the world to offer all three rodless pneumatic cylinder technologies: band, magnetic couple and cable.
Band cylinders: The next generation
Band cylinders, such as the BC2, BC3 and BC4, are the direct descendants of the 1955 pneumatic cable cylinder.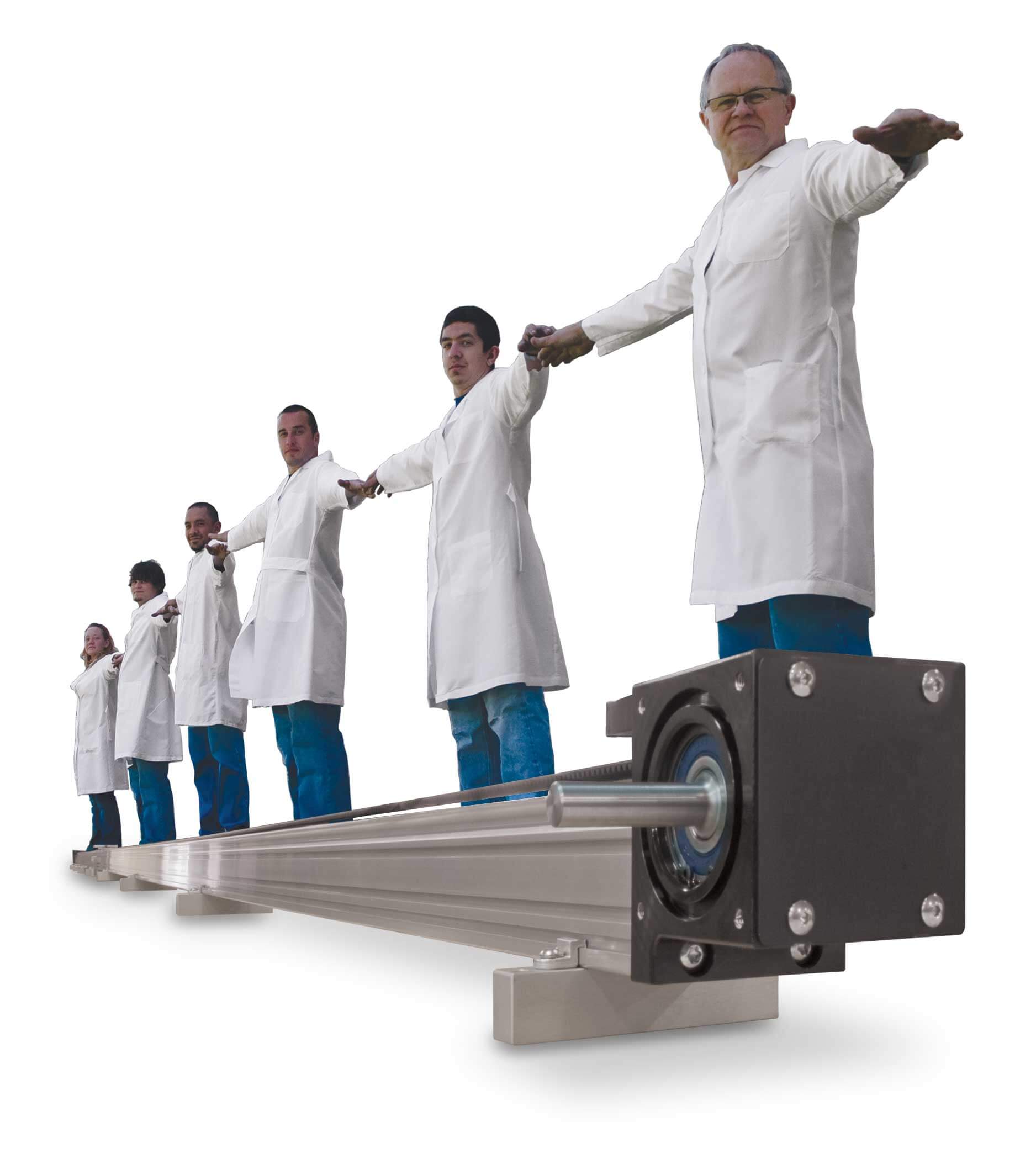 Stainless steel sealing bands are used to flex around a carriage and still retain the pressurized air while in motion and offer a more stable way to move things versus the original cable cylinders. The band cylinder is ideal for applications that require increased moment loads, long stroke lengths and heavier loads. BC2 band cylinders offer external shock absorbers and adjustable cushions for smooth deceleration. The robust BC3 features an internally and retained sealed bearing system and is uniquely designed to handle high moments and load-carrying capabilities.
Here's an example using the BC2 used in an overhead pull-off system:
A conveyor systems manufacturer needed a compact diverting device for an overhead pull-off system that would easily integrate and could move boxes up to 150 pounds to a different conveyor line. The BC2 rodless pneumatic cylinder, mounted over the conveyor, saves valuable floor space because the stroke of the cylinder is contained within the length of the cylinder itself. The cylinder withstands high bending moments of 1,800 pounds and carries loads up to 800 pounds of force.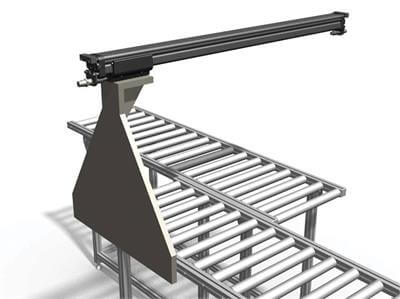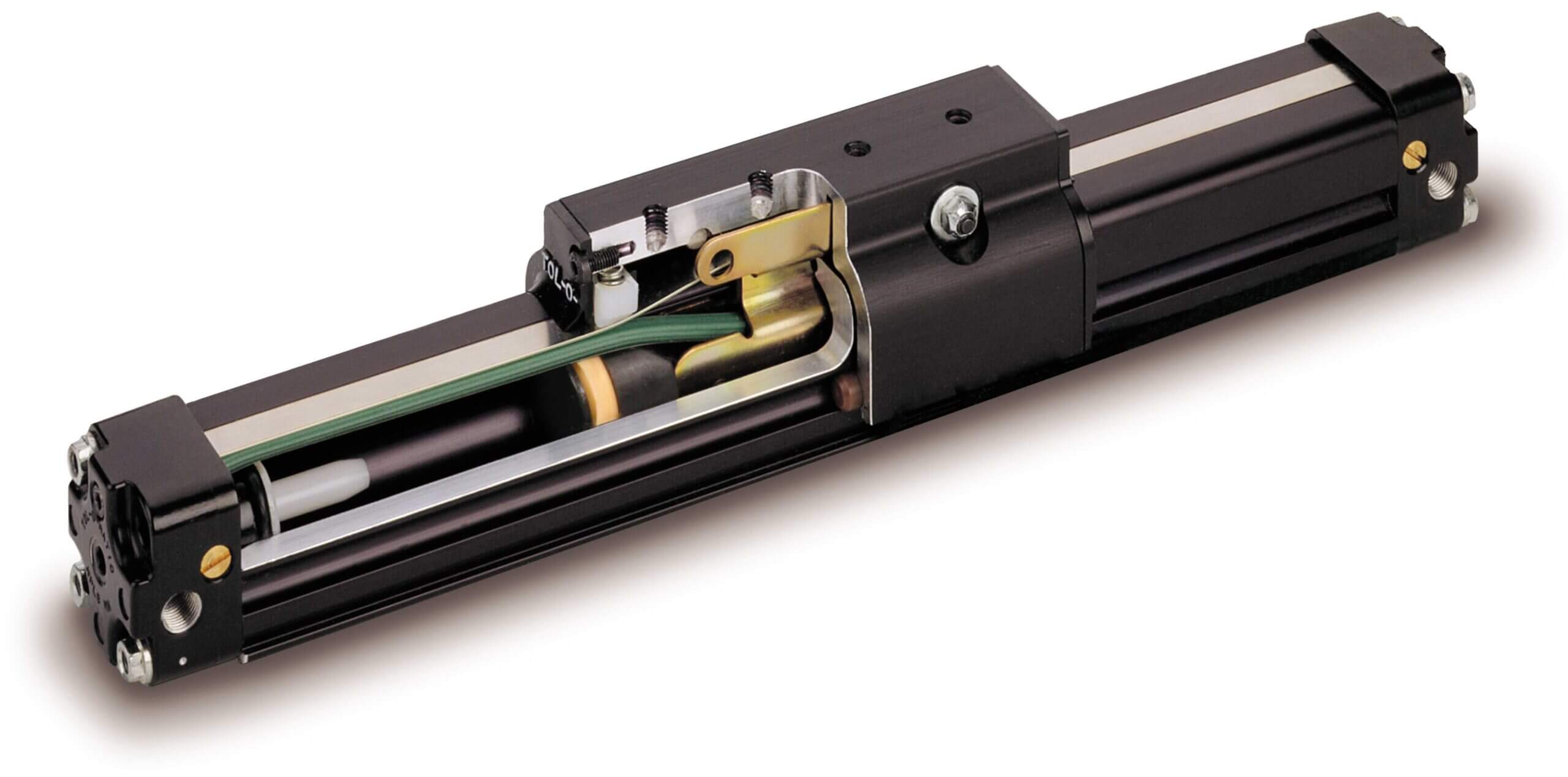 MXP pneumatic cylinder: The newest generation
MX Series actuators are the latest generation of the legacy technology and include both pneumatic and electric versions. Flexibility is the feature of this version. They incorporate more versability, variable speeds and infinite positioning.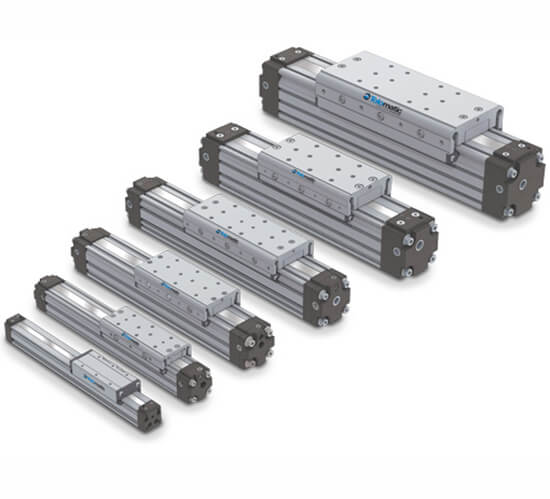 Animatronic targets in military training
Here's an example of how a long-stroke cylinder is used in a military target:
To prepare soldiers for overseas duty, an automated, realistic combat environment puts soldiers through a rigorous regimen of events. Targets and combatants appear in a variety of positions at a moment's notice. The actuators moving these objects must accommodate various loads and bending moments along with multiple varying stroke lengths and speeds.
Multiple MXP pneumatic rodless actuators with varying stroke lengths move the targets. Varied stroke lengths up to 74 inches, speeds from 25 to 40 inches per second, 25 to 50 pounds of load, and moments from 100 to 300 inch-pounds create the varied and realistic motion of a realistic training experience.
Learn more about pneumatic cylinders.
Download our white paper on sizing and specifying pneumatic rodless actuators.
Need to discuss your application?
Contact an engineer.