Linear actuator helps convert conveyor to electric
By Tolomatic on June 14, 2016
---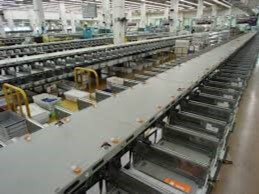 Every factory relies on some kind of conveyor system to take components, work pieces, or finished goods from one place to another. In fact, most factories have several conveying systems, each tailored to a specific need. Conveying equipment is varied and essential. Components in these systems, like linear actuators, must be able to meet these varied needs and provide reliable performance.
We've worked with many manufacturers of conveying equipment, matching linear actuator solutions to each application. Read a case study about how we worked with a global conveyor manufacturer to meet their need to develop an electric option for their product.
But that's not the whole story of our involvement in this industry. Here's how we solved another manufacturer's challenge.
The need: Convert to electric
A conveying machinery builder was using pneumatic actuators in diverting systems. However, the manufacturer wanted to offer an electric conveyor system to meet their customers' requests for greater control and programming flexibility. That new electric system required an electric linear actuator solution.
The existing machine design had proprietary controls that operated the pneumatic cylinder. These controls couldn't be redesigned, and the manufacturer wanted a solution that could be retrofitted in the field. That meant a new actuator control system was needed in addition to an electric actuator. The controller needed to work with both electric and pneumatic models to allow for retrofitting.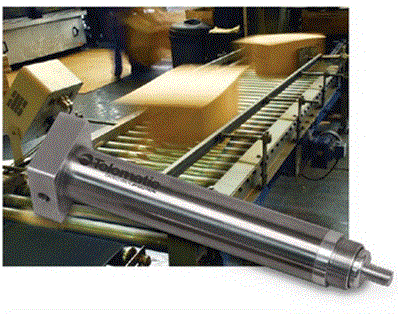 The answer
The ERD electric cylinder with ACS stepper drive was chosen as the answer to this challenge.  The ERD is a low-cost actuator for pneumatic replacement. Its compact design fits the available space in this conveyor system so no redesigning has been necessary. Its stainless steel construction means the ERD is sturdy and reliable. Fully programmable, the ERD can be tailored to changing application needs.
The ACS is a driver/controller specially designed for linear actuators. For this conveying system, a new Pneumatic Mode was added to the ACS software. It allows the ERD electric cylinder to mimic the operation of a pneumatic cylinder.  With the combination of the ERD electric linear actuator and the ACS, this conveying equipment builder can now market an all-electric machine. Future expansion is also possible s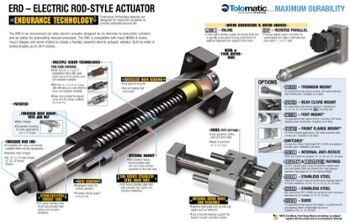 ince the ACS offers infinite positioning through its Ethernet/IP option.
ERD and ACS
Our ERD electric actuators offer a range of body sizes, screw options, and stroke lengths. They create flexible, powerful, cost-effective linear motion solutions and can be paired with stepper or servo motors. ERD electric cylinders are appropriate for sorting, diverting, and product changeover applications.
Download our ERD series catalog here.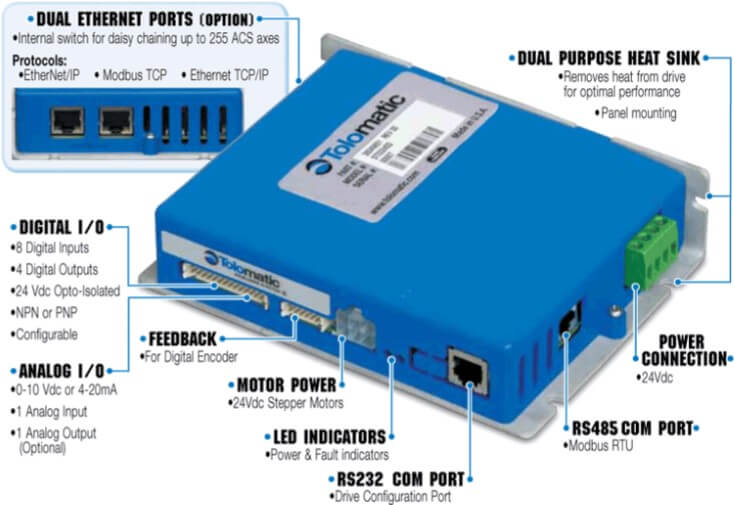 Our ACS driver/controllers are available for both servo motors and stepper motors. They are often paired with ERD electric linear actuators to create straight-forward, cost-efficient linear motion systems.
Learn more