How electric actuators keep tire manufacturing up to speed
By Andrew Zaske on August 11, 2020
---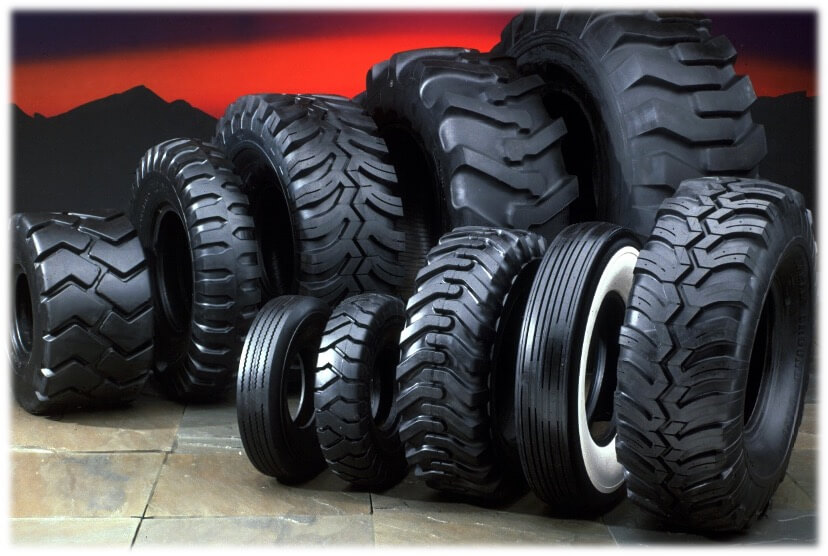 Around the world, approximately 455 tire factories turn out over one billion air-filled tires a year. Each one is made to specifications for size, durability, safety and many other factors. It's a complex manufacturing process that combines various compounds of rubber, fiber, textile and steel cord to create and assemble the inner liner, body plies, bead assembly, belts, sidewalls and tread that make up the completed tire.
Modern tire manufacturing must use the most efficient methods available to ensure tires are manufactured to the highest standards and maximize cost efficiencies. There are about eight steps to the process (see chart) that include prepping raw materials, assembling tire components (cutting, calendaring, beading assembly, extruding, calendaring), building, and finally, inspection.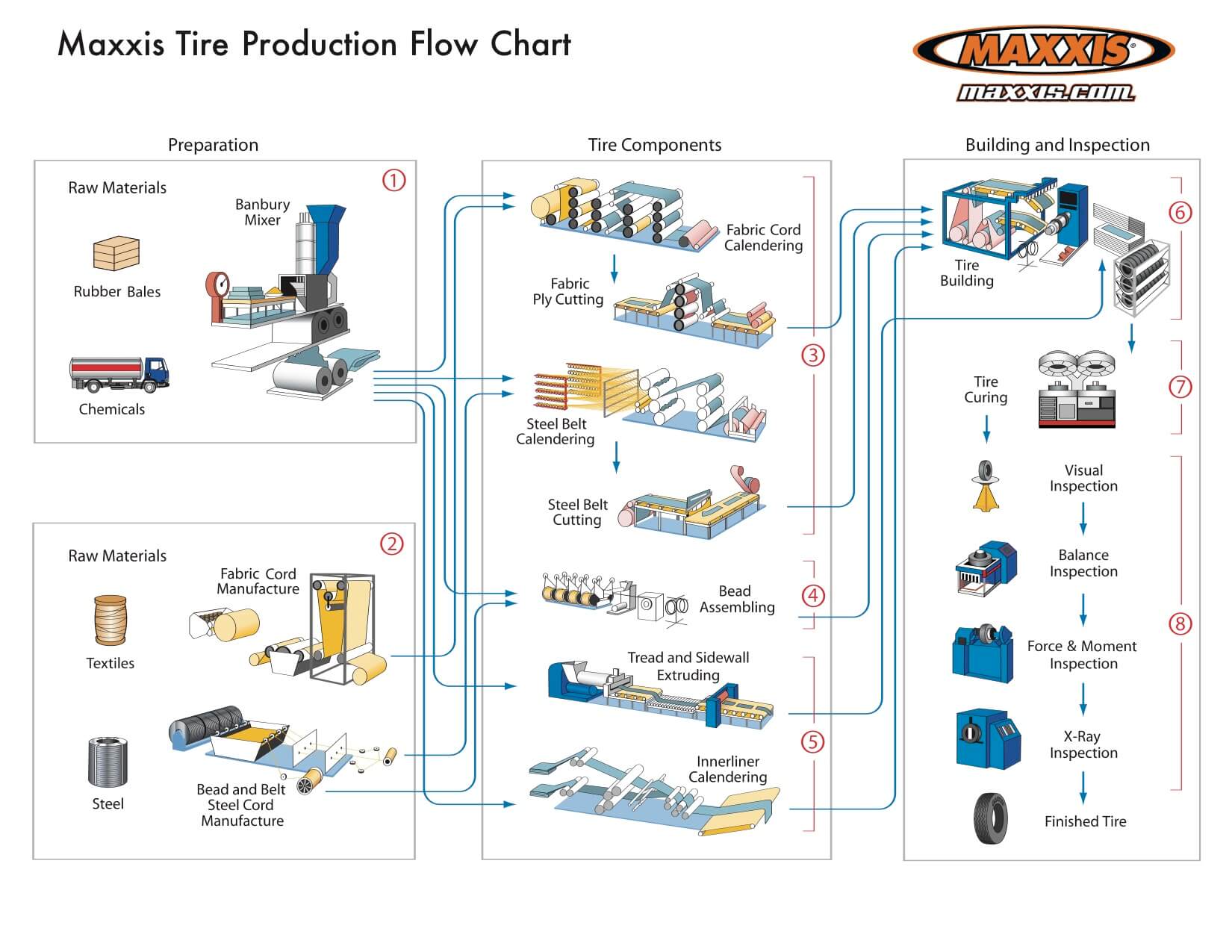 See video: How a tire is made: U.S. Tire Manufacturers Association
Motion control systems throughout these manufacturing processes are used to meet specific requirements for increased quality, faster assembly, improved reliability or flexibility to adjust sizes and changeovers. Many systems are currently driven by pneumatic or hydraulic motion control systems. Manufacturers are increasingly opting for electric systems that are cleaner, faster and more efficient.
Here are three examples in the tire-manufacturing process where electric actuators have brought new efficiencies to the process:
1. Cutting rubber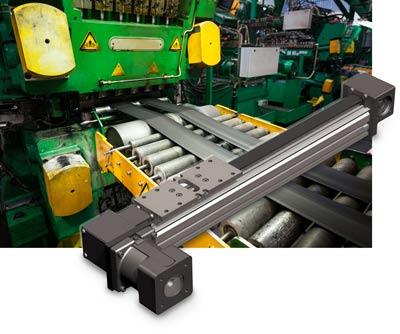 Contributing author: Dave Schmidt, regional sales manager
Challenge:
A tire manufacturer set a goal to reduce energy consumption in the rubber-cutting operation by 20 percent and improve component reliability. Actuators on the X and Z axes move and position knives with a smooth, consistent velocity. Actuators installed on the vertical axis move the blades up and down.
The initial design was a pneumatically operated process that consumed significant amounts of compressed air, which increased electric utility costs. The system required additional maintenance cost to regularly replace shock absorbers on the actuators.
Solution:
The manufacturer replaced the pneumatic system with heavy duty electric belt-driven linear actuators (MXB-P). This provided the high speed, long stroke and efficient performance required. The profiled rail system with recirculating ball linear guides and heavy duty drive belt moves at 140 inches per second. The guided system carries the 26-pound load across 72-inch stroke lengths.
Result:
The manufacturer improved consistent performance of the system, along with saving thousands of dollars per year in electric utility costs, reduced the cost to replace wearable pneumatic components and also reduced maintenance time on the machines.
2. Tire turn-up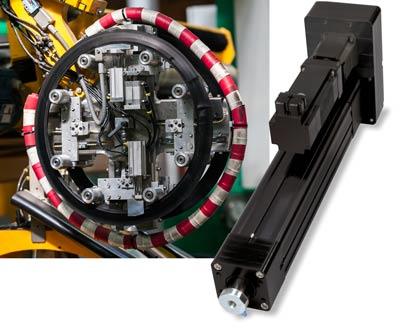 Contributing author: Brian Sondergeld, regional sales manager
Challenge
The rubber compound that will eventually become a tire—including sidewall rubber, tread rubber and beads—is formed around a metal drum in a tire-building machine. Hydraulic cylinders are traditionally used to turn up both sides of the flat tire material to form the "green," or raw tire. Hydraulic cylinders can be messy, due to leaking from the high-pressure hydraulic fluid tubing connections. They are also noisy and require continual maintenance and adjustments to ensure optimal performance.
Solution
To reduce maintenance costs and improve consistency, a tire manufacturer replaced hydraulic cylinders with two electric actuators to turn up both side of the flat tire material to form the green tire. The heavy duty electric RSA actuators provide the required 9,000 lbf of force (4082 Kg) and 60-inch stroke (1.52 m). The ball screw in the actuator was lubed for life and requires no maintenance.
Result
The manufacturer got a more repeatable process, eliminated a safety concern, reduced maintenance costs and hydraulic component replacement costs while increasing the machine efficiency.
3. Tire inspection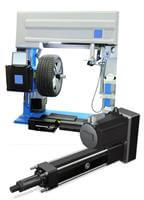 Contributing author: Stephane Renaud-Betz, business development manager
Challenge
The tire inspection process itself includes several steps: visual, balance, force-and-movement and x-ray. Inspection machines use visual devices such as cameras and laser heads to inspect components such as tread depth, trueness of the seat of the inner tir, and pressure. Actuators position and move the cameras and lasers.
During force-and-movement inspection, tires are inflated to double their normal pressure. A tire-inspection press machine uses hydraulic actuators and back springs to position two rim halves that inflate and test the tire under pressure. The cylinders required a lot of space and were noisy to operate. The press machine's hydraulic cylinders required frequent oil changes, which were messy and time-consuming. After adding larger size tires to the product line, the manufacturer switched to a machine with electric actuators.
Result
The high-force electric RSX actuators provide 1,100 lbf (500kg) of dynamic force at 24-inch stroke to close the system and 20Tkg static force to contain the system under pressure. This process was repeated 1500 cycles per day. The manufacturer also reduced electric utility costs and downtime.
Want to know more about how you can benefit from electric motion control systems for automotive and tire manufacturing? Contact a Tolomatic engineer and start a conversation.
Learn more about converting fluid power systems to electric. Read our white papers:
· A technical comparison: Performance of pneumatic cylinders and electric rod actuators
· Electric Rod Actuators vs. Hydraulic Cylinders: A comparison of the pros and cons of each technology