Go long! Selecting a long stroke electric linear actuator
By Tolomatic on April 18, 2017
---

Some linear actuator application requirements mean you have to go long. Long stroke, that is. Length of stroke is a critical factor in electric linear actuator selection. While some applications require moves of just inches or a few feet, others require moves of 10 feet or more. For an application requiring this kind of long stroke linear actuator, a belt driven rodless electromechanical actuator will be your solution.
When you're specifying an electric linear actuator, it's critical to select the right drive train (screw or belt) since the drive train's responsible for both linear positioning and power transmission. Stroke length has a major impact on drive train selection. For a thorough review of the topic, see our white paper.
Long stroke = belt drive
Screw drives have many advantages and are right for lots of applications. They offer high-thrust capacity, plus great accuracy and repeatability. The service life of ball and roller screw drives is predictable using the L10 life calculation for ball bearings.
Belt drives, however, are available in much longer lengths than screw drives, making them ideal for long stroke linear actuator applications. The length of the stroke of a belt driven linear actuator is limited only by the ability to efficiently tension long strands of the timing belt. Plus, belt driven linear actuators are 90-93% efficient, high speed, easy to operate, simple to maintain, and provide long service life.
Defining long stroke
How long is long, you ask. The answer: length is relative. Load size and weight, speed, and distance of travel all play roles in determining whether a given actuator can handle an application. That said, here are four applications that require long stroke lengths. Each uses a long stroke belt driven rodless electromechanical linear actuator.
Spray Coating A spray head coats the inner and outer diameters of long pieces of tubular sheet metal. An electric linear actuator moves the assembly across a 74-inch stroke.
Cleaning Rollers A pulp and paper processor must clean pulp from rollers during the paper making process. Rodless electromechanical actuators carry the cleaning brushes 108 inches.
Palletizing A conveying system manufacturer uses a belt driven linear actuator to index can lids for a pick-and-place robot. The move is 120 inches, performed at a speed of 37.5 in/sec.
Munitions Assembly Large loads are moved along a rail system from one assembly station to another. Long stroke linear actuators power this transport system, covering distances of 120 inches, 228 inches and 288 inches between stations.
Our long stroke linear actuators
We offer a variety of e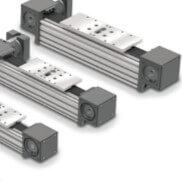 lectric linear actuator options for long stroke applications:
Learn more
Our white paper, Screw-driven vs. belt-driven rodless actuators: How to select drive trains for reliability, efficiency and long service life, provides more on selecting actuator drive trains. Download it here.
Interested in electric linear motion? Join the discussion at our LinkedIn group. Just click here.