Electric rod actuators add accuracy and repeatability to PCB manufacturing
By Tolomatic on October 3, 2017
---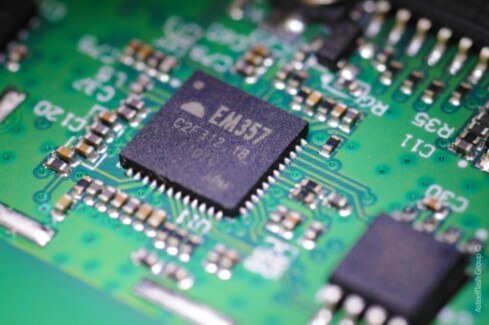 Some manufacturing processes require high precision — printed circuit boards (PCB) production, for example. In these instances, the capabilities of each component in a production system are critical. Although machine designers know pneumatic cylinders well, these cylinders struggle to deliver the accuracy and repeatability demanded by high precision processes.
Many design engineers now turn to electric rod actuators for accuracy and repeatability and for better operating efficiency. Get a thorough review of the capabilities of pneumatic and electric actuation and the cost of ownership of these technologies in our white paper, Electric actuators vs. pneumatic cylinders: A comparison based on total cost of ownership. Download your copy here.
Pneumatics can't deliver precision
PCB manufacturing requires high levels of precision at every stage. Components are small, and the solder that connects them must be in the right places at the right thickness or shorts can happen. Inconsistent and inaccurate solder placement was causing massive quality problems for a solar panel company that produced circuit boards to control their panels.
The company's quality control staff investigated and found the problem was improper soldering and component insulation due to inconsistent glue/solder paste dispensing. The dispensing system relied on pneumatic cylinders to push the pistons. The cylinders needed to supply consistent force when applying the material. However, the pressure of the compressed air fluctuated (a widespread problem in pneumatic power systems). The inconsistent force led to improper soldering and poor insulation on components.
All this inconsistency and inaccuracy meant the solar panel company had a high rate of rejected PCBs. High production costs were cutting into the company's profits.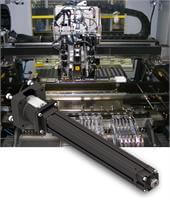 Electric rod actuator solution
Engineers at the solar panel company evaluated a number of electric linear actuator solutions and eventually decided on RSA-ST electric rod actuators to replace the pneumatic cylinders in the dispensing system. The updated system provides consistent force and instantaneous feedback that ensures the proper rate of material dispensing. The result has been a 99% reduction in PCB failures. That reduction in rejects, coupled with the better operating efficiency of electric linear actuators, has improved the company's bottom line.
RSA-ST electric rod actuators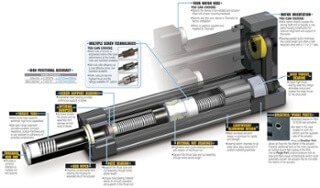 RSA-ST electric actuators combine excellent accuracy and repeatability with low-to-medium thrust capacity making them ideal for replacing pneumatic cylinders. High thrust bearings and internal bumpers deliver heavy duty performance. A rigid, strong aluminum housing allows for easy mounting of switches and sensors. RSA-ST electric linear actuators can be ordered with a wide variety of screw/nut combinations and mounting options.
RSA-ST actuators are part of the RSA series which includes RSA-HT actuators, heavy duty rod actuators ideal for applications requiring high force performance in tough environments.
For more information on the complete RSA line, download our catalog.
Learn more
For a thorough review of pneumatic and electric actuation and the total cost of ownership of these technologies, download our white paper, Electric actuators vs. pneumatic cylinders: A comparison based on total cost of ownership.
Interested in electric linear motion? Join the discussion at our LinkedIn group.