Electric linear actuators meet the challenge of FSMA
By Tolomatic on September 7, 2016
---
The federal Food Safety Modernization Act (FSMA) that was enacted in 2011 has energized the food industry around food safety and the prevention of food-borne illnesses. Most of the major producers and food equipment manufacturers have kept ahead of FSMA requirements successfully since food safety and prevention have always been among their top priorities.
As a supplier of electric linear actuators for food processing, we were very interested in this recent article in Packaging + Processing OEM that details the current state of the industry and FSMA compliance.
Read it here.
Easy-to-clean electric actuators keep food safe
FSMA has had a significant impact on food industry cleaning processes. Food producers agree that equipment needs to be thoroughly cleaned, regularly and often. The emphasis now is on reducing the time cleaning procedures take while maintaining effectiveness and reducing cost.
Because electric actuators are important components in food manufacturing, they either have to withstand washdowns [and be clean-in-place (CIP) compliant], or they have to be shielded from food particles and moisture. Shielding adds cost and complexity to a machine's design so it's not the optimal solution. Easy-to-clean actuators make better sense in terms of both food safety and economics.
When they're selecting linear actuators for food processing washdown environments, machine designers look for key cleaning-related features like
stainless steel housings, fasteners, and motor enclosures
corrosion-resistant seals
water-shedding designs
IP69K rating (no need for shielding)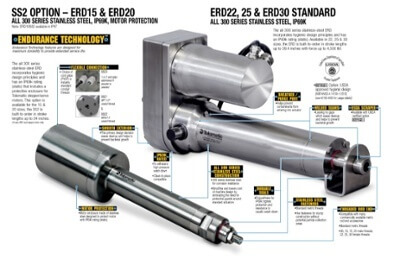 Tolomatic has easy-to-clean ERD IP69K electric cylinders that are well-suited to food processing demands. The ERD electric rod actuator series includes SS2 (15 and 20) and USDA approved (22, 25 and 30) models that are CIP compliant. Because these electric cylinders don't have to be shielded, machine design is streamlined and costs are kept down.
Learn more
Download our white paper: Evaluating actuators for washdown in food and beverage applications.