Electric extreme-force linear actuators beat hydraulics in metal casting
By Tolomatic on August 21, 2018
---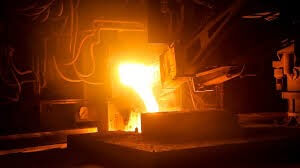 Metal casting is precise work conducted in a high-temperature environment. The process can produce simple or intricate parts when liquid metal is poured into molds, cooled and removed. Casting requires precise control of timing, flow rates and temperatures to yield good parts.
Unmolding a workpiece requires both force and control. It's a task often left to hydraulic cylinders, but their high-force capabilities come with significant drawbacks, like inadequate control and messy leaks. New, electric extreme-force linear actuators offer precision and clean operation.
For an overview of how high-force electric actuators compare to hydraulic cylinders, read our white paper, Electric rod actuators vs. hydraulic cylinders: a comparison of the pros and cons of each technology. Download it here.
Here's how electric extreme-force actuators solved the challenges of high force, control and operating cost for a metal casting operation.
Sand casting operation needs high-force electric actuators
A manufacturer of high-quality steel castings was using hydraulic actuators to pull castings out of molds. They needed to replace the actuators due to the high maintenance costs of hydraulics.
During regular operation, the unmolding process required approximately 66 kN (15,000 lbf). However, that could increase to a peak of 177 kN (40,000 lbf) if a casting was left to cool in the mold. The application required equal force whether pulling (retracting) or pressing (extending).
While the hydraulic cylinders could provide the forces needed in this application, they were not an ideal solution. They did not control the force output well. Plus, the hydraulic system was prone to leaks which were costly to clean up and caused uneven performance. The hydraulic system required regular maintenance which required expensive downtime.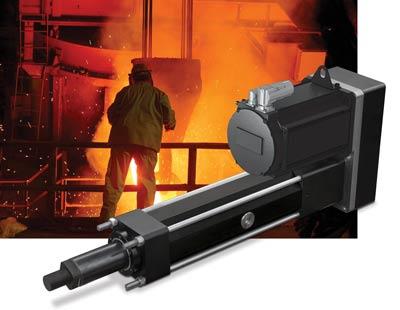 Electric extreme-force linear actuators are the solution
We consulted with the manufacturer's team and recommended a pair of RSX096 extreme-force electric actuators. RSX actuators use high-capacity roller screw technology to meet the application's peak thrust requirement. Each of the two RSX electric actuators can achieve peak forces of over 89 kN (20,000 lbf), so the combined peak force meets the requirement for 177 kN (40,000 lbf).
The RSX096 actuator's standard IP65 rating and robust design maximize service life in the high temperature, dirty foundry environment. The roller screw technology used in RSX extreme-force linear actuators provides longer service life than that of the hydraulic cylinders.
As required by the application, the RSX electric actuators provide their rated thrust both while extending and retracting. These electric high-force electric actuators eliminate a messy, high maintenance hydraulic system. They lower repair costs and system downtime while providing unparalleled control.
RSX electric extreme-force linear actuators
The RSX series of extreme-force linear actuators includes the RSX096 actuator with forces up to 130kN (30,000 lbf) and the RSX080 with forces up to 80 kN (18,000 lbf). Both models are designed and tested for 100% duty cycle and are roller screw-driven for consistent performance and long service life in demanding environments. Rated IP65 with an IP67 option, these actuators resist water from a light washdown and dust from outdoor environments.
RSX actuators are suited to applications like pressing, punching, stamping, riveting, fastening, joining, injection molding and a variety of sawmill processes.
Resources
Learn more about hydraulic cylinders compared to high-force electric actuators in our white paper, Electric rod actuators vs. hydraulic cylinders: a comparison of the pros and cons of each technology.
Interested in electric linear motion? Join the discussion at our LinkedIn group.