Electric cylinders essential to advanced conveyor system [Case Study]
By Tolomatic on July 11, 2017
---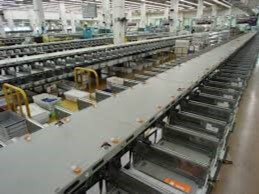 Conveying systems are common in manufacturing. They can be straight-forward — systems that just take packages from point A to point B — or complex — configurations for sorting and diverting.
As critical components in conveying systems, linear actuators must withstand the challenges of the application.  Pneumatic cylinders have been used extensively in conveying. However, electric cylinder use is growing, fueled by demand for programmability and better accuracy.
Food processing applications pose additional challenges for conveying systems and the actuators in them.  In food processing, equipment must handle washdowns, a common practice in the industry. For a thorough review of specifying linear actuators for washdown environments, download our white paper.
Actuators essential to advanced conveyors
Conveying equipment manufacturer Intralox has over 40 years of experience, so they understand the range of conveying applications. To handle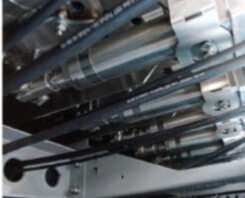 complex requirements, Intralox developed patented Activated Roller Belt (ARB™) technology. In an ARB system linear actuators located in zones beneath the moving belt activate longitudinal rollers, making them rotate left or right.
As a package passes over a diversion zone the actuators beneath the belt rotate pinions that cause the longitudinal rollers in the belt to rotate, moving the container laterally by a predefined amount. With this arrangement, packages can be pushed a few degrees right or left, make a 90-degree turn or anything in between as they move along the belt.
The Intralox S7000 Pallet Layer Forming system incorporates ARB technology and is especially popular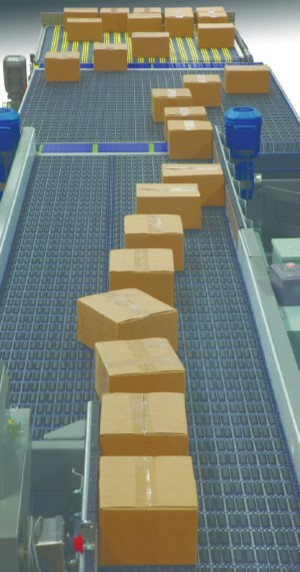 in the food processing industry. The system was originally designed with pneumatic cylinders. However, Intralox wanted to change to electric linear actuators to satisfy customer demands for more positioning control and higher levels of accuracy.
An actuator solution
An in-house electric actuation solution proved unsatisfactory, so Intralox turned to us as linear motion experts.  Our engineers were asked to come up with an electric rod actuator that would be affordable, reliable and able to stand up to washdowns. The result was the ERD electric cylinder.
ERD cylinders have proved to be a rugged and reliable solution for Intralox. They deliver the infinite positioning customers demand, require little maintenance, work dependably, and withstand regular washdowns.
ERD low-cost electric cylinders
ERD low-cost electric cylinders are the perfect alternative to pneumatic cylinders. ERD cylinders, when paired with stepper or servo motors, create flexible, powerful, cost-effective electric linear actuation solutions.
ERD electric rod actuators are available in a range of stroke lengths and screw types. They have stainless steel housings and fasteners and can be ordered in an IP67 configuration suitable for many food processing applications.
The ERD series includes models with stainless steel motor housing as well as USA-approved models.
Download our ERD catalog here.
Learn more
Learn more about selecting linear actuators for washdown environments.  Download our white paper.
Interested in electric linear motion? Join the discussion at our LinkedIn group.