Better welds with electric linear actuators for resistance welding robots
By Gary Rosengren on July 21, 2015
---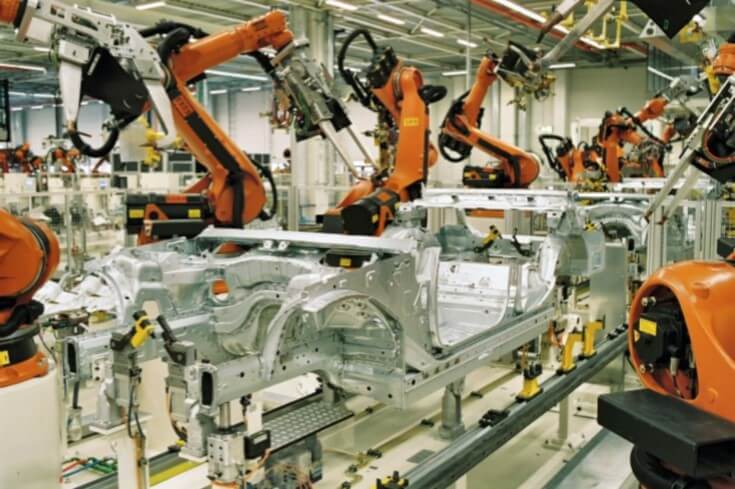 U.S. and European car manufacturers have long been convinced of the benefits of automation in their production facilities. Spot welding robots are common in their body production lines.
Automation and robotics offer advantages in cost savings and quality, but plants in India, China, and Southeast Asia have been slow to get on the bandwagon. Perhaps some plant managers see these production processes as too expensive or difficult to implement. Whatever the reason, that situation may be changing according to a Frost & Sullivan study described in an article on The Fabricator.com
Robots in resistance spot welding
Robotic welding has a number of advantages over manual methods.
Precise positioning–Robots are programmed to deliver welds exactly at specific locations.
Consistent quality and placement–Robots deliver high-quality welds at the right places time after time.
Energy savings–Consistency and quality combine to increase productivity which in turn can lead to reduced energy use and resulting savings.
Adjustable to new demands—As designs change automotive welding robots can be reprogrammed to meet the new demands.
Electric linear actuators for robotic welding
The effectiveness of any robotic spot welder relies on the end effector – the weld gun that activates the tips that contact the parts to weld them together. Weld guns are powered by linear actuators, sometimes a pneumatic actuator but more and more often it's an electric model. Electric actuators for resistance spot welding robots are gaining popularity because of the advantages they offer over pneumatic ones.
For more detail, download our English language ServoWeld brochure. (Also available in six other languages.)
Click here for our slideshow on the advantages of electric welding linear actuators.
Here's an overview of the benefits of electric linear actuators for resistance welding robots:
More welds per minute–Pneumatic linear actuators set weld tips back to the full open position after each weld, whereas an electric resistance welding actuator opens the tips just enough to move to the next position. The resulting time savings means more welds in the same amount of time from an electric-powered system.
Consistent, high-quality welds–Electric actuators deliver consistent force to the weld tips while pneumatic actuators often deliver varying force due to fluctuations in air pressure. Fluctuating force delivered to the weld tips can lead to burn-through at one extreme and weak welds at the other.
Longer weld tip life–With an electric robotic actuator weld tips aren't subjected to the excessive wear that comes from burn-through.
Reduction of harmful emissions–With fewer burn-throughs, there is less metal vapor emitted into the environment.
No costly air leaks–Pneumatic systems are prone to leaks that rob power and cause pressure fluctuations and inconsistent welds.Not the case with electric systems.
Faster, easier changeovers–Because electric actuators for robotic welding are fully programmable, they can be adapted as requirements change.
Lower life cycle cost–In the long run, an electric model pays for itself quickly because it does not have the repair and replacement costs of a pneumatic actuator.
Tolomatic ServoWeld® resistance welding actuators
The ServoWeld GSWA Series integrated motor actuator is an electric actuator for resistance spot welding robots. GSWA actuators combine servo motor technology in a powerful high-force electric linear actuator for a compact profile and faster resistant spot weld cycles. The GSWA resistance welding actuator is perfect for automotive body-in-white spot welding applications.
Learn More
For more about servo actuators for robotic spot resistance welding, get our white paper or English-language ServoWeld brochure (Our brochure on the ServoWeld system is available in English and six other languages)