Integrated linear actuator increases manufacturing efficiency
By Tolomatic on December 15, 2015
---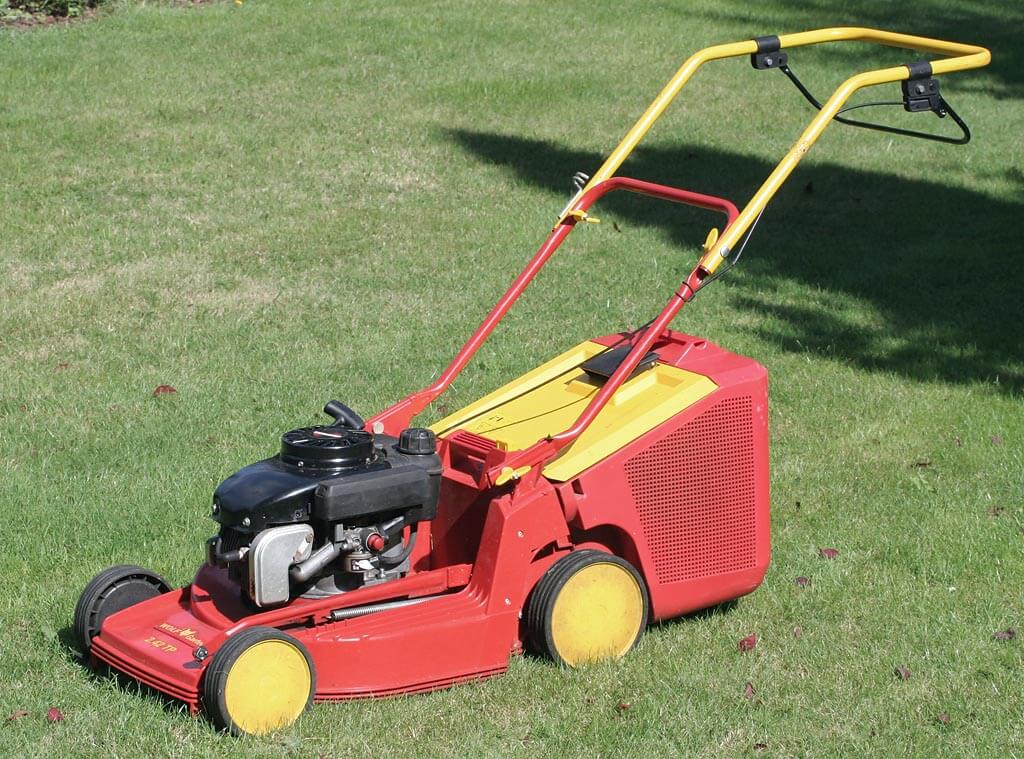 Production cost and efficiency are important considerations in all manufacturing, but these factors take on critical status in some segments. Small-engine production is one of these. Using the right linear actuator can boost efficiency and reduce cost.
What would we do without small engines? They're everywhere. Maybe they aren't as powerful as automobile engines, usually packing only 1 to 15 horsepower with just one or two cylinders. But we count on them to power our lawn mowers, snow blowers, chain saws, trimmers, generators and more.
When it comes to small engines, cost is extremely important especially in models destined for home use. Small engine manufacturers are always on the look-out for manufacturing equipment that can cut production costs.
Pneumatic cylinders have had some advantage in this type of manufacturing because of their low purchase price. But when you look at total cost of ownership (TCO), electric linear actuators are often the smarter choice.
Download our white paper on TCO.
Some manufacturers shy away from electric actuators because they seem too complex, but there's another alternative, the integrated electric actuator.
Our white paper compares pneumatic, traditional electric and integrated linear actuators. Download it here.
Replacement for pneumatics needed
A small-engine manufacturer was using pneumatic actuators to index piston rings in position for their engine assembly process. The pneumatic actuators and related components were old and becoming increasingly difficult to replace. Plus, there was too much expensive downtime for repair and replacement of these pneumatic actuators.
Changeover time was a problem as well. The plant produced a variety of different motors, each requiring a new indexing set-up. Adjusting the pneumatic actuators to new positions was a time-consuming, manual process.
Engineers at the plant were looking to replace their pneumatic operation. They liked the increased communication and easy programmability of electric linear actuators; however, they had some hesitations about the technology.
Electric linear actuators seemed far more complex to source and use than the pneumatic cylinders they would replace.
Electric actuators had a higher purchase price.
Space was limited. New actuators had to fit the footprint of the pneumatic cylinders. Could a traditional electric actuator system fit?
Integrated electric linear actuator answers the challenge
Fortunately, there was another solution. An integrated electric linear actuator:
Combines actuator, motor, and controller in a compact package, making it simpler to source and use than a traditional electric actuator system.
Is fully programmable, making change-overs quickly.
Is affordable.
Can fit the footprint of pneumatic cylinders.
On our recommendation, the engineers choose the ICR SmartActuator® Plus. The ICR provides flexible communication via its indexing software and is an easy retrofit replacement for pneumatic actuators. The ICR actuator is able to communicate via DeviceNet. Several indexing routines were developed for this application and are communicated via a human-machine interface. As a result, product changeovers are much faster.
ICR SmartActuator®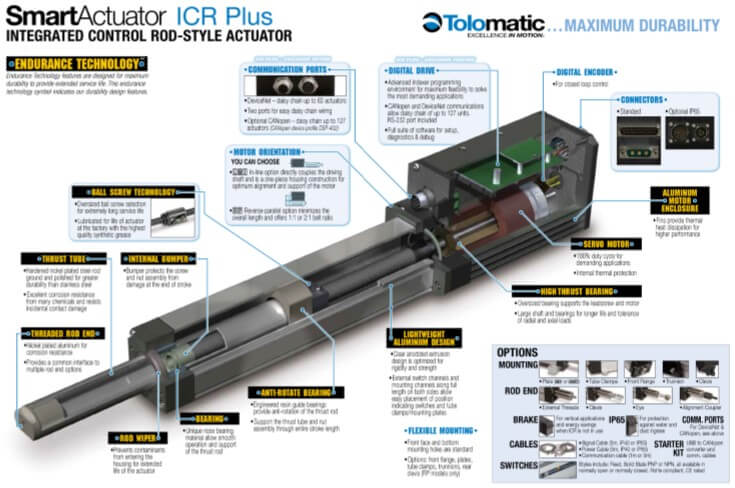 Our ICR SmartActuators combine a controller, driver, and servo motor in one compact package They come in two motion control packages:
ICR SmartActuator BASIC for simple extend and retract operation
ICR SmartActuator PLUS with indexer programming and network communication capabilities
The result is an affordable, reliable, powerful, intelligent actuator that is remarkably easy-to-use. Both the ICR Plus and Basic offer 100% duty cycle for continuous operation, 24 Vdc opto-isolated inputs, NPN or PNP, and two ball screw selections.
Download our ICR catalog here.
Learn more
Get our new white paper on the total cost of ownership of pneumatic cylinders and electric linear actuators.
And download our white paper that compares pneumatic, traditional electric and integrated actuators.