Electric rod actuator cleans up after hydraulics
By Tolomatic on May 16, 2017
---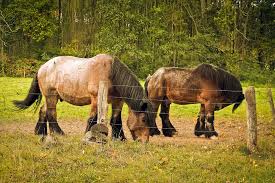 Hydraulic cylinders are well-known linear motion workhorses in industrial machinery. They're reliable, familiar, capable of high force, and affordable, but they're not without disadvantages. The leading ones are fluid leaks, large footprint (with hydraulic power unit or HPU), cumbersome changeovers due to lack of programmability, and high maintenance costs.
The introduction of electric high force linear actuators means machine designers now have a choice. An electric rod actuator can replace a hydraulic cylinder and eliminate the need to clean up leaks.
For a thorough look at hydraulic versus electric actuators, see our white paper.
A mess to clean up
A manufacturer was using hydraulic cylinders to press, form, and package face powder and other cosmetics. Problems with position control, speed, accuracy, and repeatability were rampant throughout the process. The machines needed to be cleaned constantly because hydraulic fluid leaked from hoses and pumps. That cleaning meant costly downtime and spoiled product. Even more downtime came when changing to different cosmetic lines or product mixtures because changeover was a time-consuming, manual operation. Also a problem: the hydraulic system's HPU with its main pump and reservoir took up valuable floor space in the production area.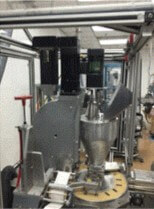 The manufacturer wanted an electric actuation system to eliminate the wasted space, costly downtime, and product quality fluctuations caused by the hydraulic system.
A clean, electric solution
Designers chose an RSA50 electric rod actuator with reverse parallel motor mount to replace the hydraulic cylinder. The RSA50 supplies significant force at faster speed and with better accuracy and repeatability than the hydraulic system it replaces. The servo motor/drive of the new actuation system stores each product line's requirements so they're readily available. Operators now have a flexible controls platform and can make changes on the fly during production.
The RSA eliminates messy hydraulic fluids, hoses, and pumps, and it frees valuable floor space by eliminating the large HPU. Also, the cost of the RSA solution was within budget, and ROI was significant – daily output doubled and product quality increased.
RSA electric rod actuator series
The RSA/RSM line of electric rod actuators includes
RSA-ST –– low-to-medium thrust capacity actuators. RSA-ST electric rod actuators deliver accurate, medium force performance making them ideal for replacing pneumatic cylinders. High thrust bearings and internal bumpers deliver heavy duty performance. A rigid, strong aluminum housing allows for easy mounting of switches and sensors.
RSA/RSM-HT — heavy duty, high force electric rod actuators for tough environments. RSA/RSM-HT actuators accommodate larger motors and deliver high force with excellent accuracy. These high force linear actuators can be ordered with either ball or roller screws and have enhanced high thrust bearings and heavy duty internal bumpers.
Learn more
Our white paper, Electric rod actuators vs. hydraulic cylinders: A comparison of the pros and cons of each technology, will give you the information you need when comparing hydraulic to electric actuators. Download it here.
Interested in electric linear motion? Join the discussion at our LinkedIn group. Just click here.