Electric linear actuator speeds up changeovers, lowers TCO
By Tolomatic on February 21, 2017
---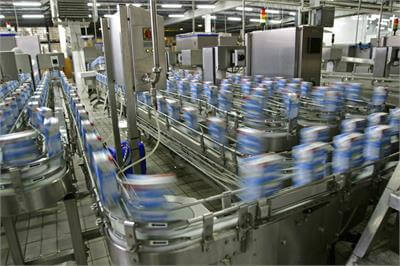 If you're designing for batch processing, no doubt product changeovers are on your mind. Switching a production line from one product to another can be slow and cumbersome. However, using
electric linear actuators
instead of pneumatic cylinders can streamline
changeover
and lower operating costs. Rather than the time-consuming, manual process pneumatic cylinders require, changes can be accomplished by just selecting a different program.
Time is money, as the saying goes, and it's especially true in manufacturing. Reduce the time a process takes and you save time and operating costs. The concept of total cost of ownership (TCO) considers issues beyond a component's purchase price like the downtime and labor costs associated with changing production set-ups. For a comparison of the TCO of electric and pneumatic actuators, download our white paper.
Quicker changeovers needed
A conveyor manufacturer was using pneumatic cylinders in their lane diverting application. The company wanted to reduce the time it took to change the line for new products and eliminate the errors that often resulted from adjustments made manually by operators. Both the change process and the errors were causing significant amounts of costly downtime, as much as six hours each time. Plus, the conveyor manufacturer's customers complained of position "floating" due to pressure fluctuations in the cylinders' air supply.
The manufacturer was looking for a programmable linear actuation solution that would streamline the process of changing a line. Because the conveyor systems operated in manufacturing environments, the manufacturer needed actuators with an IP65 ingress protection rating. The manufacturer had standardized on Rockwell Automation AB PLCs.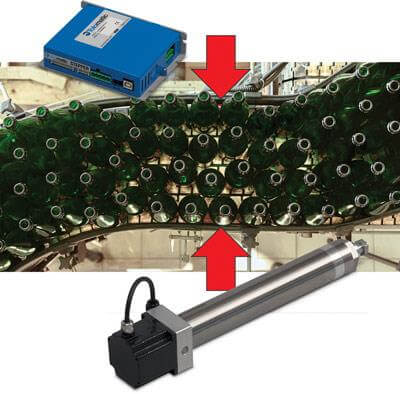 Electric linear actuators offer programmability
Electric actuation offered a solution to both the product change and position floating issues. Tolomatic engineers recommended that two stainless steel ERD15 electric cylinders be used for each side guiding plate in the conveyor system. The ERD actuators are fully programmable so changeovers take seconds rather than hours. These electric rod actuators do not rely on compressed air (which may have pressure fluctuations) so there is no problem with position floating. The new actuators also reduce operating costs by eliminating maintenance and other downtime as well as increasing energy efficiency.
Customized motors with epoxy coating are used to comply with the requirement for IP65 protection. The ACS stepper drive with EtherNet/IP™ and Add-on Profiles (AOP) provides seamless communication with the manufacturer's chosen Rockwell Automation AB PLCs. The ACS drives are daisy-chained in series to simplify communication cabling.
ERD electric cylinders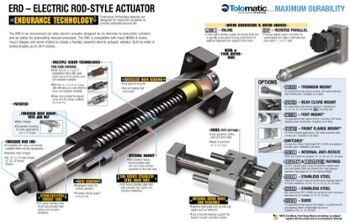 ERD low-cost electric cylinders can replace pneumatic cylinders when automating manual processes. ERD cylinders are economical and work with many NEMA and metric mount stepper and servo motors to create a flexible, powerful, yet cost-effective electric actuation systems.
Download the ERD electric cylinder product catalog.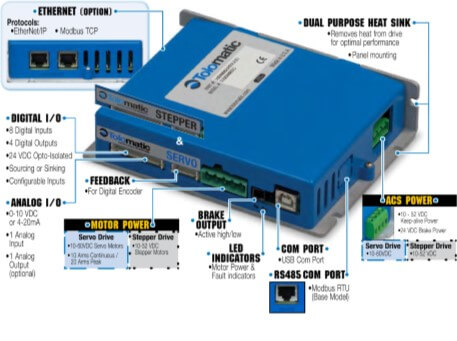 The ACS stepper drive, developed specifically for electric actuators, creates a low-cost, easy-to-use single axis actuator solution. You just select a Tolomatic electric actuator in the drive software to automatically set up most of the necessary parameters to create motion in the desired linear units (mm or inch). ACS drivers/controllers are available with NEMA 11, 17, 23, and 34 size stepper motors with options for gearheads, inline brakes, and encoders.
Download the ACS Stepper Drive product catalog
Learn more
Download our white paper, Electric actuators vs. pneumatic cylinders: A comparison based on total cost of ownership.