Developing a strong industrial automation team
By Tolomatic on July 10, 2018
---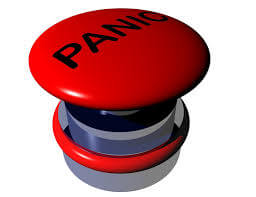 Panic's in the air surrounding industrial automation employment, from engineering to production, and it's causing sleepless nights for automation OEM hiring managers. While here at Tolomatic we don't subscribe to the panic, as part of the automation universe we face similar challenges.
We design and manufacture electric and pneumatic linear actuators and motion control, so we need a wide variety of technical expertise from machinists, assemblers, technicians, quality control, engineers and more. We're always working hard to attract and keep good people for our team.
The panic about automation employment is fueled by change. Change can be scary, but it's been part of industry since the beginning. The original Industrial Revolution transformed populations from agrarian to manufacturing. Industrial power developed from water to steam to electricity. Industrial control has evolved from manual to computer-aided to a new, connected automation landscape populated by robots, Industry 4.0 and the Industrial Internet of Things.
In the midst of this change and uncertainty we're facing record low unemployment that makes good people harder to find. And some potential employees may need on-the-job training to fill gaps in their skills.
National automation associations, like A3, are working to undo misconceptions about automation and employment. A3 (The Association for Advancing Automation) represents automation manufacturers, component suppliers, system integrators, end users, research groups and consulting firms from throughout the world. This A3 video covers the benefits of robots specifically, but it applies to all automation. The video features several manufacturers and A3 president, Jeff Burnstein.
Here's how we're approaching the issues of hiring and retaining great employees. We hope our practices can help you.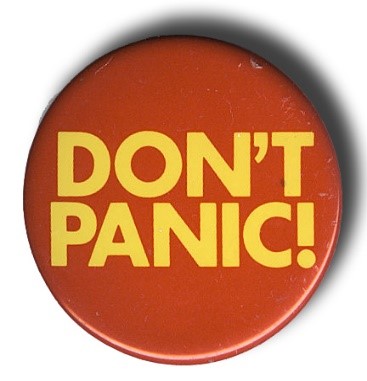 Attracting employees to industrial automation
Industrial employment may need a makeover. Some think it has a serious perception problem. If you're hiring, you'll need to counteract several myths. Here's how we do it.
Myth #1: U.S. manufacturing is dead.
Reality: Reports of the demise of U.S. manufacturing are greatly exaggerated. In fact, U.S. output has risen by approximately 75% over the past 25 years. Technological change, robots, automation and information technologies let companies boost output.
Advice: When you're interviewing, have stats available on your company's performance. What's your growth in terms of sales, in profits? What does the company's future look like? (We have a great growth story to tell our candidates. We bet you do, as well.)
To combat negative opinions about working on a production line, you could start a publicity effort with local manufacturing organizations. K-12 STEM curricula create future workers and are something your company could support. (Our staff members have given presentations at local schools.)
You could also support engineering departments at local colleges.
Myth #2: Factory jobs are being automated out of existence. (This belief is prevalent among candidates for production work.)
Reality: The factory workforce is growing. According to the Bureau of Labor Statistics in a June 2018 report, "Employment continued to trend up in manufacturing, with most of the change concentrated in durable goods industries…."
The nature of factory jobs is evolving as companies adopt new technologies. There are opportunities in information technology, software design and more, as well as hands-on production.
Machine design is seeing exciting changes too as end users look for more connectivity on their production floors.
Advice: Be ready to describe your industry's growth/technology trends and the company's plans for jobs in the future. Do you offer training/continuing education? What is the possibility for advancement? Applicants will want to know.
Myth #3: I need a college degree to get a good job.
Reality: While this is true for engineers, entry-level factory jobs can start at up to $20 per hour depending on the area of the country and your background. These jobs may only require a high school diploma and some training or professional certification. Often an apprenticeship or on-the-job training can fill the gaps in a prospective employee's skill set.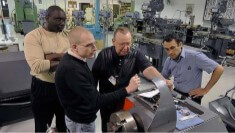 Advice: Take a look at your company's pay scale, training benefits and education requirements. Then check to see what other businesses in your area offer. Adjust your programs so your company stays competitive and offers training that matches its needs.
Bridging the skills gap
Many companies complain that they can't find people with the skills they need, even for entry-level jobs. This "skills gap" is a major roadblock to hiring and employment.
As an employer you may need to adapt. Let's say your operation needs a machine repair technician, but your applicant pool doesn't offer the specific

machine experience you need. Or you need a machine designer who's worked with a specific design software, but all your applicants fall short. Why not hire the applicant with the closest skill set and develop a tailored, on-the-job training program? Set up the program with goals, a schedule, evaluations and rewards. The same strategy could work with a current employee who's moving to a new position.
Companies can head off a future skills gap. For example, if you know you'll need operators for computer-driven machining centers, work with local technical schools to be sure they offer relevant training. Look at industry trends and work with college engineering programs so graduates are prepared for the real world.
Ongoing learning
The world evolves, and your business adapts to remain successful. Some changes impact your employees, so they'll need training or further education to keep them up-to-date. For example, if your company is adapting to market demands for Industry 4.0-style connectivity, your engineers will need to understand how various components interact. Machine operators may need to understand new tasks and procedures.
Managers can identify training topics and areas needing continuing education. Work with your Human Resources department to design training programs and communicate education benefits. Your team may have ideas about training needs, so be sure to ask for input.
Continuous training keeps employees on the cutting edge of industry developments. Employees who are on top of changing industry standards help your company hold a position as a leader and strong competitor within the industry. Plus, employees who receive the necessary training perform better on the job, and a program of ongoing learning opportunities is an attractive benefit for employees.
The future of employment in industrial automation is strong. OEM hiring managers just need to confront myths head-on and keep the need for on-going education/training top-of-mind. No need to panic.
Resources
Get to know us. Download our company brochure. And watch our video.
Interested in electric linear motion? Join the discussion at our LinkedIn group.