Tolomatic electric actuators with expanded stroke range designed to replace fluid power cylinders
By Ryan Klemetson on April 11, 2018
---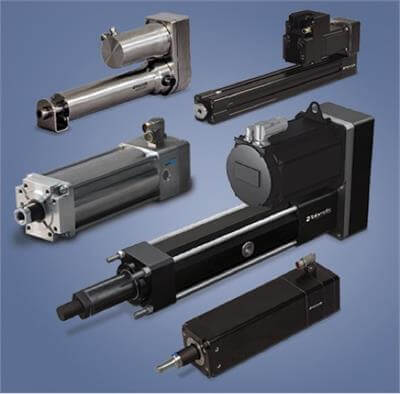 Electric rod-style actuators with roller screws, available in many different configurations of thrust ratings, speeds and stroke lengths, meet the demanding requirements of hydraulic and pneumatic cylinder replacement
The Tolomatic family of high force electric rod-style actuators now features expanded stroke lengths up to 1.5 m (60 in.), allowing more flexibility for converting motion control applications with hydraulic or pneumatic cylinders to electric linear motion. Designed for high duty-cycle performance in demanding applications, the RSX, RSA and ERD electric rod-style product families utilize planetary roller screws for longer service life in a compact package compared to electric actuators utilizing ball screw technology.
Tolomatic's highest-force actuator, the RSX, is expanded to 1.5 m stroke length (from 600 mm). The RSA and ERD are expanded to 1.5 m and 1.2 m, respectively, from 450 mm.
The RSX utilizes a tie-rod design, provides forces up to 133.5 kN (30,000 lbf) and is ideal for hydraulic replacement applications. The RSA HT is available in four sizes, forces up to 58 kN (13,039 lbf) and is the most flexible product line for fluid power replacement. The ERD stainless steel, hygienic electric actuator rated, rated IP60k for applications in the food and beverage market, is available with forces up to 35 kN (7868 lbf). Tolomatic's IMA servo linear actuator and ServoWeld® spot-welding servo actuator platforms are also available with roller screw configurations at various thrust ratings and stroke lengths.
"Compared to hydraulic or pneumatic cylinders, electric actuators provide better motion control, superior flexibility, better efficiency, no contamination risk, and few maintenance concerns," said Aaron Dietrich, director of marketing, Tolomatic. "With these expanded roller screw options, Tolomatic is one of the few companies worldwide with this level of capability to replace fluid power cylinders. With the added benefit of 10 to 20 times the life of an equivalent ball screw actuator, roller screw actuators bring much more value to customers looking for long life actuator solutions."
Tolomatic's roller screw actuator families are available with unique features to aid conversion of fluid power cylinders and maximize life, including easy re-lubrication and IP (ingress protection ratings) from IP65 to IP69k.