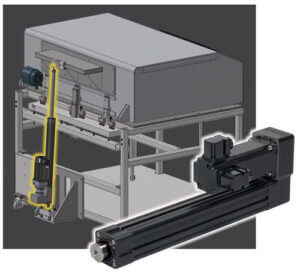 Plastics Thermoforming
Product Family: Rod-Style Screw-Drive Actuator
Product Used: RSA Rod-Style Screw Drive Electric Actuator
Product Type: Modified Standard
Application Requirements
Stroke: 14 in (356 mm)
Speed: 4 in/sec (102 in/sec
Thrust: 1200 lbf (5.3 kN)
Application Description
Open and close door on a clam shell vacuum sealer used for plastics thermoforming.
Challenge
The competitor's actuator failed during testing on the prototype vacuum sealer. This put the release and production of their next-generation thermoformer in jeopardy.
Tolomatic Solution
Tolomatic's sales team took quick action. Using our online sizing software it was determined that a RSA24 rod screw actuator with a roller screw would supply the needed force and exceed the life requirements for the application. The roller screw also allowed the customer to move down one frame size for the motor. The RSA was modified to accommodate a gearbox, yet was still delivered in time to test on the prototype and ultimately get into production by the customer's deadline.
Customer Benefit
Fast response by Tolomatic kept the project on track
Tolomatic's online sizing software provided quick, accurate results
YMH (Your Motor Here) program accommodated gearbox and customer-choice motor
Cost savings by using a smaller frame motor
PACKL-020-E