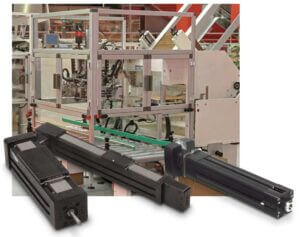 Conveyor Case Packer Automation
Product Family: Electric
Products Used: RSA Rod-Style Screw Drive Actuator
B3W Rodless Belt Drive Actuators
B3S Rodless Screw Drive Actuator
Product Type: Standard & Modified Standard
Application Requirements
Strokes: 20 in (25.4 mm) to 38 in (965 mm)
Speeds: 12 in/sec (305 mm/sec) to 72 in/sec (1.8 m/sec)
Thrusts: 22 lbf (98 N) to 340 lbf (1.5 kN)
Application Description:
Convert the conveyor packer, located at the end of the conveyor, from pneumatic cylinders to electric actuators. Motions required include: several high-speed push operations, a centering operation, a tipping operation, and a container lift operation.
Challenge:
An industrial conveyor manufacturer wanted a cost-effective electric alternative to the current high-maintenance pneumatic system. Frequent downtime and maintenance exposed the high long-term cost of ownership of the pneumatic system. The manufacturer wanted the inferior system replaced by the electric solution ASAP to maximize productivity.
Tolomatic Solution:
Tolomatic, the local distributor, and the manufacturer collaborated to target 5 axes for electric actuation. Two high-speed push operations: B3W10 long stroke belt drive actuators; Centering: As the cases are loaded into a container, two B3W dual carrier belt drive actuators are used to quickly and accurately center the cases within the container; Tipping: A RSA rod-style actuator with a pivoting rear & front mount, with custom motor mount; Container lift: B3S15 rodless screw drive actuator vertically lifts the container filled with cases.
Customer Benefit:
Higher speed and accuracy for increased throughput
Standard products with built-to-order stroke lengths were quickly manufactured and easily adapted into the existing framework
Tolomatic quickly designed and built the custom motor mount required for the RSA rod-style electric actuator
Tolomatic's fast delivery kept the project within the manufacturer's tight schedule
Decreased maintenance downtime using Tolomatic electric actuators instead of pneumatic cylinders
CONV-020-E