Tolomatic Receives Governor's International Trade Award
By Diane Cedarberg on November 18, 2019
---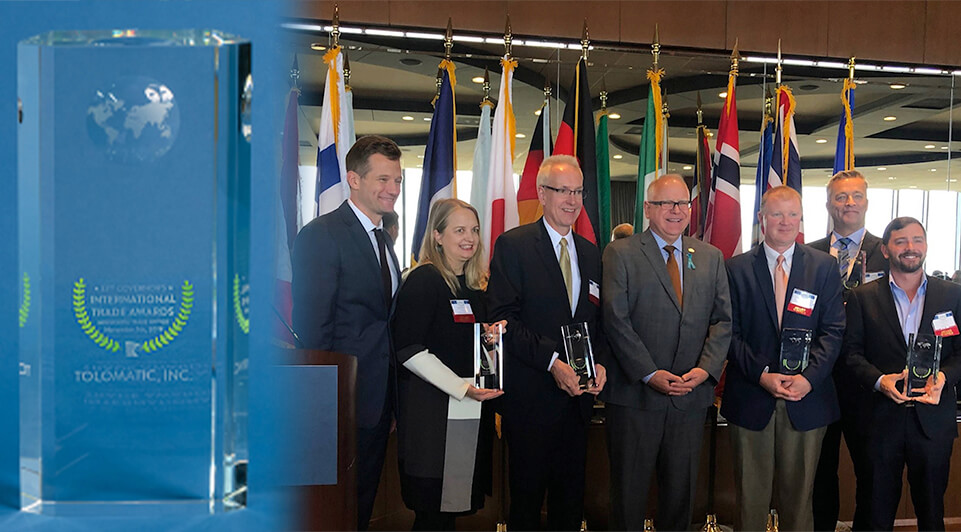 Tolomatic has received the 33rd Annual Governor's International Trade Award. Tolomatic is one of five Minnesota companies recognized for developing and continuing to grow a significant part of its business in foreign markets, increasing or maintaining jobs in Minnesota, and developing novel approaches for competing globally.
"We are pleased to recognize the outstanding achievement of these Minnesota-based companies and the positive economic impact that foreign direct investment and exporting companies both large and small are making in communities throughout the state," said Minnesota Governor Tim Walz.
"Since our beginnings more than 65 years ago, our company has partnered with customers to solve automation application challenges," said Amy Toles, co-owner, Tolomatic. "Now in our third generation of family ownership, we have grown by delivering innovative motion solutions supported by a 'customers first' culture. Our sales, both in the North American market and globally, have continued to be strong as businesses around the world invest or reinvest in automating factories and manufacturing.
To support its growing international business, Tolomatic established a factory in China in 2015 to sell and service actuator products. Tolomatic also opened service centers in Germany and Mexico in 2019.
Employment
"Employment has been the most encouraging part of the story. From 2016 to 2018, Tolomatic has grown to over 240 full time employees, a 25 percent increase," said Adam Toles, co-owner, Tolomatic. "The Minnesota factory has grown to over 220 employees, a 20 percent increase. This can, in part, be attributed to Tolomatic's new and growing sales in international markets." Tolomatic employs staff with expertise in fields of design and manufacturing engineering, precision machining, assembly, quality, sales and all aspects of customer support.
About Tolomatic
For over 65 years, Tolomatic has been a leading supplier of electric linear actuators, pneumatic actuators and power transmission products for factory automation. Its extensive product line also includes servo-driven high-force actuators, roller screws, servomotors and drives, and configured linear-motion systems. Tolomatic's electric linear and pneumatic actuators are used in a variety of industries, including the packaging, material handling, medical, food processing, automotive, semiconductor and general automation industries. For more information, contact Tolomatic, 3800 County Road 116, Minneapolis, MN 55340. Phone: 763-478-8000 or 800-328-2174.