New for robotic applications: Compact ServoWeld® actuators from Tolomatic deliver high force in a small package
By Andrew Zaske on September 17, 2020
---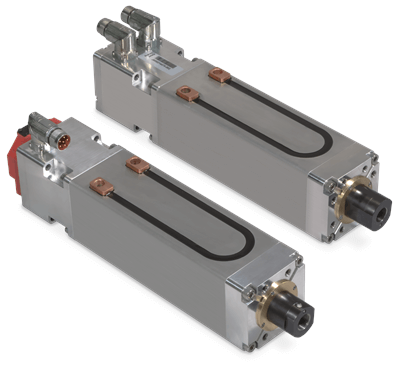 The latest generation of Tolomatic high-force actuators for seventh-axis robotic spot-welding is now designed on a compact footprint in Tolomatic's most power-dense actuator for  weld-gun designs. Compact ServoWeld® actuators,  available in two patent-pending models, are designed for automotive body-in-white resistance spot welding as well as high-production sheet-metal welding applications. The compact servo motor and high-force actuator combo can deliver up to 30 million welds (CSWX model) in typical robotic welding applications along with increased force and speed capabilities.
Force range and speed easily adapt to increases in production demand. The Compact ServoWeld CSWX, for both steel and aluminum weld applications, features Tolomatic's specially designed roller nut to handle 95+ percent of welding applications with C, X and pinch weld guns. The CSWX can provide up to 18 kN of pressing force (4,047 lbf) in a compact 90 mm frame. Top-speed C-gun performance is 10.5kN of force (2,023 lbf) and 700 mm/sec (27.5 in/sec). Options include integrated force feedback, manual override and long stroke.
"The Compact ServoWeld continues to use Tolomatic's best-in-class skewed winding technology to provide industry leading consistent force repeatability," said Andy Zaske, vice president, Sales and Marketing, Tolomatic.
Model CSW is designed for lower force (15.6kN [3500lbf]) and lower duty cycle applications (20 million+ welds) for C, X and pinch weld guns. Top speed C-gun performance is 7.9kN (1,641 lbf) and 700 mm/sec (27.5 in/sec).
Both models include mid-trunion mounting to easily adapt to a variety of mounting locations, four standard stroke lengths, and force repeatability of plus or minus three percent for the life of the actuator. Integrated anti-rotate and integrated water cooling options are available.
Tolomatic ServoWeld actuators, validated and specified at the largest global OEMs, are known for superior tip-dressing performance and exceptional sensitivity during robot equalization.