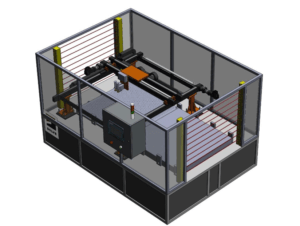 XY Gantry for Membrane Printing
Product Family: Electric
Product Used: 5 B3W Linear Belt Drive Actuators
Product Type: Standard
Application Requirements
Stroke: 40 in (1 m); 60 in (1.5 m)
Application Description
Position a printer head utilizing a dual-axis gantry system. Used to create a grid of a thin membrane for water filtration, the printing process consistently requires accurate speed and positioning.
Challenge
Pneumatic cylinders could not precisely control the motion of the printer head, so electric actuators were needed. Although experts in the reverse osmosis field, the manufacturer needed additional engineering resources to complete the project in a timely manner.
Tolomatic Solution
Through Tolomatic's ongoing partnership with Solve Engineering, we were able to translate the customer's need into a tangible solution. Moving the engineering concept and initial design to the final implementation of actuators, motors, drives, control panels, machine frame, cabling, cable management, etc. as a full, single-sourced solution. At the heart of the gantry, the 5 B3W15 electric rodless actuators provided the precise movement needed for the manufacturing of membranes used in reverse osmosis technology.
Customer Benefit
Single-source supplier for the complete gantry system
Prompt inventiveness focused on customer's needs
Prototype generation
Custom solution with engineering collaboration
Fast response
MCHT-019-E