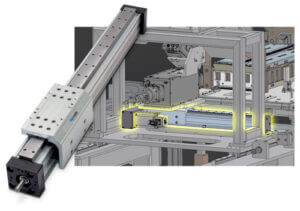 Welding & Inspection
Product Family: Rodless Screw-Drive Actuator
Product Used: MXE Profiled Rail Rodless Screw Drive Electric Actuator
Product Type: Standard
Application Requirements
Stroke: 12 in, 305 mm
Application Description
Positioning a thermal welding device and camera system that verifies each weld for quality.
Challenge
The application requires multiple, accurate servo positions for a high-wattage laser and optical analysis camera package. There are multiple battery module styles. When the pallet and part enter the station the RF tag data is transferred to the station PLC. The servo system is programmed for variability and distance movements based on the RF tag data. The electric rodless actuator must accurately place the high-intensity laser in the correct position to heat the tab welds on several different battery module terminals. When the appropriate temperature is achieved the indexing system moves the thermal camera to the point of interest and the weld is analyzed. The process is repeated as the system moves across the terminal face of the battery module until all welds are verified as good.
Tolomatic Solution
Tolomatic's MXE40P is a critical component providing the rigidity and accuracy needed for the thermal welding and inspection processes. This integrated solution was able to replace a very large robotic cell with a less complex and smaller footprint station that completes the identical process.
Customer Benefit
Cost-effective, streamlined solution
Supplier and Tolomatic collaborated to supply a complete package
Single component number for future orders
Fast delivery
AUTO-035-E