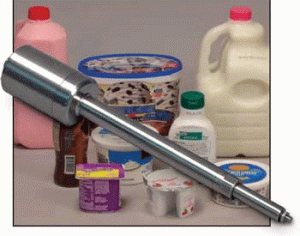 Volumetric Filling-Dairy
Product Family: Electric
Products Used: stainless steel ERD10 electric cylinder
Product Type: Standard
Application Description: 
Volumetric filling for dairy products.
Challenge:
An OEM (Original Equipment Manufacturer) of volumetric filling equipment for dairy products needed a hygienic electric actuator solution for a revised equipment design intended for USDA & 3A certification. The electric actuators would replace the pneumatic cylinders on the existing design and create a cost effective, hygienic solution. Additionally, the electric actuators had to seamlessly integrate with the existing Allen Bradley PLC (Programmable Logic Controller).
Tolomatic Solution:
An ERD10 electric actuator with SS2 option and a standalone drive were chosen to easily connect to the PLC and provide the customer with accurate, repeatable filling. The smooth, round bodied stainless steel construction of the ERD10 is a very hygienic design. The all stainless steel ERD10SS2 electric cylinder houses the motor within an enclosure which protects the motor from moisture during the frequent wash-down cleaning of the equipment. The drive easily connected to the Allen Bradley PLC via daisy chain to multiple drives. Finally, the ERD and drive were a cost effective solution which allowed the customer to transition from pneumatic to electric.
Customer Benefit:
Hygienic design allowed for 3A & USDA certification.
Able to stay within budget with electric solution
Connectivity to existing PLC via daisy chained Ethernet/IP eliminated additional wiring costs
FBT-022