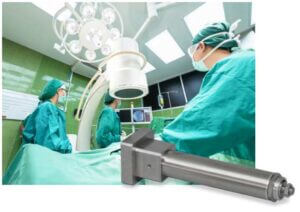 Thermal Ablation Medical System
Application Description:
Customer required a linear actuator to work in conjunction with a thermal-ablation needle to provide controlled, consistent delivery of saline.
Challenge:
A medical device developer designed a saline-enhanced radio frequency ablation system for the treatment of a variety of life-threatening or debilitating conditions including VT (ventricular tachycardia), which is an abnormally rapid heart rhythm. Alternative radio frequency ablation methods are lengthy procedures with a moderate success rate. This new technology dramatically improves procedure success rates and efficiency. However, the medical device developer required a linear actuator to provide the required motion.
Tolomatic Solution:
The Tolomatic ERD20 Electric Screw-Drive Rod-Style Actuator was selected for use in conjunction with the thermal-ablation needle. Currently going through clinical trials, the resulting device advancement in clinical electrophysiology offers the potential for more effective and efficient procedures to treat VT. Additional applications for this technology include the treatment of lung, kidney, liver, and uterus diseases/conditions.
Customer Benefit:
Sizing and selection support from Tolomatic
The ERD20 actuator delivers controlled smooth delivery of saline and accurate control of treatment size/depth
The surgery team can concentrate on the procedure rather than the mechanics of administering saline
Reliably built-to-order and shipped on time
MEDSCI-018-E