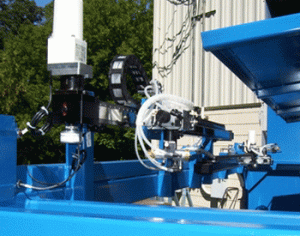 Spray Coating
Product Family: Electric
Product Used: B3W15 belt driven rodless actuators
Product Type: Standard
Application Requirements:
Stroke: 74 in (1880 mm)
Application Description:
Spray coating metal tubular sheeting for the heating & cooling industry.
Challenge:
A pneumatically driven spray head was being used to coat the inner and outer diameters on long pieces of tubular sheet metal for HVAC installations. The manufacturer's coating standards were not being met due to the inconsistent motion of the pneumatically driven spray head. The result was an irregular coating build up on parts of the metal sheets. An improved process was being sought that would provide smooth, consistent motion of the spray head. The new actuator which would move the spray head was required to have an internal, covered bearing design to protect the assembly's mechanical components from spray residue across its 74 inch stroke which is too long for most screw driven actuators.
Tolomatic Solution:
Two B3W15 belt driven rodless actuators were selected (one on each side of the metal sheet) to spray the outer and inner diameter of the metal pieces. The long stroke capability of the B3W provided the required smooth, consistent motion throughout the spray coating cycle. Its internal bearing design supported the weight of the spray heads while keeping the operating footprint confined within the actuator's working stroke length – unlike a rod-style actuator. The B3W's durable construction provided long life, optimal protection from the spray residue and compatibility with explosion proof controls.
Customer Benefit:
Consistent coating of metal sheets that met company coating standards.
Contaminant protection with minimal maintenance.
Reliable, long lasting performance.
Viable, proven automation solution for future coating applications.
MTFB-002