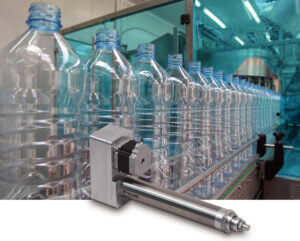 Product Change-Over
Product Family: Electric
Product Used: ERD Rod-Style Actuator
Product Type: Standard
Application Description:
Automating product change-over on bottling conveyor.
Challenge:
A bottling plant needed to quickly change between different sizes and shapes of blow form molded bottles.  The previous solution involved pneumatic cylinders with snap-on rings that provided a third position by using a hard stop short of the cylinder's extend limit.  Workers manually remove and install the rings in a very time consuming process.
Tolomatic Solution:
Tolomatic ERD15 electric rod style screw drive actuators, controlled by JVL stepper controllers allowed infinite positioning.  The compact size and mounting options allowed the ERD15 to retrofit into the space previously used for the pneumatic cylinders.
Customer Benefit:
Quick, automated product change-overs for expanded product offerings
Reduced down time and labor costs
Increased throughput
CONV-007, Reference: 9900-4036