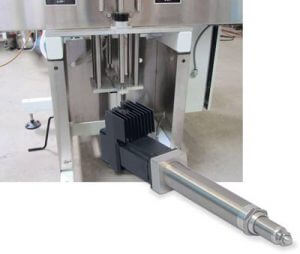 Powder Filling
Product Family: Electric
Product Used: ACSI integrated motor and ERD Actuator
Product Type: Standard
Application Description:
Filling a variety of container sizes.
Challenge:
A leading manufacturer of automated powder filling packaging equipment had previously used pneumatic actuators to fill containers with various products. However when containers where changed, the changeover was a long process because the pneumatic actuators needed to be adjusted every time. The process needed to be precise and consistent to ensure accurate filling amounts.
Tolomatic Solution:
An ACSI Servo Motor with Integrated Drive combined with the ERD actuator offered the manufacturer a complete motion solution. Through simple configuration of the ACSI through Tolomatic Motion Interface Software, the actuator was able to perform the critical container lifting maneuver required to perform uniform fills in the application. This eliminated the time-consuming, trial-and-error adjustment method required for change-overs with the pneumatic actuator. The flexibility of the actuator also provided additional functionality for the machine.
Customer Benefit:
Consistent, precise lifting control for uniform filling
Improved speed and efficiency of container size change-over
Increased productivity with reduced set-up time
Provided added machine flexibility to meet varied customer demands
PACKL-017-E, Reference: 9900-9203