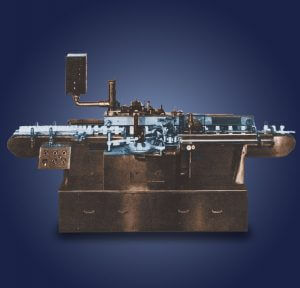 Palletizing Can Lids
Product Family: Electric
Product Used: MXB Rodless Belt-Drive Actuator with ACSI Integrated Servo Motor
Product Type: Standard
Application Requirements:
Stroke: 120 inches
Speed: 37.5 in/sec
Load: 44 lb
Thrust: 46.7 lbf
Application Description:  
Indexing can lids in preparation for palletizing by a pick & place robot.
Challenge:
For more efficient palletizing, a conveyor manufacturer wanted an electric actuator for indexing with smoother, more predictable motion than the pneumatic cylinders in use. This was integral to the long term goal of eliminating compressed air machines throughout the plant. However, screw-drive electric actuators could not provide the speed and stroke length required.
Tolomatic Solution:
The Tolomatic MXB25P with the ACSI Servo Motor with Integrated Drive was a great fit for this application.  The MXB25P has a maximum velocity of 150 in/sec and a repeatability of +/- 0.002in – which exceeded customer requirements – providing a smooth, reliable and accurate electric solution. The ACSI Servo Motor – a servo motor combined with drive – was easily integrated into the customer's control system.
Customer Benefit:
Fast, repeatable motion
Eliminated need for pneumatic cylinder, air lines and related pneumatic components
Increased throughput and reduced operating cost
PACKL-015-E