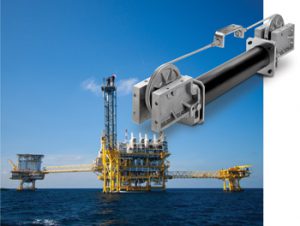 Oil Rig Cable Guide
Product Family: Pneumatic
Product Used: CC20 Cable Cylinder
Product Type: Modified Standard
Application Description:
Guiding cable onto a spool on an ocean oil rig.
Challenge:
A rodless pneumatic actuator was to be used on an ocean oil rig to guide cable back and forth onto a spool. A guide would be mounted to the actuators carrier to accomplish the task. The actuator needed to hold up to the environment (sea salt, UV rays and water) and also provide a slow, smooth motion—hard to achieve using pneumatics as an operating system. The customer needed a solution to be delivered quickly to get the operation up and running. The actuator needed to work with their previously tested bearing system which would provide the force required to raise the cable.
Tolomatic Solution:
Several different solutions were discussed and the customer decided on a special 2-inch bore cable cylinder with low breakaway seals for the fastest delivery option. The cylinder's bore size was large enough to provide the force required for guiding the cable and the seals allowed the cylinder to prove the slow smooth motion required. An enclosure was designed to keep the actuator from contamination and exposure to UV rays.
Customer Benefit:
The cable cylinder guided the cable onto the spool working with their existing bearing system
Slow, smooth motion was achieved using pneumatics
Installation met their delivery time constraints
OGM-001