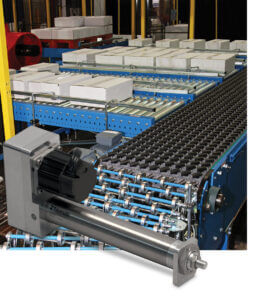 Lane Diverting & Sorting
Product Family: Electric
Product Used: ERD15 with servo motor
Product Type: Standard
Application Description:  
Lane diverting system for sorting items.
Challenge:
A conveyor manufacturer was developing an affordable new family of all electric (no air supply) conveyors featuring an electric lane diverting system for use in expansive installations.  The new electric design needed to exceed speed and responsiveness of the previous pneumatic cylinders while being fully compatible with the OEM's control system.  In addition the OEM had a proprietary control system with only digital output available to operate the spring return pneumatic cylinder which dispatched the products into the proper lanes.
Tolomatic Solution:
ERD15 electric cylinders with servo motors & JVL drives were selected to optimize speed and responsiveness of the lane diverting system. Using "pneumatic mode" in the drive software allowed the ERD electric cylinder to easily mimic the operation of the pneumatic cylinder and allowed the customer to integrate the electric solution without changing its controls or software.
Customer Benefit:
Exceeded speed and responsiveness of pneumatic cylinders
Saved operating costs with reduced maintenance, improved efficiency in production and lower energy consumption
Seamless compatibility with existing customer controls
Engineering and technical support for successful deployment
CONV-013-E