INFOGRAPHIC: Ten Tips for Specifying Electric Rod Actuators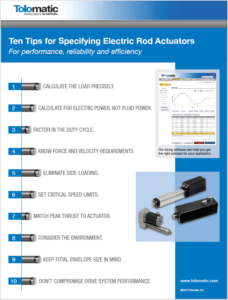 File type: PDF
File size: 674.64 KB
For performance, reliability and efficiency
CALCULATE THE LOAD PRECISELY.

CALCULATE FOR ELECTRIC POWER, NOT FLUID POWER.
FACTOR IN THE DUTY CYCLE.
KNOW FORCE AND VELOCITY REQUIREMENTS.
ELIMINATE SIDE-LOADING.
SET CRITICAL SPEED LIMITS.
Our sizing software can help you get the right actuator for your application.
MATCH PEAK THRUST TO ACTUATOR.
CONSIDER THE ENVIRONMENT.
KEEP TOTAL ENVELOPE SIZE IN MIND.
DON'T COMPROMISE DRIVE SYSTEM PERFORMANCE.