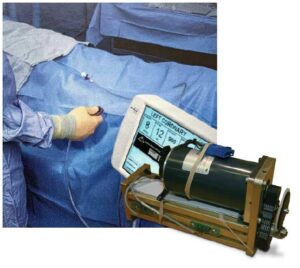 Cardiac Catheterization
Product Specifications
Stroke: 5.1 in (130 mm)
Axial Force: 2,000 lbf (8.9 kN)
Speed: 2.8 in/sec (71 mm/sec)
Positional Accuracy: <0.010 in (0.25 mm)
Application Description:
Rod-style actuator to free physician's hands while performing surgical cardiac catheterization procedure .
Challenge:
A medical device manufacturer needed some type of actuator to work in a standardized system that would inject contrast, saline, aspirate, and purge. It required preset or customized parameters for reproducible injection of coronaries.
Tolomatic Solution:
The medical device manufacturer was able to secure most of the other needed components off the shelf. The extrusion for the Tolomatic B3 actuator nearly matched the manufacturer's requirements but ultimately required a customized prototype with a customized extrusion. The actuator incorporated many special "Endurance Technology" components of steel, stainless steel, and aluminum with special finishes including nickel plating and anodizing. Designed and built quickly, very few modifications were needed to the alpha prototype. Today over 10,000 Tolomatic actuators have provided critical motion in this life-saving procedure.
Customer Benefit:
Collaborative engineering resources to design and build a custom actuator
Rapid development from prototype to final actuator design
The surgery team can concentrate on the procedure rather than the mechanics of administering contrast, saline, aspirate, and purge
Reliably built-to-order and shipped on time
MEDSCI-019-E